Tom Dorrance and Ray Hunt will be honored this year in a unique way at a top international equestrian event. It is a gathering that may seem to be an unlikely venue for celebrating the work of two distinguished horsemen of the cowboy persuasion—the Longines FEI (Fédération Equestre Internationale) 2017 World Cup Jumping and World Cup Dressage Finals.
These World Finals will be held from Wednesday, March 29 through Sunday, April 2 at the CenturyLink Center in Omaha, Nebraska. (Longines is a Swiss watch company owned by Swatch that sponsors the event.) The FEI World Cup Finals are the international climax of the winter show season for dressage and jumping.
This year, however, in the main arena, kicking things off on Saturday morning before the Dressage Final (Dressage Freestyle to Music) there will be a unique horsemanship demonstration paying homage to Tom Dorrance and Ray Hunt conducted by a married couple you may recognize from the pages of Eclectic Horseman magazine—Kip and Missy Fladland.
"Kip and I have been asked to kind of bridge the gap of how this type of horsemanship transcends all disciplines," Missy says. "And how it's not anything new. It's been around for a long time."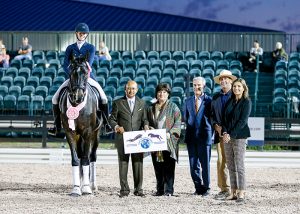 Missy had the honor of working with Tom at a clinic when she hosted him in Omaha back in the 1990s. She also attended clinics with Ray and Buck Brannaman. Kip traveled and worked with Buck for five years, and like Missy, brings first-hand knowledge of Tom and Ray to the people at this year's World Cup Finals. Kip and Missy co-own La Riata Ranch in Griswold, Iowa where they offer many services including training, colt starting, and riding problem horses, and they teach clinics around the country.
"We're going to go through from very basic groundwork to how groundwork at a little more advanced level can help any horse in any discipline through multitudes of things," Missy says about the upcoming demo. "I talked to Margaret Dorrance and Carolyn Hunt—we are taking short little excerpts out of a couple of their videos and we're going to pay tribute to Tom, Ray, and Buck. We're going to start out first with a little two minute video. Then, we're going to have three horses in the ring on the ground—all horses that we have started ourselves and all of which I have shown in the sport of dressage.
"We'll just demo a little bit about different exercises that we might do on the ground and how those exercises would pertain to leading in-hand. How this is going to pertain to when you go to ride. How it's going to help when you do a counter-pirouette. How it's going to help when you do a half pass. From the basic stage, how this transcends up through the training and makes it in a lot of respects easier for the horse to understand what you want because it breaks it down into such a very simplistic fashion for them."
The opportunity for Missy and Kip to present a demo tribute to Tom and Ray came as an invitation from a client of Missy's, Lisa Roskens.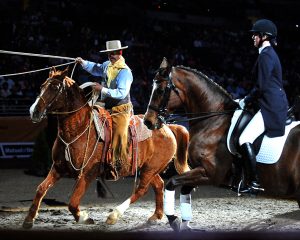 "The FEI doesn't put on the show, that actual show is put on by [Lisa]," Missy says. "I help her with her flat work. The fact that I'm fairly competitive in the dressage scene nationally has peaked a lot of people's interest that I adhere to this style of horsemanship and am still competitive. And, you're starting to see a lot more of the younger people have this style of horsemanship a little bit behind them and still compete and show in other disciplines, which is great. My goal is to make people aware that this [type of horsemanship] is making it up to the world stage and that there is a group of us trying to get it out to everyone—trying to make a global awareness."
Saturday's demo will run for 45 minutes and will be held in the main competition arena.
"Then there is another demo ring that's going on all the time in the background," Missy says, "and we have three days where we're demo-ing there as well. That's Wednesday, Friday, and Sunday. Anything in the main ring you have to buy tickets for but anything in the back is free. You'll also see my name under the dressage showcase. They're calling it a 'funstyle' dressage—it's a demo, it's mounted, and it's to music.
I'm hoping people will see a use for [what we are presenting] and become more aware, especially of how the horses behave and handle on the ground. Basically, dressage is really about control and being able to have that kind of control on the ground also means that you can have that kind of control and feel in the saddle."
Missy reflects that the most important thing to Tom and Ray "was that the horse was mentally, and therefore physically, relaxed and comfortable."
"And that is true," she says. "And that was one of the things that Tom always said was the hardest thing to do, bring up that much energy without bringing up any fear or worry in the horse."
Missy is looking forward to showcasing some of the basics towards providing dressage horses that opportunity in front of some of the world's top riders, all while honoring the memories of Tom and Ray and the work that they did that continues to make a mark on the horse world today.