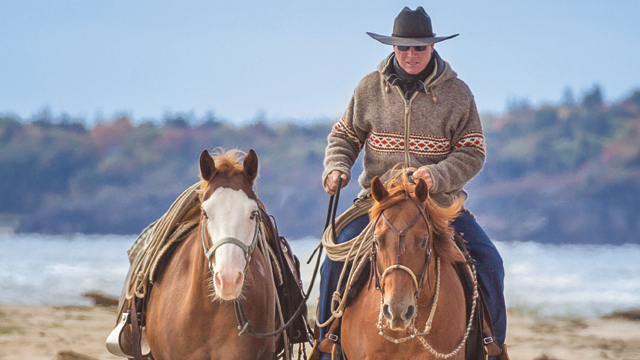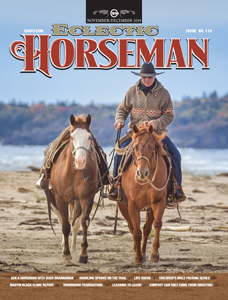 Eclectic Horseman Issue No. 110
Ask a Horseman Questions Answered By Buck Brannaman
Enjoy some answers to common rider questions from horseman Buck Brannaman.
Handling Spooks on the Trail By Tom Moates
Learn some strategies for dealing with a spooky horse out on the trail. Also some great preparation to try before you leave home.
Life Hacks for More Time to Ride By Scott DePaolo
Struggling with time management? Here are some helpful suggestions to help you find time to ride.
The Inspiration Behind the Children's Mule Packing Series By Liz Hughey
Meet the author of the fabulously fun series of children's books.
Finding Comfort in the Uncomfortable By Kim Stone
A detailed clinic report from a annual clinic experience with Martin Black.
Downward Transitions Should Not Be Passive By Steve Bauhr
Some helpful thoughts on riding downward transitions.
Learning How to Learn By Cosette Moormans
Another installment from Legacy of Legends scholarship recipient Cosette Moormans chronicling her horsemanship journey and experience starting a colt at the annual horsemanship gathering.
Happy 90th Birthday Milly Hunt Porter
Fun family photos from this celebratory gathering.
Comfort Can Only Come From Directing By Ross Jacobs
Another thought provoking essay about communication with some great points to consider.
Eclectic Horseman Magazine Subscription
$40.00 – $126.00
Product Description
You've just found Eclectic Horseman, the bi-monthly magazine dedicated to educating horse owners of all skill levels and disciplines. Eclectic Horseman is filled with solid information for horse owners of every skill level and takes a balanced approach to your education.
Every issue features detailed how-to articles from a number of top trainers and clinicians as well as thought-provoking philosophical stories. Eclectic Horseman is different from any other horse publication on the market.
How-To Articles With:
 Horse training tips with the best in the business.
 Detailed step-by-step articles teaching readers how to perform specific tasks or accomplish certain goals with their horse.
Articles covering a variety of levels, one for beginners, one for more advanced riders.
Easy to follow photos layouts and diagrams for you to follow.
Features:
Exploring how craftsmen create the equipment we use on our horses and ourselves.
Looking outside traditional understandings: biomechanics, body movement, holistic medicines.
Studies and reprints of ancient horsemanship texts to learn from the masters of the past.
Philosophical Articles:
Anecdotes from talented horsemen that teach a horsemanship lesson or experience.
Exploring why horses have certain reactions and why some methods are more effective.
Stories that teach how to build a better relationship through understanding and communication.
Make renewing easier and subscribe with auto-renewals: Follow this link. Your credit card is tokenized and safe.
— Eclectic Horseman