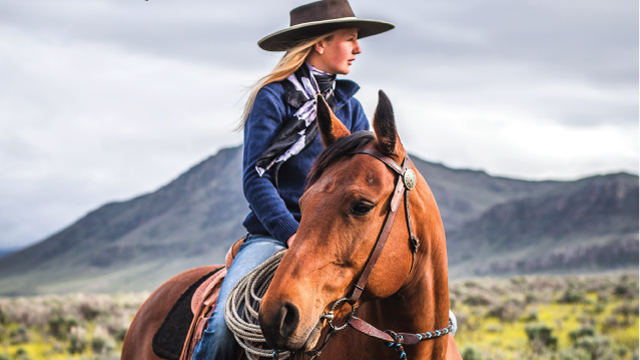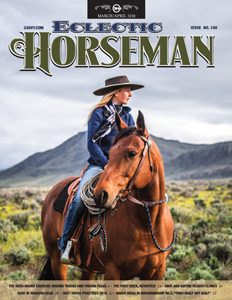 Eclectic Horseman Issue No. 100

March/April 2018
The Herd-Bound Exercise: Making Tracks, Finding Peace by Diane Longanecker
Understanding why a horse becomes herd-bound is essential to addressing the issue. Buck Brannaman demonstrates how to help a horse feel secure with the human. 
The First Week, Revisited! by Tom Moates
Bryan Neubert and Joe Wolter visit about the filming and production of The First Week colt starting DVD series.
Dave Weaver and Gwynn Turnbull Weaver: Ranch Roping/Branding Clinics by Heather Smith Thomas
What makes the Weaver's clinics so incredible? Understand their history and the experience of roping and riding with true educators.
Care of Vaquero Gear by Steve Harris
Steve instructs the reader on proper cleaning and storage of all types of vaquero gear from bridles to saddles.
Best Horse Practices 2018 by Maddy Butcher
Find out what's coming in this year's event. Mark your calendars!
Bogus Ideas In Horsemanship No.3: "Thou Shalt Not Quilt" by Deb Bennett, Ph.D.
Some words of encouragement for all students, and understanding why stitching parts of different schools of horsemanship might not be the best approach.
Eclectic Horseman Magazine Subscription
$38.00 – $120.00
Product Description
You've just found Eclectic Horseman, the bi-monthly magazine dedicated to educating horse owners of all skill levels and disciplines. Eclectic Horseman is filled with solid information for horse owners of every skill level and takes a balanced approach to your education.
Every issue features detailed how-to articles from a number of top trainers and clinicians as well as thought-provoking philosophical stories. Eclectic Horseman is different from any other horse publication on the market.
How-To Articles With:
 Horse training tips with the best in the business.
 Detailed step-by-step articles teaching readers how to perform specific tasks or accomplish certain goals with their horse.
Articles covering a variety of levels, one for beginners, one for more advanced riders.
Easy to follow photos layouts and diagrams for you to follow.
Features:
Exploring how craftsmen create the equipment we use on our horses and ourselves.
Looking outside traditional understandings: biomechanics, body movement, holistic medicines.
Studies and reprints of ancient horsemanship texts to learn from the masters of the past.
Philosophical Articles:
Anecdotes from talented horsemen that teach a horsemanship lesson or experience.
Exploring why horses have certain reactions and why some methods are more effective.
Stories that teach how to build a better relationship through understanding and communication.
To the very best customers in the world,
Would you be interested in never missing an issue, saving yourself some hassle, and saving us a stamp! :)  Then drop us a note at checkout or call 303-449-3537 to let us know if you would like the option to auto renew your subscription(s).  
Thanks for all your support! 
— Eclectic Horseman