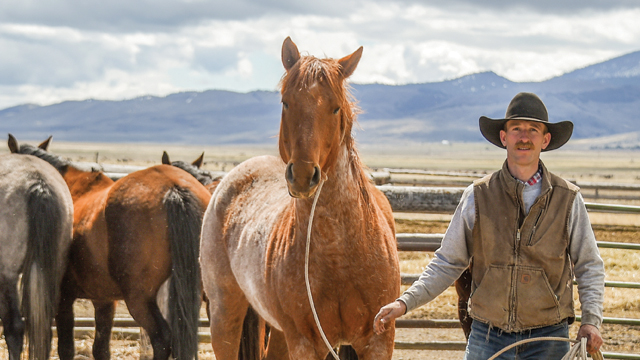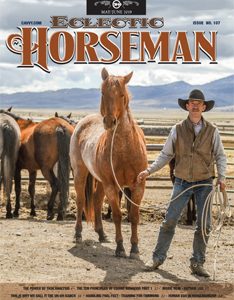 Eclectic Horseman Issue No. 107
Inside Rein – Outside Leg By Martin Black
The connection between the inside rein and the outside leg is an important one. Martin examines how he thinks of balancing this connection.
"Hurry Up, I Want to go for a Ride!" – The Power of Task Analysis
By Deb Benett, Ph.D.
Using the task of mounting with a mounting block, Deb explores the process of learning to see what is truly happening with your horse.
The Ten Principles of Equine Behavior – Part 1 – A Conversation with Dr. Robert M. Miller and Lester Buckley Edited by Katherine Rosback
Dr. Miller and Lester Buckley discuss how equine behavior relates to our ability (or not) to work with them to accomplish our goals.
This Is Why We Call It The Uh Oh Ranch
By Cosette Moormans
In her second installment, Legacy of Legends scholarship recipient Cosette Moormans discusses her time at the Uh Oh Ranch under the tutelage of Mindy Bower. She chronicles her challenges and successes with her mule Mythril.
Preventing and Dealing With Foot Phobias Part One: Handling Foal Feet – Training for Trimming
By Heather Smith Thomas
Setting a good foundation with a young horse is important in all facets of their lives. Handling the feet in a fitting way is an opportunity for a horse to have less stress later in life when his feet are handled.
Human Ego in Horsemanship By Ross Jacobs
A thought provoking essay exploring competition, horsemanship and the human ego.
Eclectic Horseman Magazine Subscription
$38.00 – $120.00
Product Description
You've just found Eclectic Horseman, the bi-monthly magazine dedicated to educating horse owners of all skill levels and disciplines. Eclectic Horseman is filled with solid information for horse owners of every skill level and takes a balanced approach to your education.
Every issue features detailed how-to articles from a number of top trainers and clinicians as well as thought-provoking philosophical stories. Eclectic Horseman is different from any other horse publication on the market.
How-To Articles With:
 Horse training tips with the best in the business.
 Detailed step-by-step articles teaching readers how to perform specific tasks or accomplish certain goals with their horse.
Articles covering a variety of levels, one for beginners, one for more advanced riders.
Easy to follow photos layouts and diagrams for you to follow.
Features:
Exploring how craftsmen create the equipment we use on our horses and ourselves.
Looking outside traditional understandings: biomechanics, body movement, holistic medicines.
Studies and reprints of ancient horsemanship texts to learn from the masters of the past.
Philosophical Articles:
Anecdotes from talented horsemen that teach a horsemanship lesson or experience.
Exploring why horses have certain reactions and why some methods are more effective.
Stories that teach how to build a better relationship through understanding and communication.
Make renewing easier and subscribe with auto-renewals: Follow this link. Your credit card is tokenized and safe.
— Eclectic Horseman