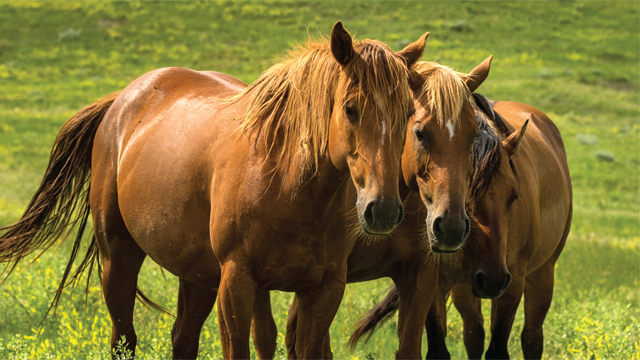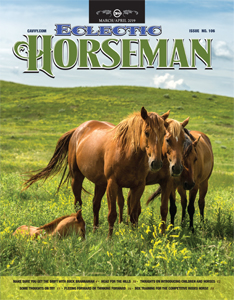 Eclectic Horseman Issue No. 106
Make Sure You Get the Drift
With Buck Brannaman Photos by Emily Kitching
This seemingly simple exercise is not only a help for horses who shuffle their hind feet when untracking, but also the foundation of engagement for every horse.
Head for the Hills
By Patti Hudson
Joe Wolter discusses what can be accomplished beyond exposing a horse to new surroundings when you ride out in the hills.
Box Training for the Competitive Rodeo Horse
By Jim Overstreet Photos by Amber Overstreet
Some helpful ways to prepare a horse for being comfortable in the box.
Thoughts on Introducing Children and Horses – Getting it Right The First Time
By Bryan Neubert
Chidren's early experiences with horses can start a lifelong love or aversion. Enjoy Bryan's thoughts on the subject and strategies he used to help foster a love of horses and riding in his children.
Fleeing Forward or Thinking Forward –
An Excerpt from Considering Horsemanship
By Tom Moates
When your horse moves is he fleeing from you or thinking about moving forward? Tom discusses how can you know the difference and why it is important to you and your horse.
Some Thoughts on "Try" an Essay
By John Balkenbush
Enjoy this thoughtful essay on the subject of what "try" in a horse means.
Eclectic Horseman Magazine Subscription
$38.00 – $120.00
Product Description
You've just found Eclectic Horseman, the bi-monthly magazine dedicated to educating horse owners of all skill levels and disciplines. Eclectic Horseman is filled with solid information for horse owners of every skill level and takes a balanced approach to your education.
Every issue features detailed how-to articles from a number of top trainers and clinicians as well as thought-provoking philosophical stories. Eclectic Horseman is different from any other horse publication on the market.
How-To Articles With:
 Horse training tips with the best in the business.
 Detailed step-by-step articles teaching readers how to perform specific tasks or accomplish certain goals with their horse.
Articles covering a variety of levels, one for beginners, one for more advanced riders.
Easy to follow photos layouts and diagrams for you to follow.
Features:
Exploring how craftsmen create the equipment we use on our horses and ourselves.
Looking outside traditional understandings: biomechanics, body movement, holistic medicines.
Studies and reprints of ancient horsemanship texts to learn from the masters of the past.
Philosophical Articles:
Anecdotes from talented horsemen that teach a horsemanship lesson or experience.
Exploring why horses have certain reactions and why some methods are more effective.
Stories that teach how to build a better relationship through understanding and communication.
Make renewing easier and subscribe with auto-renewals: Follow this link. Your credit card is tokenized and safe.
— Eclectic Horseman 
Only logged in customers who have purchased this product may leave a review.