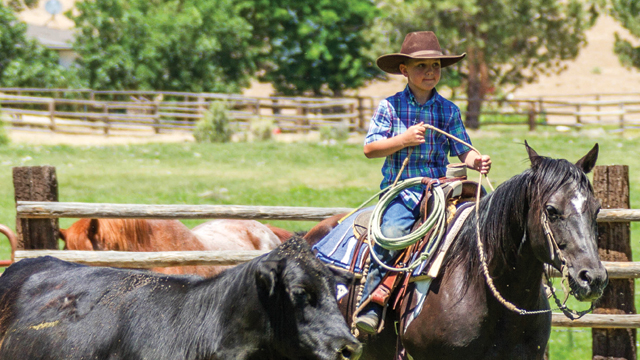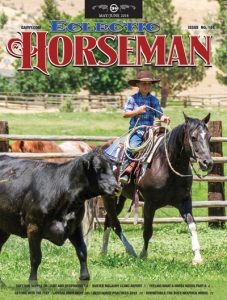 Eclectic Horseman Issue No. 101

May/June 2018
Feeling What a Horse Needs Part 6 – Moving With the Group and Preparation From Horseback by Tom Curtin
Tom works a newly saddled young horse loose with a group of colts and from his saddle horse in preparation for riding.
Getting With the Feet Part 1 – Lateral Movement
by Jan Young
Explore some concepts in rider position and how some simple concepts can help you get a better feel of your horse's feet.
Roundtable: The Busy-Mouthed Horse by Tom Moates
Tom discusses his own views on busy-mouthed horses along with the views of Buck Brannaman, Ellen Eckstein and Libby Lyman.
Soft and Supple, or Light and Responsive What does that mean? And what do you want? by Martin Black
Understanding the difference can help you encourage what you are looking for in your horse.
Buster McLaury: Riding on Borrowed Horses by Debriah Wilson
A challenging start to a clinic turned into a fantastic learning experience!
Best Horse Practices Update by Maddy Butcher
An update on this year's Summit presenters.
Eclectic Horseman Magazine Subscription
$38.00 – $120.00
Product Description
You've just found Eclectic Horseman, the bi-monthly magazine dedicated to educating horse owners of all skill levels and disciplines. Eclectic Horseman is filled with solid information for horse owners of every skill level and takes a balanced approach to your education.
Every issue features detailed how-to articles from a number of top trainers and clinicians as well as thought-provoking philosophical stories. Eclectic Horseman is different from any other horse publication on the market.
How-To Articles With:
 Horse training tips with the best in the business.
 Detailed step-by-step articles teaching readers how to perform specific tasks or accomplish certain goals with their horse.
Articles covering a variety of levels, one for beginners, one for more advanced riders.
Easy to follow photos layouts and diagrams for you to follow.
Features:
Exploring how craftsmen create the equipment we use on our horses and ourselves.
Looking outside traditional understandings: biomechanics, body movement, holistic medicines.
Studies and reprints of ancient horsemanship texts to learn from the masters of the past.
Philosophical Articles:
Anecdotes from talented horsemen that teach a horsemanship lesson or experience.
Exploring why horses have certain reactions and why some methods are more effective.
Stories that teach how to build a better relationship through understanding and communication.
To the very best customers in the world,
Would you be interested in never missing an issue, saving yourself some hassle, and saving us a stamp! :)  Then drop us a note at checkout or call 303-449-3537 to let us know if you would like the option to auto renew your subscription(s).  
Thanks for all your support! 
— Eclectic Horseman