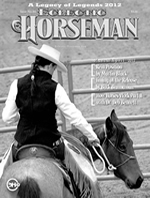 Reports and Photos from A Legacy of Legends in Las Vegas, Nevada 
Rein Position by Martin Black
Martin discusses how learning the effectiveness of various rein positions can influence the quality of communication.
Timing of the Release While Backing with Buck Brannaman
It's the little things that make the big difference. Buck demonstrates the timing of a release while backing with a soft feel.

How Horses Work – Installment #11 The Three Classes of Lateral Work with Deb Bennett, Ph.D.
Dr. Deb explores both the mental and physical components of horse and rider in the back up.
Rethinking our Stabling Practices by Gwynn Turnbull Weaver
I Wish I Were in Africa by Wendy Murdoch
Wendy shares her memories of her annual horseback Safari in Kenya.