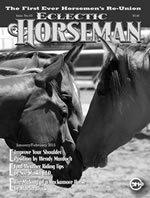 The First Ever Horsemen's Re-Union in Paso Robles, Calif. and Other 2012 Events.
The Making of a Hackamore Horse by Martin Black
Martin discusses the attributes of a rider who can make a good hackamore horse, and in turn a good bridle horse.
Improve Your Shoulder Position by Wendy Murdoch
Modern living promotes bad shoulder position; people hunched in front of computer or behind steering wheels. Wendy gives you a simple solution!
Now What? Having a Plan When You Are in the Saddle by Jec Aristotle Ballou
Jec offers some guidelines and suggestions to keep in mind when working on a mental and physical fitness program for your horse.
Foul-Weather Riding Tips by Sue Stuska Ed.D.
Riding in the rain and mud need not be problematic if you plan ahead and observe some foul-weather and problem-terrain tips.
Ross Jacobs: Good Horsemanship by Tom Moates
A horseman from down under visits about his motivations for helping horse and rider.
Vaquero-Style Ranch Roping in Australia by Lee McKinney
A clinic report from a ranch roping clinic might not sound that unusual, but when you see the location you just might be surprised!