Don't Miss the 10th Annual
Top of the West Horse Sale
Saturday, April 9, 2016
At Copper Spring Ranch, Bozeman
equineboostersofmsu.com
---
The ninth annual Top of the West Horse Sale took place on Saturday, April 11, 2015 at Copper Spring Ranch near Bozeman, Montana (www.copperspringranch.com). Last year, 30+ young horses were in the sale. Horses from both Montana State University (MSU) and University of Montana Western (UMW) were provided for the sale, which is a fundraiser for the unique equine studies programs at both schools.
Donated horses—mostly registered three-year-old American Quarter Horse fillies and geldings—trained by students as part of their school work made up the sale. To highlight the work the students have done and to provide a preview of the sale horses, a competition was held the day before the auction.
Clinician Buck Brannaman taught a clinic for the MSU students and the horses that were to be in the Top of the West Horse Sale in January before the sale last year. Buck's daughter, Reata, is the instructor of the Colt Starting Class at MSU.
In my colt classes I'm all about people getting really good at their groundwork, getting those horses gentled," Buck says.  "A lot of times, it's more like people do the minimum—but man, those kids, they had those horses gentle when I got there.  They were able to lope around and pass a tarp back and forth to each other.  You couldn't hardly come up with something that the horses were bothered about or afraid of.  Ray used to tell me when I was younger and riding horses for the public, he'd say, 'Buck, you get those horses gentle.  You don't worry too much about putting a handle on them, but get them gentle.  Then, try to get them handy.'  And yet, they had them handy, too.
"They were going good.  I really had something to work with.  Because they had been so thorough on their ground work, it's really where I'd want every horsemanship class to be able to start off.  Because, a lot of times, even though I might be doing a regular horsemanship class, I've got to go back and say, 'Listen you guys, we've got to go back and talk about all the stuff you missed.  You don't even really have good control of your horses from the ground- and then that's going to have a whole lot to do with how much or how little control you have when you're on their back.  So, they really gave me something to work with.  I enjoyed doing it.
"To me, the true legacy of this kind of horsemanship is to get it out there like that—have people like Reata, and some of the people who are going to school there with her, that is the next generation and they're making it happen.  It's cool.
"Nobody would have guessed—in that very town, that's where I first rode with Ray Hunt, and 35 years ago—who would have even known that Ray Hunt's method of working with horses would be the standard by which all methods were measured up against?  Because, 35 years ago Ray was a revolutionary—dismissed by some, disliked by others because he would make them uncomfortable with what he could get done on a horse compared to the conventional wisdom of the time.  He made a lot of people uncomfortable and he was controversial for that reason…to think that all these years later that's the standard now rather than the exception."
---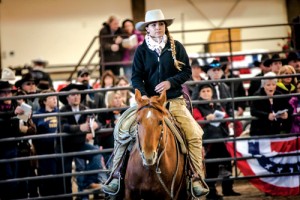 "The pride that the students take in their horses is so amazing," says Reata Brannaman, who teaches the colt starting class at MSU in the Department of Animal and Range Sciences. "There's a lot of tears shed at the sale, but they all understand what it's going towards—the sale itself goes towards supporting the program and the education of the students and trying to develop it into something more than it is. The competition has been going on for nine years; the sale has also. The competition itself, it's just a really simple pattern. It's just an opportunity for the students to show off what they've learned and show off their horses and what they can do."
David Gamble was asked by Reata to be MSU's judge for the competition. David is not a teacher at MSU but rather is a horsemanship clinician who teaches public and private clinics in Montana and around the country.
"It was remarkable," says David. "I've ridden and known Buck [Brannaman, Reata's father] for probably 28 years," he says. "I've ridden with him and Ray [Hunt], and they've been my only two instructors. I teach horsemanship up here in Whitefish now."
UMW's judge was Margaret Hebel who heads up the Draft Horse Driving Club on campus in Dillon, Montana. UMW offers the nation's only four year degree in Natural Horsemanship, according to their website, and the program's lead instructor is Eric Hoffman.
"I went down there [to MSU] with Buck when he did a one-day clinic in January," David explains—the clinic was conducted with horses that were headed for the sale. "I got to watching the horses and what they [the students] had done. This would have been four months ago. We looked at 17 colts MSU had there, and I said, 'You know Buck, you don't see this. You're all over the world; where do you go and find 17 horses that are three years old tied to the fence with people walking back and forth in front of them and they don't even make a move?'
"Buck said, 'I heard your kids can play football or toss with a tarp, I heard all these stories—I want to see it happen now that I'm here.'
"Those kids grabbed those big tarps and they were loping around in the Bob Miller Pavilion, chasing each other, throwing each other the tarp and taking off with it. It was impressive."
David says he was surprised and humbled to be asked to be one of two judges at the sale competition, which is set up to be between the two schools.
"I was very honored and privileged to be thought of to do something like that," he says. "Margaret and I got to visiting and she had ridden with Ray Hunt as well. This [competition] really was the kids' finals—they got to take their finals on the back of a horse, which was really kind of a neat deal."
Reata agrees.
"With the sale and the competition, it's really cool when the students after they've been working so hard all year get to ride their horses [in front of the public]," she says. "It's such a hands-on thing that it's not just like a final grade. They actually get to go out and show what they've learned and demonstrate how they've actually gained the knowledge."
David clearly was moved by what the students from both schools had done with their horses.
"I told them that in my opinion they all had done an exceptional job with the colts," David says. "They all picked up their leads. They all were happy. They all were willing to stop. They were all trying to turn with the best of the students' ability. They were all willing to deal with the tarp. They were all opening the gate fine. They all drug the log just fine. I actually got very choked up.
"I said, 'You all should be exceptionally proud for what you have done.' All the audience gave them a full round of applause—a big, heartfelt applause. Margaret and I got choked up while we were watching these kids because of where the horses were and where the kids were. It was incredible watching what we saw. I haven't been any place in this horsemanship world where I could find 30 colts that could actually do all those things. So, I was thoroughly impressed."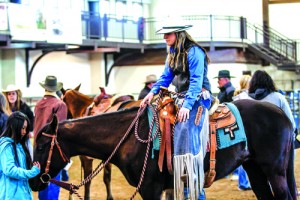 Technically, UMW students won the competition, coming out on top in terms of points. But, David stresses that the points the students earned were meaningless in light of how wonderfully relaxed and capable all the colts were who competed, showing that every student had done an excellent job.
The Top Hand award went to Isaac Johnson of MSU. All the colts sold the next day during the online auction with the top selling horse bringing $12,500, and the average sale price per horse coming in at $4010. A video of the sale and a sale catalog can be viewed online at the MSU Equine Boosters website: www.equineboostersofmsu.com. The sale made more than $120,000 for the MSU and UMW equine programs.
"All of our colts that come in [for training], they come in not halter broke, nothing done to them, and the students halter break them and we get them started in August. Then they're with them until April, so they develop a bond with them," Reata explains. "They're best friends. The high seller this year was almost $13,000 from Dillon, and our high seller was a filly for $8,300, which was way beyond what the prices have been in the past. Because the horse market is improving so much, the quality of our program is going to improve, too. It's going to go towards developing something a lot bigger for our university."
The dedication of the students to the horses they are assigned at both schools seems to go above and beyond the call of curriculum and duty.
"It was one of the coolest things that I got to see what a bunch of 18- to 24-year-old kids had accomplished," David says. "They did an exceptional job with the horses. Those kids are required, at least at Montana State, to be there twice a week for maybe two hours, and we were told: 'We're here five days a week—we love this class!' What college kids do you find that go to a class five days a week because they love it? You don't. I would venture to guess the Dillon [UMW] students were the same because what those students had to offer every one of those young horses, to not have any one of those 30 horses troubled—wow! I don't know any place in the country where you can go and find 30 colts like that that are that well broke."
David's praise for these college programs, students, and horses clearly is heartfelt. It also is his belief that the kind of horsemanship Ray Hunt sought to take to the world is getting traction in these college curriculums.
"What we all believe in," David says, "and what we strive to do with our horses—to better ourselves—is really coming through in a younger generation. I'm 55 years old and so to watch these kids that are half of my age, to watch them what they're doing and to know they all have a journey in mind to stay in the horse world…some of those kids I'd take right away to go to work!
"You can find a three-year-old horse at Montana State or Dillon [UMW] and you can be sure that every single thing has been done: they picked up all four feet, some of them had shoes on, and you could swing a rope on 90 percent of those horses.  One gal took her horse, picked up a front foot and had it bow. These horses had been through the things and the kids knew what it took to support the horses so that they wouldn't get in trouble. That's what we all look for is to try to keep our horses quiet and out of trouble."
Reata points out that this year's sale was an improvement over those of the past. That is a trend they plan to continue.
"Our goal for years to come is, we're going to try to improve not only the quality of horses but the education and the opportunities the students have to teach those horses," she says. "Right now we're in the process of finding colts for next year so we are ready for all those students.
MSU currently is looking for horses for the upcoming year. This year, they will be able to purchase some horses along with accepting donated horses. Reata says that any leads on horses for the program are greatly appreciated.
"I spend my summers looking for horses for the year. We take 17 horses. We like registered Quarter Horses—preferably geldings just because it is easier to keep them all in a bunch because all of our horses run together, but we will take fillies. We're looking for high-quality horses. It's a great opportunity for breeders to promote their program, and it's a good opportunity to support a cause."
Donated horses can be used as a tax write-off for the amount that they bring at the sale, Reata explains. If you would like to donate a horse to the MSU program, e-mail Reata at: reatabrannaman@gmail.com.
---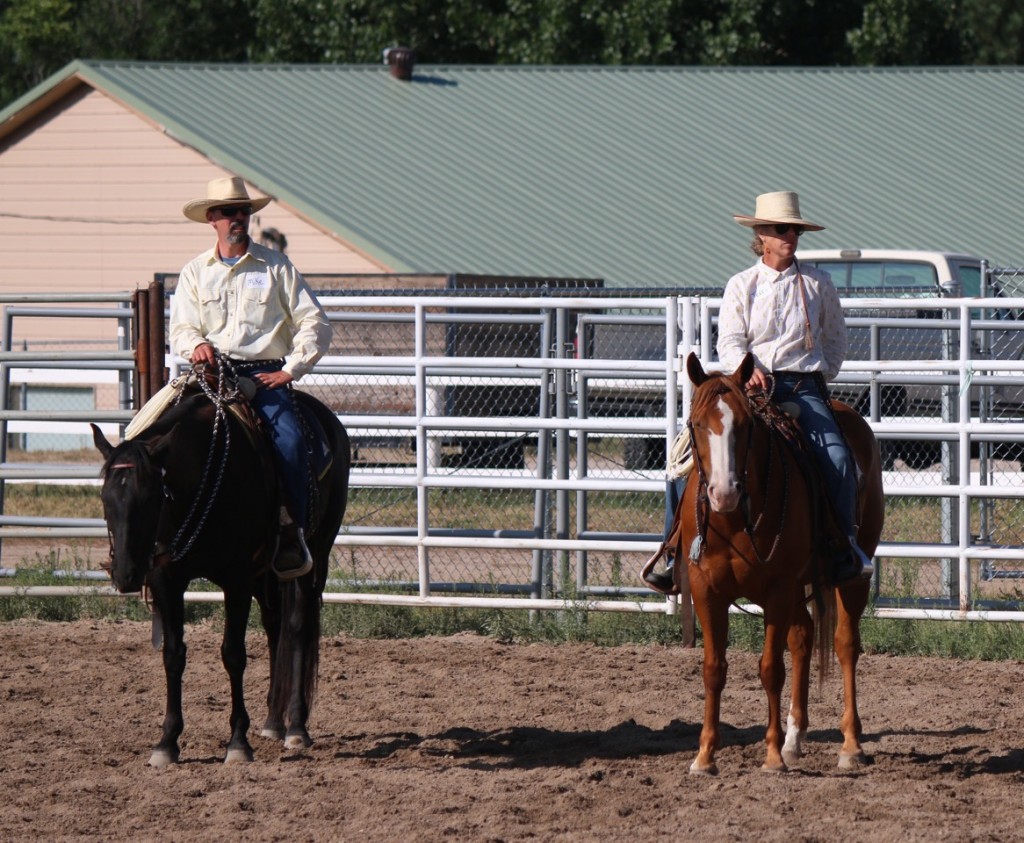 Meet Two Happy Horse Owners…
Mike Lupow and Terry Murray are a married couple with a sheep ranch in Peyton, Colorado.  They were looking for a couple of horses to have on their place and heard about the Top of the West Horse Sale and decided to go to see if they might find two horses that would work for them.
It was a thoroughly positive experience," Mike says.  "I had an opportunity to watch the students put the colts through their paces.  I had at least two opportunities to really study the colts and look at their characteristics and see how they responded to the student riders.  There was time to interact with the students and ask them their experiences, and I was fortunate to have access to the teacher Reata [Brannaman] and get her feeling as well on the various horses.  Then there was a very professionally run auction with a good turnout.  I got a couple of very well-trained, well-started colts at a very reasonable price.  I couldn't be happier.  Reata's program really exposes the colts to so many different situations that they're extremely solid."
Mike and Terry brought home two three-year-old mares that they purchased from the sale.  They have a sheep operation, but they say the horses mainly are for pleasure—and they have been a real pleasure so far.
"We primarily use dogs for moving the stock," Mike explains, "but we'll take the horses out and give them opportunities to move the sheep around and they're very comfortable moving stock.  I would recommend it [the MSU sale] as a source for getting a young horse to anyone.  I can't speak highly enough as to how effective Reata's program seems to be in developing solid horses with nice feel.  I've told lots of people that we brought home a couple of three-year-old mares trained by students at a university and always experienced people would be pretty skeptical and surprised at all places we've been comfortable riding the horses and all the situations we've been comfortable putting them in.  They haven't let us down.  They're just good solid horses.  They get along well and they fit in real well on our ranch here.  They're just four now, and they can pretty much do whatever we need them to do and should be able to for many years to come."
---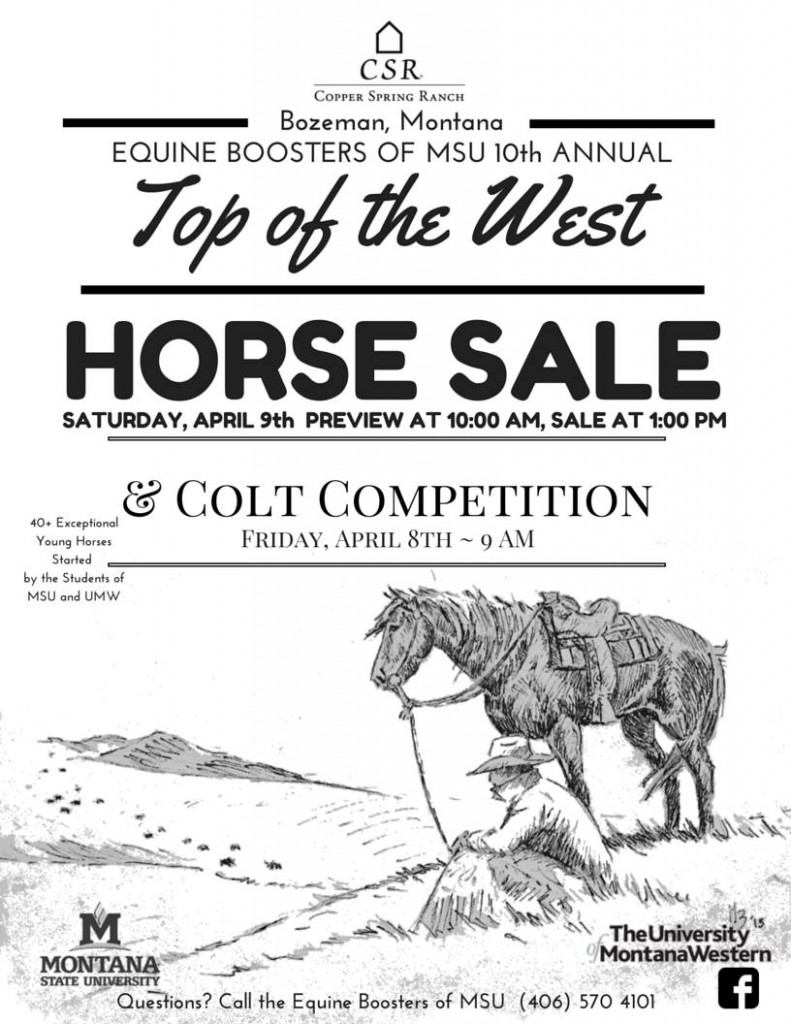 Visit www.equineboostersofmsu.com for more information.