On September 12-13, 2014, the second annual Great Basin Buckaroo Gathering will be held at the Golden Spike Events Center in Ogden, Utah.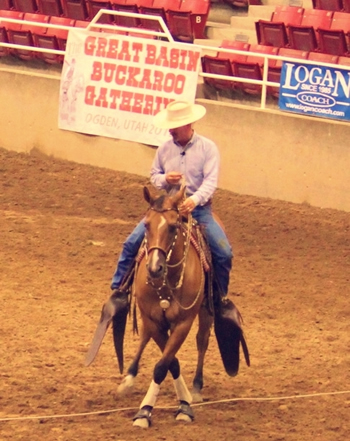 "We invited twice as many teams this year for the roping event," says Trevor Ellis, the event's creator.  "Last year we capped the roping at 12 teams, this year we currently have 25 signed up with a waiting list that we may end up using and filling it up to 35 teams."
The growth reflects the success of last year's event which combined a roping competition (the Top Hand Roping Event), buckaroo horsemanship clinics with Californio/vaquero horseman, Jeff Sanders, a benefit event for the Lupus Foundation, and a special concert with Trinity Seeley.
"Most comments were positive," Trevor says.  "[The contestants and spectators] really enjoyed the competition, especially the trailer-loading.  I was the most nervous about that portion because I came up with the idea and wrote the rules.  It was different, but a lot of fun to watch!  The bull roping was epic as well.  I don't know if you could plan a more competitive bull roping than what we had.  The bulls we used were small and rank.  That challenged each team to work together for a good score.  This was a judged event—all competitors understood they were to work as if they owned the cattle.  They were competing for the 'boss' job at the 'Buckaroo Ranch.'  This set the tone for the event."
The roping is a judged event; time is considered only as a tiebreaker.  By design, this keeps the roping from becoming a race against the clock and allows the stockmanship to be highlighted.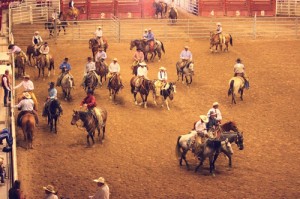 "This brought some handy guys out of the woodwork," Trevor explains, "guys that can flat-out rope.  I wanted to have a good mix of guys and really didn't want to turn anyone away.  As the word spread, the teams filled up well before the deadline.  We had buckaroos signed from Oregon, Idaho, Nevada, Wyoming, Montana, Colorado, Kansas, Arizona, and Utah.  We based judging on fluidity, efficiency, teamwork, rope and slack handling, horsemanship, and stockmanship.  The judges had some leeway with a few points to award riders for working in a spade bit, using a reata, or throwing a particularly difficult shot.  We crowned an overall championship team using combined scores from the first two events.  Teams had to carry their scores forward after each event.  It came down to the wire in the end."
Trevor designed the roping competition to display the function behind the traditions of the Great Basin Buckaroo.  During the event, one competitor asked him why it wasn't strictly a reata roping (the fellow used a reata).
"My response was, 'While reatas are traditional, you have to be able to defend the traditions,'" Trevor says.  "I pointed to a man in the arena with a 65-foot nylon rope.  I smiled and said, 'If he can out rope you, I want to see it.'  Each year, one of the goals of the event is to elevate horsemanship.  I want to encourage others to learn about the buckaroo traditions and quality horsemanship."
Another feature this year is that cowboy and horsemanship clinician, Joe Wolter, will be giving a two-day clinic at the Gathering.
"We are really fortunate to have Joe this year," Trevor says.  "We are going to do a lot of riding over the two-day clinic and I think it will really help the people we have signed up.  Last year was really special.  I am a little biased but I haven't ever seen a roping get as competitive as the event did last year. We had some really handy guys show up. One of the things that I think really sets this event a part is the teams are all formed by the competitors. There isn't a draw pot, and you aren't paired up with anyone. Most of these teams are guys who rope together on the ranch, they work well together. Or, they have roped together before.  One of the things they are judged on is teamwork, which you don't see anywhere else. We have tried hard to make it close to what goes on on the ranch.  We are also having a youth roping which helps our goal of encouraging the traditions."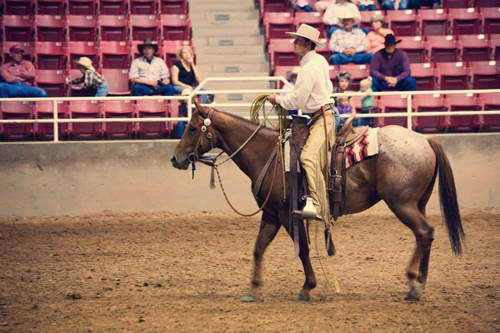 Trevor hopes to offer "a lot more prize money" this year.  Incredible stock horses also are showcased in this event and some will be featured in the Richard Caldwell Memorial Stock Horse Challenge.  (Richard, a well respected buckaroo, was central to the creation of the Great Basin Buckaroo Gathering but unexpectedly passed away before the inaugural event.)
"We have some long term plans and discussions for the expansion of the event," Trevor says.  "In the future, we would like to add some gear maker classes, a buckaroo ball, a large vendor show, and other things. There is a lot of really good things happening and its a great time to get involved."
To find out more about the Great Basin Buckaroo Gathering, including contact information if you would like to get involved, visit: www.buckaroogathering.com.