Story and Photos by A.J. Mangum
This article originally appeared in Eclectic Horseman Issue No.74
Five years into his career as a silversmith, Scott Hardy had a decision to make. It was the mid-1980s and the Alberta craftsman was blessed with a full workload, making trophy buckles for rodeos and team ropings. It was becoming clear to him, though, that the mathematics of his industry were working against him.
"Working in a shop by myself, I was competing against companies mass-producing buckles," he says. "And, I was selling my buckles for about the same price as the production guys were charging. I thought, 'Who's winning this game?'"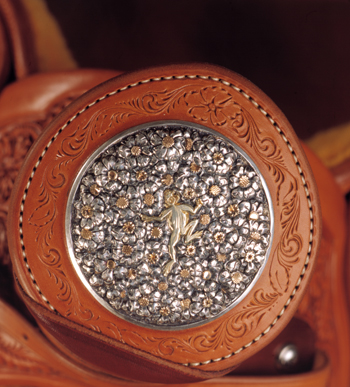 Hardy briefly contemplated starting his own production line. Given his artistic inclinations and preference for hands-on work, though, he knew such an approach wouldn't hold his interest for long.
"Standing in front of a machine eight hours a day, turning out the same part over and over? Not my thing," he says. "It wasn't why I got into silversmithing. I decided I needed to learn all I could about my trade and do fine work."
Today, Hardy, a founding member of the Traditional Cowboy Arts Association, is recognized as one of the world's premier western silversmiths. He's a recipient of the Academy of Western Artists's engraver of the year award, and the National Cowboy Poetry Gathering's best of show award. He's lectured on silversmithing at the Smithsonian Institution, and is one of the most sought-after mentors in his profession.
He traces his success to a set of fundamental decisions—chief among them the choice to create custom pieces—and a mindset built around constant improvement and ongoing education. Here, he outlines the ethics that have guided his career, and the principles that can serve as a roadmap for aspiring craftsmen in any discipline.
Pick a Profession.
Early in his career, Hardy found himself in Reno, seated at a kitchen table with silversmith Al Pecetti and bit and spur maker Al Tietjen, two of the western culture's most renowned craftsmen. At the time, in addition to working with silver, Hardy occasionally made bits and spurs.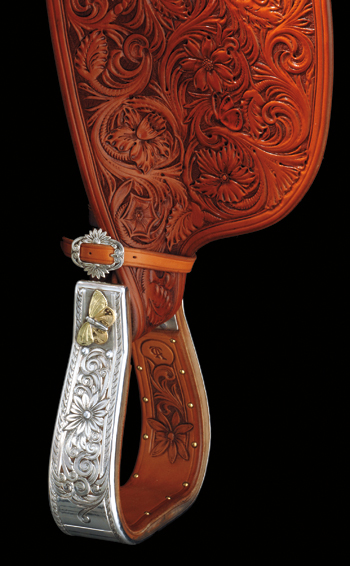 "Without mincing words, they told me to pick one discipline or the other," he says. "They explained that the biggest mistake a craftsman can make is not understanding that division. In splitting his focus between two disciplines, a craftsman does himself a disservice, and shows a lack of respect for both trades."
Learn All You Can.
Apart from a three-week continuing education course in jewelry-making, taken as he shifted out of the guiding and outfitting business, much of Hardy's education as a craftsman took place on his own initiative, a necessity given the lack of formal opportunities to learn western silversmithing.
Hardy tapped into his personal network to track down respected, credible craftsmen who might be willing to spend an afternoon, perhaps as much as a few days, teaching him proper techniques, evaluating his work, and sharing their thoughts on where he should take his career. The strategy involved cold calls to makers in distant shops and the threat of rejection.
"Back then, it was a lot harder to get help than it is now," he says. "Not many people were willing to share anything. But I knew I had to learn all I could about the trade—art basics and working techniques—and I had to find people to help me."
Be Worthy.
As Hardy became acquainted with more accomplished craftsmen, barriers dropped, allowing full-fledged mentor-protege relationships to develop. Even the West's most reclusive artisans, he found, were willing to help an aspiring craftsman who proved himself to be a worthy student.
"They had to believe in what I was doing," Hardy says. "If I saw someone who was good at what he did, I had to figure out why and how. They'd see that in me, and it helped me with those guys. I wasn't just trying to learn a shortcut, or copy what they were doing. I wanted to understand what made their methods work, and what made their pieces gorgeous."
Understand Art vs. Craft.
Art and craft, Hardy explains, are actually two phases of the same path. The distinction between the two terms is rooted in the artist's (or craftsman's) goals.
"A bad painter or sculptor is not an artist," he says. "He's a craftsman who hasn't come to where he needs to be. It's the same with silversmithing or saddlemaking or anything else. A craftsman can become an artist, but he has to put in years of study and work. You have to immerse yourself. If you're going to be an artist in your field, you have to study art more, study form and function more, study fabrication more. And the more you learn, the more techniques you have down, and the better you understand your tools, the further you can take your art form. When you get to that stage, when you're really an artist, your journey is just beginning. That's when you can really create."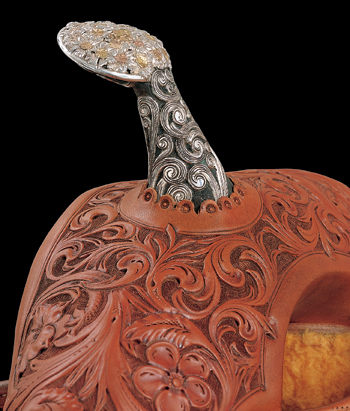 Understand the Appeal of Craft.
"People don't need a piece of silver," Hardy admits. "For customers to want a piece of silver, it has to intrigue them, capture their imaginations, and make them feel good about the idea of owning it. Those are art principles, just like drawing people into a picture or a sculpture."
Avoid the Quota Mindset.
Hardy cautions against slipping into a routine built around producing a certain number of pieces per day or per week. When an artist or master craftsman begins a project, he contends, his first thought should be, "How can I enjoy this? How can I make this untouched space as beautiful as it can be?"
See the Greater Picture.
Western craftsmen have a unique advantage, Hardy suggests, in that they work within a culture built around the notions of innovation and progress.
"The West has always been about moving ahead," he says. "And that's what I want to happen with western silversmithing, as a discipline. I want young people who believe in the West to take our interpretation of silversmithing and move it ahead, and show the world how beautiful our culture is. We have a unique way of life, one about independent spirit, freedom, curiosity, and I bring all that into my work. I want my work to continue moving ahead, just like the West always has."
Learn more about Scott Hardy at www.scotthardy.com.