Trinity Seeley's first album (the self-titled CD, "Trinity Seely,") was released in 2011 and is often described as depicting the cowboy lifestyle from a cowgirl point of view.
It's no surprise Trinity enjoys a knack for writing and recording songs relating intimate details of the western ranch/cowboy/buckaroo lifestyle. This cowgirl's own experiences span from a childhood spent on her family's guest ranch in the wilds of British Columbia to her current life as a horsewoman, ranch wife, and mother of four living on the Handcart Ranch situated between Rawlings and Casper, Wyoming near Alcova. She works along side her husband, Jeff, who manages 1,200 cows on the ranch's 100,000 acres.
And…lucky for her fans, somewhere among being a mom, working as a ranch hand, and playing live shows around the region she's managed to record a new CD entitled, Old Poly Rope, released last Fall.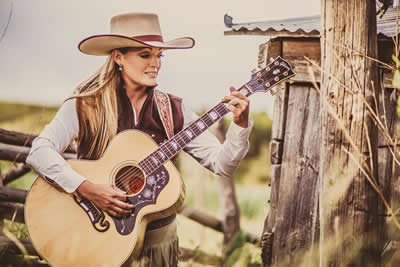 Trinity's first CD was produced by Brenn Hill and Ryan Tilby, nationally recognized artists themselves. It earned Trinity a nomination for the Crescendo Award by the Western Music Association which recognizes the top new artist in the industry. Containing songs like, "A Cowboy Song" and "Rides for the Brand," that express her feelings and experiences about the life she loves, it is easy to understand her solid following among those who cherish the western way of life.
"We lived about 600 miles north of the Canadian border in a little town called Kleena Kleene," Trinity says of her youth. "We were very isolated. My family ran the dude ranch just with our family. So my sisters and I ran the dude string and we cooked and cleaned cabins and entertained guests at night. Long as I can remember that's how we spent our time was on the back of a horse. As we got older, my sister that's older and I took over the dude string. Before I went off to school we had 30 head in our dude string."
Colts were raised on the ranch and Trinity and her sisters started them and trained them for packing, guest riding, and for some rodeo events as well.
"We had a few head for ourselves," she says. "We had a little bit of the ranch aspect there. We also did a little bit of high school rodeo growing up. But what really kind of just got me, I've always loved the horses and there's something very magical that happens when you're raising and starting them and get that relationship. I was in high school and there was no high school within three hours of my home so I'd applied for a boarding school down in Ojai, California."
That boarding school is Thacher, a unique private high school. It is famous for its unusual equine emphasis where, for example, all incoming freshmen are assigned a horse to care for over the year. It is a horse-heavy curriculum in which Trinity thrived.
"It was just a great experience," she says. "I feel so very lucky that I was able to go. I came in as a junior and they only accept a couple juniors a year. I got to take the horses down and just work with some amazing people. That's where this whole love affair with the vaquero tradition and lifestyle came about. The nostalgia is very cool but to be able to apply something that's that old, and we use it daily here on the ranch as well, it's just great."
Like horsemanship, music is a pursuit that Thacher encourages and Trinity's experience there was formative. Trinity says she had been writing songs since age 13 and her choir teacher at Thacher, Gregory Haggard, took her under his wing.
"I'd take songs to Greg," she says. "He'd listen and we recorded a few just with the equipment he had. I really had a lot of fun with that. I really had a chance to take off on my own little thing with my music at Thacher. They had all sorts of opportunities to perform. I think too, there's so much about writing songs and music and lyrics that comes from personal experience. It was a journal for me—I was able to keep track of everything through my song writing. The horses and the music, I just pieced the two together and it just all fit just right."
Trinity graduated from Thacher with dreams of pursuing a horse based career. She intended to enter veterinary medicine.
"I've even got a little note that I look at quite a bit from Chuck Warren," she says. "He was the gentleman that helped me with my horse stuff at Thacher. He was also the vet-med teacher. He put on his note, 'I believe it will be more beneficial for Trinity to pursue her music career.'   So I look at that frequently—he hit it right on the head!"
Trinity graduated from Thacher and went to college on a music scholarship and next went to work for a residential treatment center for teenagers running the equine therapy program.
"I met my husband, Jeff, while I was doing that and he started to help me run this program," Trinity says. "We did that for about another year. And then we worked for a couple ranches, a couple big horse training operations there in Utah, and my husband is a pilot as well, so at the time he was flying part time. One day he had been laid off from his job and we had been volunteering at the Deseret feedlot. We'd go out and ride pens on the weekend on some of the colts we were training. And the boss out there, he told Jeff, 'You just come to work on Monday and you've got a full time job.' It was a huge blessing. We will always feel like this all just rolled in and happened for a reason. We worked there for the Deseret feed lot for three and a half years when the job here on the Handcart Ranch opened up."
By then Trinity had two children, Kathryn and Wyatt. Before long, she and Jeff were parents to two more boys, Tap and Sam, as well.
"I became a mother which I absolutely love!" Trinity says. "If there is one calling in my life that I hope I will be able to hold a priority to it's being a mom. It's a very important responsibility."
After Trinity's first CD, she made a commitment to herself to try as hard as she could with the lifestyle her family has, and being a mom, to pursue getting a new CD recorded. She's been working on new material since the release of the first CD
"I'm constantly writing," she says. "I've only been to the studio a couple months now [recording the new album]. It's been a challenge because we are four and a half hours from the studio. I'll get up at 4:00am and get down there, be ready to work by 10:00am, and we'll work in the studio all day long. I'll get back in the car and drive all the way home, and it is a really long day!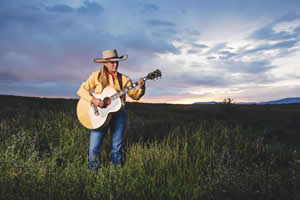 "Music is amazing because you've got three minutes to try and get a feeling across or tell a story. The things that I'm writing and singing about are things that I've experienced forever, so really the whole project is just a collaboration of events over the past several years. I'm really excited about a song on the CD called the Kitchen Window Cowgirl. It really hit home with me being in the situation that I am as a mother and wanting to be out there helping and riding, and you're kind of taken out of where you want to be and stuck in the house and watching from the kitchen window. I've been able to play that song for the last year and a half and the response that I've gotten from different people—not just other kitchen window cowgirls, but their husbands or sons or daughters—and knowing the sacrifice that it takes, it's pretty cool."
Trinity hopes people recognize sincerity and authenticity in her music. The realities of a life depending upon family, horses, and cattle are her inspiration. The landscapes of the west she calls home are the backdrop.
"I'm doing it [writing, recording, and playing music live] because I love it!" she says. "This is a lifestyle that is so important to so many people and I just want a chance to be able to share some of the highlights, and the not so high times, as well. There's quite a few songs I'm excited about. I hope that it's received well. I hope that I'm able to show people through the music all sorts of different aspects of this ranching life and the equine world, and what really just gets me by the heartstrings."
"This is a very exciting time for any musician," Trinity says. It's like you're putting your whole heart and soul out there when you're releasing your songs. The second CD, the writing is similar to the first because it's coming from me, but every time you write a song you're kind of in a different perspective or in a different point in your life. So, I'm writing from the viewpoint of a ranch wife and somebody that's very passionate about the horses, and my family of course, which is a very big basis to the cowboy life."
Both of Trinity's CDs are available in the Eclectic Mercantile.