"I'm not really a writer," says Steve Johnson.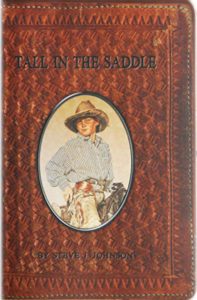 It's a odd statement coming from the author of three books, the latest being the newly released Tall in the Saddle. It is especially true when the new book garners such praise as horseman Buck Brannaman saying this about it:
"Tall in the Saddle is a well-crafted story by my friend Steve Johnson, one that will engage 'young' readers of all ages—from five-years-old on up to ninety-five—the same way Will James did for me when I was a kid growing up in the West."
But in a way, Steve isn't kidding—he's not a writer so much as he is an astonishingly capable and accomplished artist whose pictures and paintings focus on western scenes, usually in the buckaroo tradition. Tall in the Saddle not only is a collection of chapters telling a story. The book also showcases many original color art pieces by Steve which help to illustrate the story.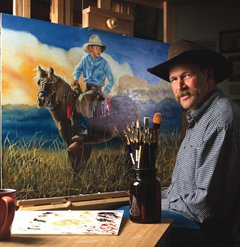 "I've been messing around with this story for years," Steve says. "And, it kind of took years for it to really evolve and materialize. It's kind of a coming of age type story of a young family and centered around one of the kids in the family, and the experiences and tragedies and things that they go through over a period of time. Kind of what I got out of watching this story evolve—you learn from these experiences, or these experiences of life are at least offered to you whether or not you learn from them, time tells. And the kid in the story as it goes on, through all the characters in there, he does learn some things. He learns some things the hard way, yet there are some tears shed and some funny parts told. That's a nutshell of it."
The book is new, and so is the Perpetual Skills Foundation, an organization begun by Steve in January of this year. Proceeds from sales of Tall in the Saddle go to help fund the foundation which provides scholarships for people to apprentice with skilled artisans in the buckaroo community.
"I paint pictures and I had some pretty good luck this last little while, Steve explains. "I sold some big paintings and that, and there's a lot to how it came about, but I got this idea of starting this Perpetual Skills Foundation. So I used the money initially. We raised about $45,000 by June. And then we got going.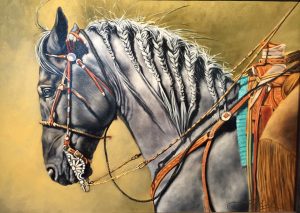 "What the Perpetual Skills Foundation does is it centers around what you might call buckaroo skills—basically silver engraving, braiding all sorts of rawhide leather, and leather work. There are some organizations who really promote these cowboy skills and there are some incredible mentors out there. And my idea was, I know lot of people whether they're young or old who would really like to learn a lot of these skills but it just hasn't worked out for them to be there as far as maybe timing or money or access to the right instruction. So what I've done is put together these scholarship deals. The money goes directly to the mentor. The student makes time and goes and spends time with the mentor to learn the skill. In fact, we've put one together right now with a guy named Vince Donley. He lives near Sheridan, Wyoming. He's one of the best braiders there is—rawhide and leather. And then there's a boy in Casper, Wyoming who is going to be one of his students. He's going to go spent like four days with him and braid a bosal."
Steve explains his fondness for the buckaroo culture as a "lifestyle." He has cowboyed for a living, and his family has been along with him for the journey.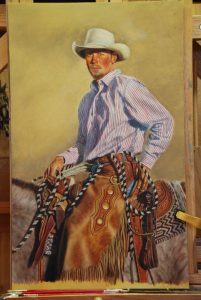 "I paint pictures and the only paintings I do are cowboy paintings," he says. "My second son has lived with Buck Brannaman for the last five years and travels the country with him putting on clinics and that kind of thing. My oldest boy, he's a saddle maker—he apprenticed with Freckers for five years and now he's out on his own. My youngest son, he does a lot of [rawhide and leather] braiding. My daughter and her husband work on a ranch in Wyoming. We've just kind of been in this deal all along. I grew up in a little town in Utah. I grew up milking cows and riding horses. We took the whole family and worked on the Padlock Ranch for awhile. So it has always been an interest."
So just how did Steve ultimately end up pursuing art for a living?
"People always ask me how I decided to do that for a living," he says, "but I don't know. I just always had it. I guess my earliest recollections are when I was little, that's how my mom kept me quiet in church—she'd always bring pads of paper and say, 'Here, shut up and do this.' So I would just doodle and draw pictures all the time and as a kid. You know, you draw a picture of a horse. Whether it's any good or not, somebody tells you it is and you start believing it. So you do another one."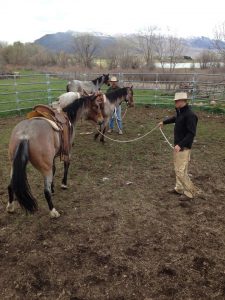 And the rest is history. Although, Steve's history does include a BFA in Fine Art with an emphasis in illustration from Weber State University in Utah and several jobs as a professional illustrator along the way. He hopes to provide others the means to pursue their artistic passions by providing access to many great western artists and craftsmen.
"So far we've done three scholarships," Steve says. "I think we'll probably do three more this year. One [apprentice] does silver engraving with a guy named Shawn Didyoung up in Billings. The other one just happened with a guy in Buffalo, Wyoming and the mentor is Andy Stevens, and he's a saddle maker and leather worker. Our ultimate hope and plan with this is the intent of being perpetual. We will team up with established organizations. We are going to team up with an art show and then these students for the year will show their work in that show as an up-and-coming next generation of artisans. And then when the pieces sell, they will actually donate a portion of that sale back to the fund, so it starts to become perpetual—one guy kind of helps another guy get started."
There is no age limits on applying for a scholarship. As Steve puts it: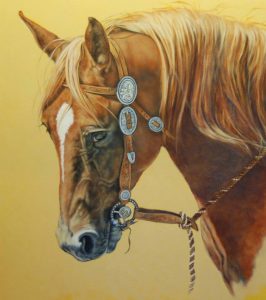 "I don't care how old they are—what if he's a 45 year old guy that's always wanted to learn the skill and this gives him a chance to give it a go. What if he made something of it? No age matters, but also as a part of accepting this scholarship, you accept to go and do this show, too. We're not interested in people who maybe want to just go for a field trip or something. It's got to be those who at least think they want to do it."
The Perpetual Skills Foundation officially kicked off during the Sheridan Leather Show in April.
"It took us several months to do all the legal paper work and all that stuff to get it off the ground," Steve says. "In fact, the Sheridan Leather Show might be where we do the apprentice show next year."
So far apprentice applicants have found out about the scholarships by word of mouth. Eventually Steve expects to put it out there on the internet for any people who may want to apply. Currently, the best way to get in touch with Steve and find out more about the foundation and his art work is to contact him through his facebook page: https://www.facebook.com/stevejohnsonartwork/