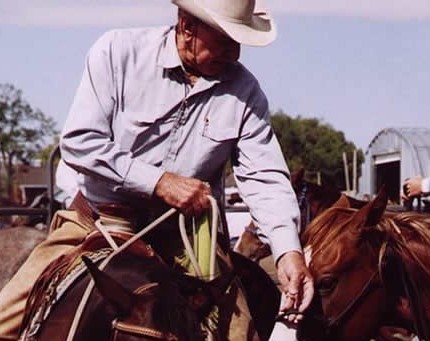 Written by Heather Smith Thomas photo by Melissa Stone
Ray Hunt wasn't the first horseman to travel a different path in handling horses, utilizing what has now become known as "natural" horsemanship, but he was probably the person most responsible for teaching others about it. His students now continue his teaching methods around the world, showing horsemen there's a better way to train and work with their animals. Ray was one of the first people to hold horse-handling clinics, long before they were called clinics.
Born in Idaho, Ray grew up on a ranch between Mountain Home and Bruneau, where his father raised workhorses and hired out as a teamster on neighboring ranches during the 1930's. As a young man, Ray worked on ranches in Nevada, than married and moved his family to California where he continued to work on various ranches, starting a lot of young horses. He became well acquainted with Bill and Tom Dorrance, who had a large influence on his training methods. Tom helped him with a very difficult horse named Hondo that Ray eventually showed as a top competitor in working cow-horse classes. Tom Dorrance had a unique way with horses, and Ray became the person Tom mentored to communicate his message to other people. After working with Tom, Ray spent 45 years teaching other horsemen.
Ray Hunt passed away March 12, 2009, after fighting a battle with COPD. Pat Parelli is one of his students who has become a famous horse-handling clinician, and after learning of Hunt's death, Pat said, "He leaves a large legacy of compassion for horses, and truly helped change the way people think about being with a horse. Now that Ray has graduated into horseman's heaven, I am even more dedicated to carry on his message." Parelli met Hunt in 1983 at the California Livestock Symposium. Parelli says Tom Dorrance, Ray Hunt and Ronnie Willis were the three masters of horsemanship who in one way or another became his mentors, and Pat later hosted several of Ray Hunt's clinics.
Another student, Tim Westfall, now puts on clinics to help teach people more about horsemanship and low stress stockmanship, using Hunt's methods. Westfall recalls Ray saying that Hondo was the horse that made a different method necessary, and that Tom Dorrance was the man who made this possible. "Those two statements are true, but I would add that Ray Hunt is the man who took it to the world. If Ray hadn't taken it upon himself to go out there and spread the message, there would only be a handful of buckaroos who had the opportunity to work alongside Tom, who would even know about any of this. Ray's greatest contribution was that he shared this knowledge and taught it to so many people, in so many different disciplines of horsemanship; he took it worldwide," explains Westfall.
"A lot of folks are getting to where they understand the horse more, and are not so quick to blame the horse for a problem. That's a huge first step," says Westfall. When Ray used to ask Tom Dorrance for help with a problem, Tom always said you need to look at what happened before what happened happened. "Tom would say, back up and tell me what happened before that. This is basic to trying to understand the horse. We are the teacher, but Ray pointed out that we learn the most by listening to the horse," says Westfall.
Ray had a lot of students. "We weren't necessarily the best students, but as Ray would always tell us, all you can do is the best you can do. Ray always said the human is full of opinions but the horse is the truth. The bottom line is always the horse," says Westfall.
Another one of Ray Hunt's students, Bryan Neubert, says most people came to know Ray through the clinics. "I didn't meet him that way, however. I was raised in Salinas, California, and Bill Dorrance was my neighbor. When I was 14 years old, in 1968, I went to the Monteray Fair with Bill, and we'd sit there and he'd comment on all the horses as they were being shown. Ray was one of the people showing a hackamore horse, and Bill introduced me to him after the show," says Neubert.
"When I got out of school, I worked for Bill Dorrance full time, riding colts. A friend of mine had worked for Ray and I went and rode with them one day. When I was working for Bill, Ray called and asked if he could borrow me for awhile. He had a bunch of colts and too many to ride. I ended up working for him 4 different times, starting colts," remembers Neubert.
"Sometimes he was taking care of cattle for people, and we'd ride the colts on those projects. It was fun, because it was just he and I, and it was a great experience. Sometimes we'd trade horses, and I could feel what his horse felt like, and I got to see how he rode the ones I'd been riding, and then I got to feel what they felt like after he'd been on them for awhile. That was very educational," he says.
Ray was quite different than Bill Dorrance in the way he taught. "Riding with Ray was pure fun, but in some ways I learned more, being around Ray. Bill was very careful that I didn't get into trouble with a young horse. He'd watch me closely. Ray, however, would allow me to get into trouble, and learn from it. Both of them were valuable teachers, but I learned more from Ray," says Neubert.
"I also worked for him on a ranch in Nevada and New Mexico, and in California. I saw him at a few clinics, but never really went to one of those unless it happened to be close by. I could foresee his influence. Even some people who have never met him, have got started on some of the things he taught—through other people who have been around Ray," explains Neubert.
"He kept telling me about Tom Dorrance (Bill's younger brother), but at that time I was pretty shy. Tom lived closer to me than Ray did, and Ray kept saying I should get acquainted more with Tom. So I did, and we became friends, and I ended up spending more time with Tom than I did with Ray or Bill," he says.
"I've thought about Ray a lot, and have been thinking about him even more, now that he's passed away. With the technology we have today, where people can travel around so easily, maybe Ray has influenced horsemanship more than anyone in history," Neubert says.
"When I was with him we had a lot of fun. I do clinics for a living and I know what it's like. The traveling is not fun. To try to influence a horse through a stranger is difficult. When it was just him and I, we were working on the horses together and I think he was happier than when I saw him in later years," says Neubert.
"I think back on things we did, and things he said. He was a good hand. It was hard to see him gradually get to the point he couldn't do it very much, and then to where he couldn't even ride, and I am sure that was very frustrating to him." But Hunt was able to see that some of his ideas and teaching would live on.
Ray's life influenced Neubert and many others to teach more people. "I wouldn't be doing this if it weren't for Ray. He had a wonderful talent, and encouraged me to do this. He helped me with a lot of horses." Ray changed the way people think about horses. One of the things he often said was: "I can't teach you this. I can only get you aware of it."
Neubert now travels all over the country to put on clinics. "It didn't start all at once. I was working on ranches, and doing a few clinics on my vacation time. Then I left the ranch life and started riding colts for people. I began doing clinics fulltime during the early 1990's. Often in my travels people tell me that Ray Hunt told them to come to one of my clinics. He sent me a lot of business. He influenced my horsemanship, my life, and my business."
Almost everyone you talk to who knew Ray Hunt will tell you he made a difference in their life, not just their horse-handling. "Ray's philosophy has such far-reaching applications in so many areas of life; it's really a whole philosophy of life," says Westfall.
It's also more enjoyable to work horses this way. It doesn't have to be a struggle. You are dealing with a 1000-plus pound animal and you aren't going to win, using force. You must work with the horse's mind. "It goes from your hands to their minds, to their feet; you control their feet through your mind," says Westfall. "In order to work with the horses' minds, however, you have to really understand their mind. Ray used to say you have to make the right thing easy and the wrong thing difficult. That's the essence of 'feel', to understand things from the horses' point of view and then let your idea become their idea. Then you get everything you ask for, way beyond your wildest expectations," explains Westfall.
Hunt once said, "My belief in life is that we can all get along together if we try to understand one another…You'll meet a lot of people and have a lot of acquaintances, but as far as having friends—they are very rare and very precious. But every horse you ride can be your friend because you ask this of them. This is real important to me. You can ask the horse to do your thing, but you ASK him; you offer it to him in a good way. You fix it up and let him find it. You do not make anything happen, no more than you can make a friendship begin."
For more information about Hunt, look at his website: www.rayhunt.com
IN REMEMBRANCE –
Memorial services were held for Ray Hunt in several places around the world, including Texas and Australia, and at Mountain Home, Idaho (held March 28, 2009). After attending that gathering, Tim Westfall said, "When I looked on that empty saddle, with Ray's hat, chaps, riata and spade bit, it really hit me hard that he's gone. I don't think words can describe what a loss this truly is. For me, I guess one of the most important lessons I learned from Ray is that when you think it can't be done or you think you can't understand something, you need to reach inside yourself and dig some more. It has to come from inside you and you've got to want it more than you ever wanted anything else in the world. There's no such thing as quit."
Westfall says that what Ray taught is important in all aspects of life. "It just fits. It works for every situation, in every part of life. I can't imagine working with a horse without this."
Ray's wife Carolyn made these comments at the memorial: "Few of us will ever do anything that will be recognized or remembered by more than a handful of people. We are not great. Greatness comes along so rarely that when we see it, we want to touch it. Ray Hunt allowed us to touch greatness, to be a part of it. He was a truly great horseman, who offered us all a chance to be a part of something great. He was one of the great motivators. Ray believed in you and had the capacity to make you believe in yourself. He believed in the horse and encouraged you to believe."
"Once you've known Ray you will carry him with you forever. You hear his voice, see his face, and long for his approval. You remember his tongue-lashings and lectures. With each success you want Ray to know about it. With each failure you want to apologize for not being right within yourself. Ray refused to accept "can't" and taught us not to use it as an excuse. His voice is never far away. He taught us that the horse and life are only going to give back what we are willing and capable of putting into them."
"Ray hunt was a legend in his own time. His legacy will live on through his students and all who come after. His dream was to someday see a child working with a horse, mentally and physically attuned to each other. When the child is asked, "Where did you learn to work with a horse that way?" the child will answer: "Is there any other way?"
---
---
---
---
DO YOU LIKE THIS ARTICLE?
If you like the content of this site subscribe to our magazine and dvd series for more quality horsemanship — stories that inspire, training tips that work, from resources you can trust.
---