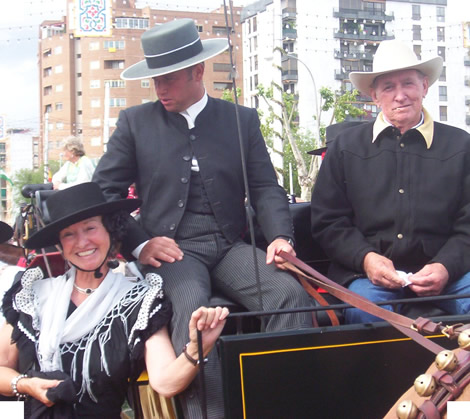 Written by Gee Wood
JEREZ, SPAIN 2004: The Ray Hunt Tour in Spain was off to a good start in the south of Spain. Ray and Carolyn and 20 riders. Good food, good hotels, warm spring days amid the olive orchards of southern Spain and hosts who were thrilled that 'the Ray Hunt' had come to visit them in Spain. After several days riding, the group took a break to for some tourism activities that included a visit to the horse capital of Jerez, site of the WEG in 2002 and home the Royal School of Equestrian Arts. (www.escuelaecuestre.org) (more info notes below)
The arena was surprisingly large, seating about 1000, and completely filled with tourists even on a weekday morning. Ray and Carolyn sat in the front row seats overlooking the arena and the rest of us arranged ourselves around them in our block of tickets
The show was awesome; highest level dressage, haute ecole, carriages, the finest tuned group drills. The show was two hours of stunningly beautiful performance and outstanding horsemanship. You know when Ray comments that it was wonderful horsemanship….that it really was. (In point of fact, one of the riders won the gold medal in dressage at the Athens Olympics the following year
Toward the end of the second half of the show, I noticed a little buzz among the mounted riders who riders were waiting their turn to perform, and some glances looking Ray's way. Interesting. Then my attention again turned to a wonderful finale performance in the center of the ring, and as it came to a close the riders lined each side of the arena and made their exit. Quietly, with a brief movement ,each rider looked up at Ray and saluted him with hand as they exited the arena. And Ray raised his hand in acknowledgement, returning a similar salute. It was a gesture of acknowledgement from horseman to horseman, professional to professional, and my heart stopped.
The salute was completely unexpected and over in a moment. How did they know? I bought the tickets for the group at the kiosk window only that morning. On the way out Carolyn asked the same question, and how did they know who was Ray in the audience? The answer to the later was simple: nobody else was wearing a cowboy hat. But they knew who Ray was in Spain. Sometimes you are not a prophet in your own land but your fame proceeds you. So it was good that we took Ray and Carolyn Hunt to Spain, but what happened during that trip I could never have scripted and never have organized, and it made the trip for Ray.
The 2004 trip to Spain with Ray and Carolyn started in one mad moment during a previous overseas trip when Carolyn had said to me: "OK, Gee, you organize the next trip to Spain". And I proceeded to do so, with the best of help from Suzanne Petrie and Paul Reed, everything we planned to the smallest detail but things kept happening that were way over the top and made it a "once in a lifetime trip'.
• The salute to Ray from the riders of the Royal Equestrian School
• Mary Ann Kennedy heartfelt song sung to Ray that did not leave a dry eye
• The local mayor invited Ray to sit with the judges for the Andalucia 'bull tipping competition, and then inviting all of us to lunch
• All of us riding horses or in carriages in the famous Feria de Sevilla (and quoting Ray "Imagine 3000 horses and not one misbehaved…you wouldn't see that at home"
• Top horse breeder and a top trainer in Spain coming to see Ray
• Riders come from Germany and England to ride with Ray in Spain
---
---
---
---
DO YOU LIKE THIS ARTICLE?
If you like the content of this site subscribe to our magazine and dvd series for more quality horsemanship — stories that inspire, training tips that work, from resources you can trust.
---