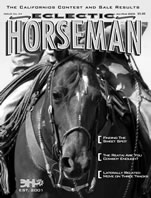 Finding the Sweet Spot by Martin Black (read online) 
Martin discusses the importance of finding a spot where your horse can move more freely.
The Reata: The Gritty World of Rawhide. Are You Cowboy Enough? by Gwynn Turnbull Weaver 
Learn about the mystique, construction and payoffs of this traditional piece of equipment.
Part 4: Laterally Related – Moving on Three Tracks by Wendy Murdoch 
Wendy takes us through the sometimes perplexing shoulder and haunches-in and -out.
The Californios Ranch Roping and Stock Horse Contest 2005 Results 
Circling-Up with Bill Scott by Tom Moates 
Bill Scott guides you through this helpful groundwork exercise.
Equibalance Part 4: The Girdle of Strength with Julie Leiken 
Building on her series of Pilates exercises for riders, Julie helps you tighten your "girdle."
Eight Reasons to Reject Natural Horsemanship by Sylvana Smith
A thought-provoking essay by Sylvana.
Wild Horse Work by Emily Kitching
Interview with Dr. Sue Stuska, wildlife biologist, about her work with the horses of Cape Lookout National Seashore.