Written by Chuck Stormes
This article originally appeared in Eclectic Horseman Issue No.69
About forty years ago I started hearing stories about Ray Hunt and his clinics. Usually, the account came from a wide-eyed cowboy who had witnessed twenty or thirty "colts" turned loose in a pen, saddled and ridden but with nothing on their heads. Those riders and spectators were getting their first inkling of Ray's principles, which spawned the "natural horsemanship" movement that is now familiar to so many.
At about the same time, I started to receive more requests for Wade trees among my custom saddle orders. By the mid-eighties it was one of the more popular trees among my usual run of orders that included 3Bs, Taylors, Louellens and Modified Associations. By the nineties, the Wade was the most requested tree, not just in my shop but with nearly every saddlemaker I spoke to.
The long-established regionality of tree styles was disappearing. Generalities such as   "Texas cowboys ride swell forks" were giving way to Wades showing up in West Texas and dyed-in-the-wool Arizonans decked out like Great Basin buckaroos. Of course by that time it wasn't just Ray Hunt. There were literally dozens of clinicians travelling the country, trying to help horses get along with their people.
Most of the clinicians, like Ray, had come from a ranch background. Most of them also rode Wade saddles.
The Wade tree was developed, beginning in 1937, by Walt Youngman, renowned treemaker at the famous Hamley saddlery in Pendleton, Oregon. Ordered by J.C."Cliff" Wade of Enterprise, Oregon, it was a 14 1/2″ tree which the order form described as "made after old tree sent in as pattern."
In their catalogs of the period, the Hamley Wade was accompanied by the statement "The bars on this tree have been fashioned from an old saddle brought across the plains by a customer's father…."
The most notable features of that first tree called a "Wade" after the customer who ordered it, were a five-inch diameter horn with a rounded, or domed, cap and the fork and horn made entirely of wood.
Of even greater importance was the large front bar pad, caused by the greater depth of the bar (six and one-quarter inches) and the five-inch stock thickness of the fork. This combination nearly doubled the surface area that contacted the "pocket" of the withers when compared to most trees of the nineteen-thirties which typically had bars five and one-half to six inches wide and forks three to four inches thick.
Combined with a scooped-out gullet made possible by the all wood construction and extreme fork thickness, it allowed the base of the horn to sit much closer to the horse's back. The increased leverage afforded the horse when working a rope and holding heavy stock made the Wade tree a favorite of stockmen throughout Hamley's wide-ranging territory.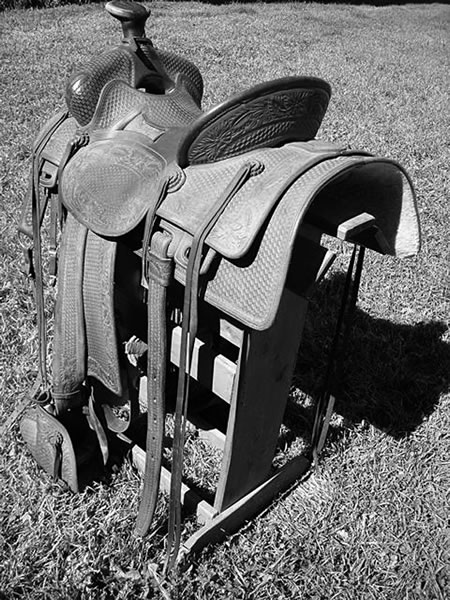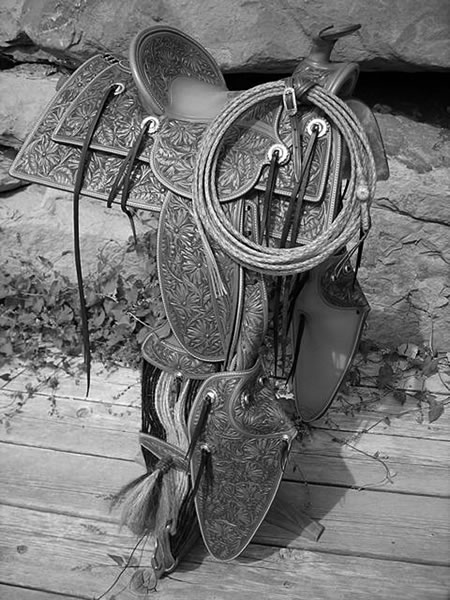 With popularity comes imitation, followed by misinterpretation and misinformation. Soon there were so-called "Wade" trees on the market with a fork thickness of three to four inches, a cast bronze horn, a gullet an inch higher than the original and bars five and one-half inches wide, all of which completely negated the design advantages of the true Wade tree. Uninformed or unscrupulous saddleries, eager to ride the Wade "fad," used these low-cost imitation trees and a sales pitch that promised the best fit for your horse, a narrower seat and a closer "feel" than could be had in any other tree.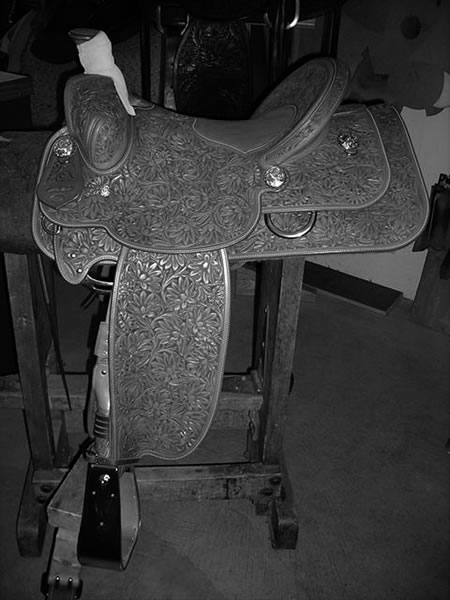 None of this was true, even if they had a real Wade tree to work with.
A skilled saddlemaker can construct exactly the same ground seat in a swell-fork tree such as an Association. The close feel is a product of the rigging and stirrup leathers, not the tree, and the fit depends on the specifications of the bars (angle, width, spread, rock, flare) not the dimensions or style of the fork.
This brings us to the crux of this article, which may not be politically correct for readers of Eclectic Horseman.
In my opinion, a great many of those who own and ride Wade saddles do so because of the influence of their favorite clinician and not because it's the best saddle for the riding they do. If they happen to be a pleasure rider who makes no great demands on the saddle, it probably doesn't matter. If the main use of their Wade is to have a convenient place to rest their beer can while they sit in it to watch "True Grit," it really doesn't matter.
But if they need their saddle to help them in a cutting, a stock horse event or schooling a young horse, a Wade may not be their best choice. In fact, there may be several trees that would answer their requirements much better. I would not hesitate to recommend a Wade to a cowboy customer who has to routinely rope and doctor in the open and ride a big circle daily.
But, I would also not hesitate to recommend an Association tree to a rough-string rider in Seligman, Arizona, a Louellen to a student of horsemanship schooling young thoroughbreds in Lexington, Kentucky, or a Toots Mansfield to a competitive roper in Midland, Texas.
Just as dressage, jumping and polo have, by their specific requirements, led to specialized English saddle constructions, schooling, roping, cutting and trail riding have needs that can be addressed by skilled saddle- and treemakers, using solutions specific to their events.
The Wade is one of the well-designed trees that fills a specific and important need. But it is not a universal saddle that fulfills the needs of all western riders.
This article originally appeared in Eclectic Horseman Issue No.69