Written by Tom Moates

It is nearly time for the third annual A Legacy of Legends event which will be held February 1-3, 2013 at the South Point Arena & Equestrian Center in Las Vegas, Nevada.
This public event showcases an innovative style of horsemanship advocated by the late celebrated horsemen, Tom Dorrance and Ray Hunt. It does so by bringing together a group of professional horsefolk who studied extensively with them. These "mentors" will work with students during the event in clinics and give a variety of presentations demonstrating their individual approaches to horsemanship, all of which were influenced heavily by their time spent with those two legendary horsemen.
In addition to being a gathering and demonstration of devoted students of Tom and Ray, A Legacy of Legends goes a step further towards passing the horsemanship torch to future generations. Each year most of the proceeds from the event are used to provide scholarships for young people to go and spend time learning directly from some of the mentors.
The list of event participants (mentors, riders, and past scholarship winners) coming this year is extensive. Below, we visit with a handful of them to provide a little more insight into the essence of the event and give a glimpse at what will be on hand this year.
We certainly hope that with A Legacy of Legends, what happens in Vegas won't stay in Vegas but will continue to spread the work of Tom Dorrance and Ray Hunt giving horses a better deal all around the world.
Carolyn Hunt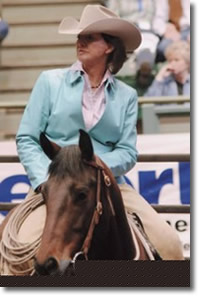 "What I'd really like to stress is the scholarships and paying this forward to generations to come," says Carolyn Hunt, one of the event's founders and Ray's widow. "All of these people that are doing the presentations had the opportunity to work with Tom or Ray. And now it's their time to pass it on and help other young people that never had that opportunity. So I just want to focus on the aspect of passing this on to the next generation so it's not lost, so it's going to grow and make a better deal for the horse.
"We're bringing back all of last year's scholarship winners and they are all going to start colts with Buck Brannaman in the colt class. I'm excited to show the people that are coming and are supporting us how far we've come with these young people. We want to honor the legacy of Ray and Tom and I think the best way we can do that is encouraging other young people to have a life that is fulfilling and rewarding—you can get all of these things done in every discipline."
Melanie Smith Taylor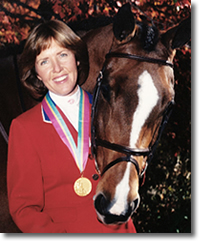 Speaking of every discipline, one participant in particular exemplifies the fact that the horsemanship of Tom and Ray crosses all equestrian boundaries. Melanie Smith Taylor has been a part of each Legacy event since the beginning. The usual images of Tom and Ray in their western wear and roping saddles certainly seem a world away from Melanie, usually seen in photos donning a classic English red riding blazer and riding breeches with her internationally legendary show jumping horse partner, Calypso, at her side in English tack–and sporting around her neck a wide ribbon weighed down by that big Olympic gold medal she won in Los Angeles in 1984. Melanie and her late husband, Lee Taylor, hosted Ray regularly for many years at their place, Wildwood Farm, in Germantown, Tennessee.
"To me it's exciting because I come from the hunter/jumper world," Melanie says about the Legacy event. "After I retired from competition I met Ray and Buck and learned so much from them about the workings of the horse. And then, I wanted to give that to my part of the industry, the hunter/jumper world—and share with them the things that are so important to me about how the horse thinks and how the lessons of groundwork and all the exercises that Ray and Buck taught us help the horse with everything they do.
"What I think happens is the people from the hunter/jumper world think that nobody from the western world has anything to offer them, just out of lack of education—they just don't know. It's just so fun; we're all in this together and we all can help each other. This sharing of knowledge is just so exciting to me. That's what I want to be able to do, be able to share this knowledge with people that have no idea what is out there. What really can help them enjoy their horses more and help their horses become better athletes.
"I feel like with what I learned from Ray, that I can be a tremendous messenger to my industry. If I can show them what I have learned and what I believe because of what it has done for me, I feel like that's my responsibility. I'm proud to have ownership of that responsibility to be able to share that knowledge and be that messenger and be able to share what I learned from those guys—it's a thrill for me to be able to give back to the horses.
"Buck [Brannaman] asked me to be a part of it. I've done it every year. I basically teach a jumping lesson. I try to show people what our hunter/jumpers need to do and that they need to have the same foundation. They need to be able to go forward, go back, turn left and turn right, be soft and forward and flexible and bend. I show the gymnastics. I think people enjoy seeing horses do something different. I try to relate the importance of the horses being balanced and centered.
"I just think it's a fabulous opportunity to see people at the top of their sport in the different disciplines and using the same principles of the great horsemen. Tom and Ray were never ever competitors, yet they could get horses to do things that any competitor would give an eye tooth to be able to get their horses to do. I think it's fun to see how they influenced such a broad range of people—they haven't just influenced people that work on ranches or people that start colts, they have influenced people in the cutting horse world, the reining world, the dressage world, the hunter/jumper world. I think great horsemanship…it's going to come down from Ray Hunt and Tom Dorrance, that's had that huge trickle down effect on so many."
Peter Campbell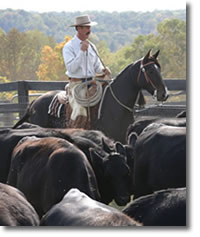 "I think what we're all working toward is to not let that part of it [Tom and Ray's contribution to horsemanship] die out," says Peter Campbell. "I was around Ray and Tom both—around Tom more than I was Ray. Tom was interested in the horse but he was very guarded. He didn't want to be misunderstood so that the horse paid for that later on. It's a delicate balancing act staying on track and focused. I haven't lost my sense of integrity about it. I'm true-true-true to it."
Peter started with Tom and Ray in the early 1980s. In the decades since then he has been steady on the road logging the miles as a horsemanship clinician taking what he has learned to others around the country.
"Obviously, it's not as pure as if Ray or Tom were there," Peter says about the Legacy event, "but it's a pure as it can get. I think the thought underlying the whole thing is to try to keep this [legacy from Tom and Ray] alive–keep it generating interest for all ages of people. To keep it going on. There are so many people doing stuff with horses out there the true picture can get lost in what's going on. So, that's the truest picture you can get is from what we're doing there [at the Legacy event].
"It's a collaboration of ideas but hopefully people get something out of that so that they can go home and work with their horse so that the horse can have a good feel from there.
"I'm looking forward to going. I was there last year. I think it'll be an exciting time. It'll be a good event and we're excited to see some of the scholarship winners. I do it to try to keep Tom's part alive, even though I'm not Tom. Trying to keep that going forward."
Mindy Bower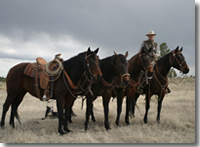 "I'm always excited to ride with Buck, no matter what I'm riding," says Mindy Bower, a rider at this year's Legacy event.
Mindy has been working with horses for 35 years, was a student of Tom and Ray, and has worked extensively with Buck Brannaman. She starts colts and trains horses from her ranch, the Uh-Oh, in Kiowa. Colorado.
"I'm sure that they [Tom and Ray] really just wanted you to do your own thing," Mindy says. "Like Tom said, 'The horse is the teacher.'
"I can remember Ray saying, he would tell people, 'Why are you coming back? I've already told you everything I know.' You've got to be able to just think about it. That's why he always signed his autograph, 'Think!' Especially nowadays people want you to tell them the answer.
"I think we got this great foundation from them about how to think—so now, take it and think! And don't try to be Mini-Me, just be your own self. I can always come up with an answer if I just think about it. I love riding with Buck because he inspires me but I like to watch him ride. I don't so much want the literal translation about what he's doing—I don't want him to tell me what he's doing—I'd just rather watch him. Anytime I get to ride with him I think it's inspiring. I always make a big change in my horse.
Kip Fladland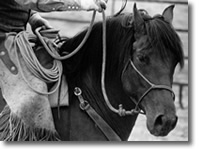 "There's a few of us been selected to be mentors to the scholarship winners who are going to be starting colts," explains Kip Fladland. "This is the first year I've been a participant of any kind. I've been there every year since it started."
Kip is a Montana native with nearly three solid decades of experience in the saddle. Nowadays he divides his time between riding horses for the public, starting colts, cowboying on some large Montana ranches, and teaching clinics across several states. Kip's resume includes working with Buck Brannaman on the road for five years straight.
"It's pretty special for me to be involved with it in general," Kip says. "But in addition, being a mentor to the scholarship winners, that's a pretty big deal because there's quite a few guys out there that have studied pretty exclusively with Tom or Ray that would definitely fit the bill to be a mentor to those guys. To have myself selected with some of those guys is a pretty big deal—I feel honored to be asked to do that.
"The deal about this is that we all have a common foundation. People that are participating in the Legacy of Legends event have truly worked with or rode with Tom and/or Ray, without a doubt. Those people that are presenting, whether it be this year or any of the other previous years, they were selected because of that reason. So, there's definitely a commonality between everybody that's presenting there.
"From my particular standpoint," Kip says, when asked what might be notable about this year's Legacy event, "because I'm married to a professional dressage rider, I'll actually be riding a warmblood gelding in a horsemanship class Buck is conducting, but he's straight up in the bridle and he will sit down and watch a cow and been roped off. So it's a pretty unique deal for me personally because a lot of the horses I ride for the public, because of my wife's connection and that kind of thing, are warmblood horses. A lot of the people in general think the Ray Hunt or Tom Dorrance style of horsemanship is just applied to the more western type of horse where that is certainly not the case at all. It applies to every kind of discipline there is, doesn't matter what kind of clothes you're wearing."
Lee Smith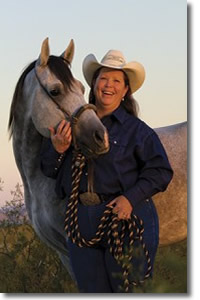 "I've been friends with the Hunts for a number of years and studied with Ray," says Lee Smith, "and when Carolyn asked me to do it this year of course I said, yes!"
Lee has been conducting horsemanship clinics throughout the U.S. and Canada since 1991. She and her husband, Mark, run a cow-calf operation and raise Quarter horses at their Diamond S Ranch near Wickenburg, Arizona. Lee also teaches ranch horse classes at the Diamond S.
"I'm just excited to continue to share some of the things that Ray shared with me that has made such a difference in my horsemanship and my life as a whole," Lee says. "So I'm really thrilled about that, to be involved in the Legacy event with the scholarships to pass this on. I'm just real excited to have that opportunity.
"[At the event] I'm going to help people learn to feel the feet. It was so important to Ray and I just feel that it is such a key…getting a horse to turn loose of his feet is such an important part of the process and I think people run past it and then later find they need it. So I'm hoping to share that with the students there and help them to get a leg up and realize the importance of it.
"I remember having a discussion with Ray, I said, 'You know, it was so important to me what you said because when I was learning it, I couldn't do what you could do (I may never be able to do what he did)," but because it's based on the philosophy and the way that he said it, I could get it working for me at my skill level. And it continues to evolve as my experiences grow and my skill level gets better. But those corner stones that him and Tom set forth really opened the doors.
"[A Legacy of Legends] does give these young individuals a way to have access to the people who really studied under Ray and Tom, and the funds to do that because it is expensive to get an education doing this.
"I follow very closely, as closely as I possibly can, to the teachings that they shared and the examples that they shared. As far as I'm concerned, and what my experience teaches me, there is nothing better for the horse. I tell people, 'I can't tell you what they meant but I can share what they said and what that meant to me.' Those sayings—that cowboy logic—will help you find the answers. When you're working with a horse, and you ask him which one of these does he need, they're in there! The answers that you need are in those sayings or those philosophies. Those riddles that I thought were difficult to learn now are the cornerstones of what I do.
"The little thing that I put on there for the Legacy's website, I said, 'I don't know if it was Ray teaching me about horses, or if now the horses are teaching me about Ray.' That is how I feel. The horses, they're continually proving what Ray was trying to tell me. They're helping me to learn about Ray's philosophy of handling horses.
"I just think it's a tremendous opportunity for people to come see what we've all done with what they shared. Ray used to say each one of us had a piece and nobody had it all. I think this is an opportunity for people to see the pieces. Hopefully they will see Ray somewhere in there."
Dave Gamble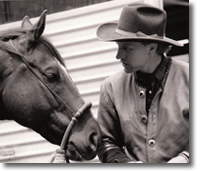 "The reason I'm in on this program, and I am a sponsor of it and will continue to be, is I am a true believer that … Ray always wanted a better way," says Dave Gamble, a rider at this year's Legacy event.
"Ray Hunt brought this to the world," Dave explains. "The way that I look at what I'm trying to accomplish in my little slot here is if I can make a difference in somebody's life that makes a difference in a handful of horses, I'd like to think the methods that I studied that helped me so much—that gave me so much, and that would only be Buck and Ray—that I would have something that I could give back for what they took their time to give me.
"There is a feel among these people here [at A Legacy of Legends] that I've never felt before. This is not a show. This is an educational opportunity if you want to get better with your horses. You can't find it anyplace else. It's a humbling and an honoring experience to be asked [by Buck to ride in this event].
Jaton Lord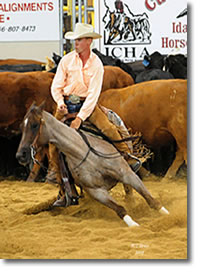 "My Grandpa was Ray, and I traveled with him for three years," says Jaton Lord, a mentor for this year's Legacy event. "I learned an awful lot from my grandpa. He just changed the way people could work with horses."
Jaton was immersed in Ray's teachings, traveling the clinic trail with his grandfather for three solid years.
"I went to every state west of the Mississippi," Jaton says, "and a lot of the southern states. I went to Australia and Europe with them [Ray and Carolyn]. When I went with Grandpa he wasn't as active as he used to be so he'd have me do a lot of the demonstrations. He'd walk me through it. It was an incredible experience and I learned a whole lot with him."
"It's just how I was brought up," Jaton says, when asked about learning horsemanship from Ray. "I feel like it is kind of a tradition on what he taught and how he looked at life. I think just being there [at the Legacy event] and carrying on the lessons that I learned from him means a lot to me, and if I can help promote that, I'd sure like to.
"I think it's just a great gathering of people—I mean, I've been in the horse show world, I've been in a lot of different events, just the people that come there, it's just so humbling. They don't act like they know more than what they do. They're hungry for information and I think it's a really good place to start to learn. If you can start learning how to work with that horse in a way where it's not troubled and you're not troubled–an amazing way of working with horses–then it's a good step if you want to move on to the next level. I'll be there talking to people, if they have any questions at all about the event or they want to talk about their experiences with Grandpa."