Written by Eclectic Horseman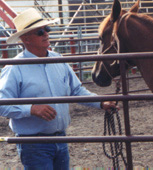 1. How did you get involved with horses?
We raised Quarter Horses and my dad rodeoed when I was a kid. I've always been around horses but was really never interested until I was about 20. I was trying to rodeo, and a ranch had a horse that would buck a little and I was told I could practice on him if I wanted to. There was a great old bridle horse man there named Charlie Maggini. He was 70 years old at the time. He was watching and I got the idea he didn't want this horse to buck. I just kind of kept the horse busy and distracted and the next thing I knew I was riding colts for him. I was from Washington and had never seen a spade bit horse in my life. I have been hooked ever since.
2. What one word describes your ideal horse-human relationship?
My ideal relationship word keeps on changing about every six months. Right now it might be "non-confrontational," I hope I have a different word in a few months because that will mean I have progressed to a better relationship.
3. What are your current professional goals?
I'd like to keep presenting in clinics and lessons the idea that this is not a set of techniques, but it's a method of thinking about and approaching the horse that kind of suits the horse.
4. Do you see yourself as part of a larger community of horse people, and if so, how do you fit into that community?
I suppose I see myself as part of a group of people that are sincerely interested in improved horsemanship. When I first worked with Ray Hunt back in 1967 BC (Before Clinics), there were only about 10 or so of us working at this. The rest of the people thought we were nuts, so it's great to see where this interest has gone from those days. You can find it everywhere now, and those that aren't very interested have at least heard of it. I would never have imagined there would ever be anything like the gathering of like-minded people at the Tom Dorrance Benefit in Ft. Worth. It makes you wonder how many more were out there that couldn't attend.
5. What equine-related product could you not live without?
The pitchfork. We use it to fork hay to them and then use it to fork used hay away from them. I think the use of the gooseneck trailer is a great benefit to us all.
6. What is the most important character trait for a great horseman to possess? Why?
I don't know what you call it, but it's that feeling that comes from within you toward the horse. It's the feeling that comes from within you that means so much to the horse. When you have it going, there's no feeling like it in the world for you and the horse. I heard someone talk about the empathy and sympathy that Tom Dorrance had with horses. I looked it up in the dictionary and that's about as good a definition as I've ever seen.
7. What do you get out of working with horses? What do you give?
I think it's kind of presumptuous to think that we as humans give very much to the horse, especially when we first started working with horses. After several years of experience, if I am able to give anything to the horse in the way of horsemanship, it's because first the horse has given that measure of horsemanship to me. That's what I get out of working with horses and try to return some of it to the next horse I work with.
8. Who is/was your favorite horse of all time? Why?
A horse named Brodie that Ray had ridden six times when I bought him. I spent all his life trying to be in harmony with him. I probably only achieved it for about a total of six minutes. I could make some people think I could ride him, but I never fooled Brodie. He sure taught me about what a horse could be and how much work I had to do on myself to experience some of what was inside a horse.
9. Who would you most like to ride with?
Tom Dorrance. I saw him ride once for just a few minutes and I still can't believe what I saw. I think now, 35 years later, I might have a little better understanding of what I was seeing. That empathy and sympathy that he had for the horse-I'd give anything to try and see how much of it I could observe and to see how the horse responded to it.
10. What is your most memorable horse- related moment?
The third time I visited with Ray Hunt. He had just gotten in five horses to start and he asked me if I'd like to help him start them. The rest of that moment has been a lifetime.
Jack Young has trained, and shown professionally, mostly working cow horses. His background includes cowboying in California and Nevada, running his own training stables, judging both English and western events, and running the horse unit at a college. He worked around Ray Hunt in his pre-clinic days for several years. He and his wife conduct horsemanship and colt starting clinics part of the year. He rides a few outside horses and gives lessons at their home in Orovada, Nevada.
This article originally appeared in Eclectic Horseman Issue No.7