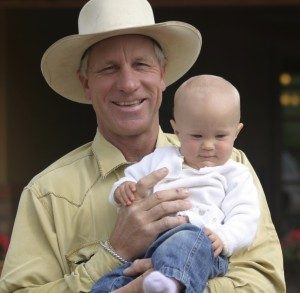 After a long year off from riding I had the chance to ride with Buck Brannaman at his ranch in Sheridan, Wyoming. What an opportunity! It was my second time being able to attend one of Buck's clinics at his ranch…. and let me tell you, it spoils you from riding in any other kind of clinic.
The first time I went I was convinced each day that I would die. You want me to ride where? Really? Up there, and then DOWN that? Lope on the side of a hill with sagebrush? Really? Bring all those cows down the big hill? Okay….
And yes, that first year and the two more times after not only did my horse and I survive but we had the greatest weeks of riding ever. After that first year I trusted him so much more than I ever had; and when I came back in 2009 we both seemed to say, "Hey, this ended up being a lot of fun, bring it on!"
At the end of the clinic we had the chance to film a segment for the first issue of the Horseman's Gazette, Cowhorse Turnarounds, which continues to be one of my favorites to date.