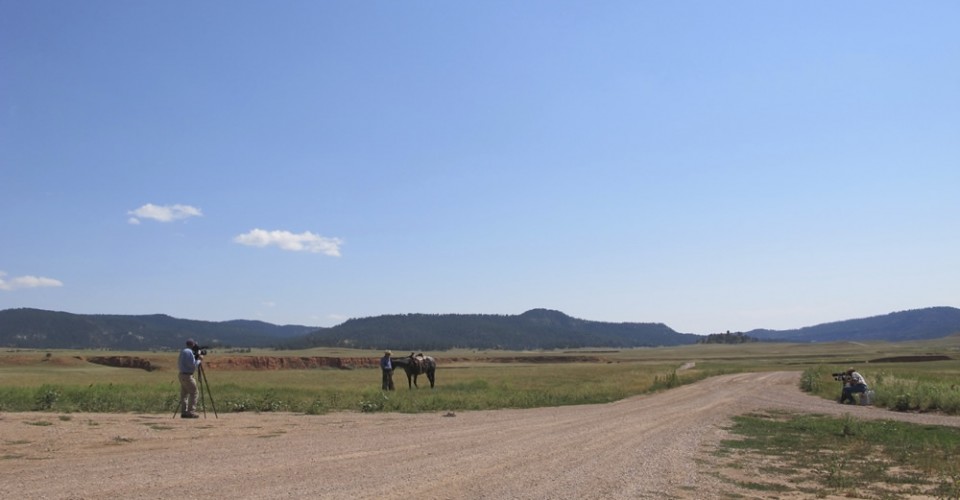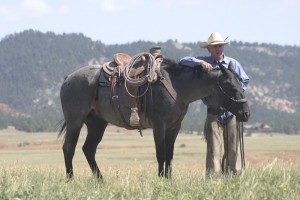 We got the chance to film with Bryan Neubert this summer just outside of Edgemont, South Dakota. It was a long drive, so we broke the drive up into two days knowing we could get more filming in if we got there early the next day.
We then packed up the Syd's horse toys, put our summer helper Jo in the front seat to talk horses; otherwise she doesn't talk much at all! Then we gassed up the old Chevy and hit the road aiming our eyes on the atlas this time for the Black Hills.
There's a Best Western on the main drag in Lusk, Wyoming where we spent the night. Syd was pleased they had a tiny little pool, then like some 5 year old are prone to do, insisted on a early evening swim. After that we walked up the road and had some grub at one of the local everything is deep fried joints. In the morning the hotel served us omlettes they make custom to your liking, with a strong cup of coffee served out of real cowboy mug out right of the back of their chuck wagon — that alone made it a really good place to stay!
After breakfast, and reloading all those dang horse toys, we drove on out across wide open spaces of Eastern Wyoming. Steve could almost swear there were great herds of buffalo just out on the horizon! It was actually wind kicking up dust. We got to the ranch sometime mid-morning we were ready to get out and film.
Bryan Neubert is always great to see and visit with. He's easy going, and easy to work with. He's also got a notable sense on humor, as he made truthful observational quips like only he can do about how seemingly everything in that country is either named after buffalo, bison, and tatonka.
When we showed up to film Bryan had a long list of great ideas he ran by us, and we got right to work. So we now have a segments we're certain you will like for a future episodes — Bryan sharing some simple and effective groundwork tips answering questions he often gets at his clinics, and a feature with him working his dog on cattle from horseback.
A special thanks to Nolan and Eva Riel for letting us film at their ranch and for their gracious hospitality.
---
---
Pardon the interruption...
Eclectic Horseman is built on support from readers like you. We strive to bring you Quality Horsemanship — stories that inspire, training tips that work, from resources you can trust. If you like this website, please consider subscribing to our magazine. The hard copy offers you much more than what we post here online, isn't cluttered with advertising, and costs less than a tank of fuel or a week of venti lattes.
Support our work, or continue reading the free samples of articles.
---
---
HARNESS YOUR SOCIAL HORSE POWER!
Share this article with your friends.