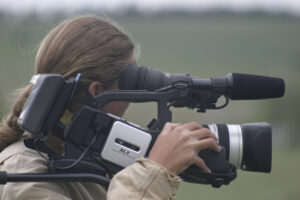 Memorial day weekend found us lucky to film close to home with renown horsemanship and ranch roping instructor Scott Grosskopf. Thankful to be able to film just over in Kiowa!
Our friend and neighbor Ty Weber brings Scott down for a roping clinic each Memorial day weekend, and even though the weather can be a bit iffy here in Colorado that early the clinic was a great success. They did a little real-world work out in the field after the clinic and after the segments for The Gazette were filmed and Steve and Sydney and I tagged along to get some cool b-roll.
So many adventures with a nearly one-year-old, she's getting to be a great traveler and a champ at adjusting to whatever situation we find ourselves in. Ty and Kathy's son Coy kept Steve and Sydney company while I filmed and tried to stay out of the rain!