We had the most amazing opportunity to ride with Tom Curtin at Singing Dog Ranch in Wellington, Colorado. It was my 12-year-old daughter Sydney's first clinic (to ride in that is) and my first clinic with my new horse Dodger.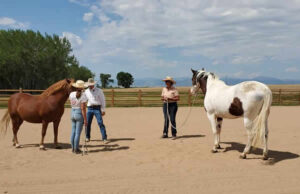 The first afternoon was spent on the ground, where we learned some new ways of thinking about what groundwork is… not just what we do when we think we're doing groundwork but the catching, leading, brushing, etc. Tom helped me with using the flag and Sydney with leading; it was a great first day.
Both Saturday and Sunday we spent time in the morning and afternoon riding. The best way I can describe it is a guided meditation of learning how to feel of your horse. Tom directs the riders to see if they can ride at different speeds, move parts of their horses, feel a particular foot, etc. But instead of him telling us what to feel he gave us questions to ask our horse and to ask ourselves. How slow can you walk? How fast? Can you move your front end around your hind? The hind around the front? Can you back five steps? Can you back the length of the arena?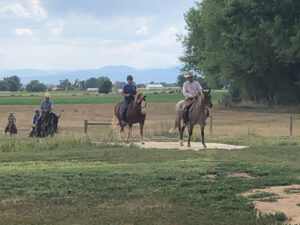 Tom always stops several times durning the class to ask if the riders have any questions, and sometimes those questions lead the group off into an activity that maybe wasn't planned. It was an incredible weekend of learning for all of us; and a great first clinic experience for my horse and my daughter. My biggest take away was to be aware about how my horse feels when he's around me. I'm hoping that that keeps getting better and better.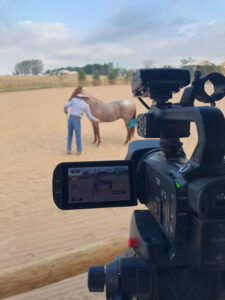 We also had the opportunity to film several segments for future issue's of The Horseman's Gazette, so that was fantastic too and I know that you'll get a lot out of watching those segments.