by Dallas Sweat
photos by Donnette Hicks
This article originally appeared in Eclectic Horseman Issue No.72
In the equine industry, it is rare for a man with a ranching background to join the ranks of the international dressage community; it is even more rare to do so while maintaining the integrity of his horsemanship and withstanding commercial influences.
Jim Hicks is a pioneer for those who desire to deepen their horsemanship through the principles of dressage. By extending the frontier of their horsemanship, riders find that dressage is a delightful avenue for the horse to have an expression that maintains a level of confidence within both horse and human.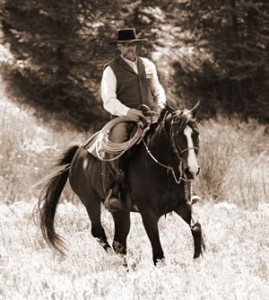 For Jim, stepping into dressage has been a difficult journey because he knows that this equestrian community is predominantly unaware of the rich insight inspired by men such as Ray Hunt. By choosing a path unpopular with both rancher horsemen and dressage riders, Jim was suspended between two worlds with the hope of one day merging them.
Jim's vision of these two worlds is true horsemanship, which encompasses the whole relationship between horse and human. When the principles of dressage are practiced thoughtfully and with consideration for the horse's physical and emotional development, they unify and deepen a horseman's knowledge. By working within a framework created by the true needs of the horse, one can express freedom and partnership through elasticity and movement.
"What excites me is the possibility of what happens when the horse's mind and body is allowed to express its pure needs, resulting in a unified balance with their human," Jim explains.
Jim teaches riders to remove any human concepts or ideas formulated around the horse so they are left fully with themselves, thus able to recognize and nurture the relatedness of human and horse. It is imperative that humans look into themselves for answers with the horse; only a humble human can understand the language of the horse and learn from it.
When these principles make their appearance in the competition arena, it significantly improves the welfare and treatment of the horse. For example, in 2012, "harmony between horse and rider" and "freedom and regularity" were recognized and required as tenants for the collective scores of dressage. This is a noticeable improvement in the dressage community, as standards are written into competition to improve the well-being of the horse.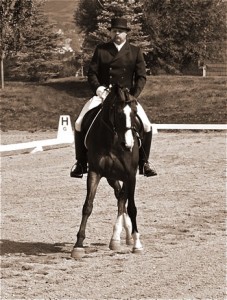 "In my personal experience, the dressage world focuses too much on the biomechanics. Where both worlds complement each other is when one can bring the mind and the body to its fullest potential. This is done without causing undue emotional or physical discomfort. A healthy athlete is both physically and emotionally developed," Jim continues to explain.
Educating horsemen is a driving force in Jim's life. Jim has begun an educational clinic series, "Dressage Principles for the Horseman." This clinic series has taken him to places from Bruneau, Idaho, to remote Kodiak Island, Alaska, and beyond. Jim has designed this clinic series to help horsemen access a deeper relationship with their equine partners, regardless of their goals or riding disciplines. He is accessed by world class horsemen who enjoy an exchange of support. As a result, an expanded audience is gaining access to his education on how to bridge worlds with integrity for the benefit of the horse.
If you enjoyed this article, subscribe to Eclectic Horseman Magazine. Learn More.