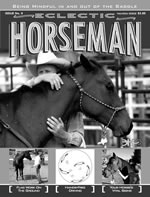 Event Results The results from the California Cowboy Gathering and Ranch Rodeo in Dublin, California.
Vital Signs by Sue Stuska, Ed.D. (read online) 
Learn to confidently be able to assess your horse's condition through taking vital signs.
Flag Work on the Ground with Buck Brannaman
Use the flag to build confidence and encourage movement in your horse.
Hands-Free Driving by Sylvana Smith
Bill Scott demonstrates how you can use the mental connection for ground-driving with no driving lines.
The Story of Bud… Part One by Cheryl Kimball  
Cheryl relates the start of her journey with a difficult horse and the lessons she has learned along the way.
Being Mindful in and out of the Saddle by Jec Aristotle Ballou (read online)
Explore the similarities between Zen meditation and horsemanship.