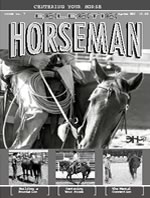 Ten Questions with Jack Young (read online)
Meet Jack young, a lifetime cowboy and horseman from Nevada.
Centering Your Horse with Buck Brannaman (read online) 
Buck shares his thoughts about how he gets his horses to be right with him as he rides.
Building a Foundation, part 4 with Bryan Neubert 
In the final part of this series, Bryan works to get the colt ready to ride from the fence.
Hunting for Help, part two by Jennifer K. Hancock (read online) 
Ray Hunt continues his work with troubled horses at Sunland Park Racetrack.
The Mental Connection by Sylvana Smith (read online) 
When you and your horse operate as though of one mind, you can accomplish your horsemanship goals.