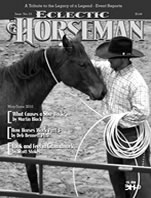 Ray Hunt Tribute Clinic Reports Remembering Ray Hunt – A Tribute to the Legacy of a Legend by Donna Keagle Donna walks us through the events of this historic weekend. (read online)
An International Perspective by Gee Wood
Gee visits with several tribute clinic attendees from foreign countries.
Memories of the Tribute Event by Erin Franks
Erin shares her memories and observations from this touching event.
What Causes a Sore Back? by Martin Black
Martin offers some suggestions to help you identify what might be causing your horse to have a sore back.
Look and Feel in Your Groundwork with Scott Stokes (read online)
Instead of just going through the motions, Scott gives some insight into how your horse should look and feel when you are doing your groundwork.
Time Spent Hiding, Not Just Braiding by Lee McKinney
The process of braiding rawhide starts well before a braider sits down to braid. Lee takes us through the important steps that lead up to that moment.
The Importance of "Before" by Diane Longanecker
Diane explores the idea of being there before, and explores the three roles it serves; (1) preventing problems, (2) providing guidance, and (3) achieving refinement.
How Horses Work – Installment #3 The Anatomy of Straightness with Deb Bennett, Ph.D.
Dr. Deb continues her series on understanding the biomechanics of horsemanship exercises and the anatomy of straightness.