Written by Doreen Shumpert
This article originally appeared in Eclectic Horseman Issue No.41
Acclaimed rawhide braider Vince Donley grew up in Ohio, which may seem a strange place to develop a love of custom cowboy gear. However,  his father (also from Ohio) had spent some time cowboyin' around the West before being drafted for Korea. Thankfully, he returned home to Ohio, but didn't make it back out West again.  Apparently, no matter how short-lived it was, the lifestyle was in the blood enough for Vince to inherit a cowboy bone.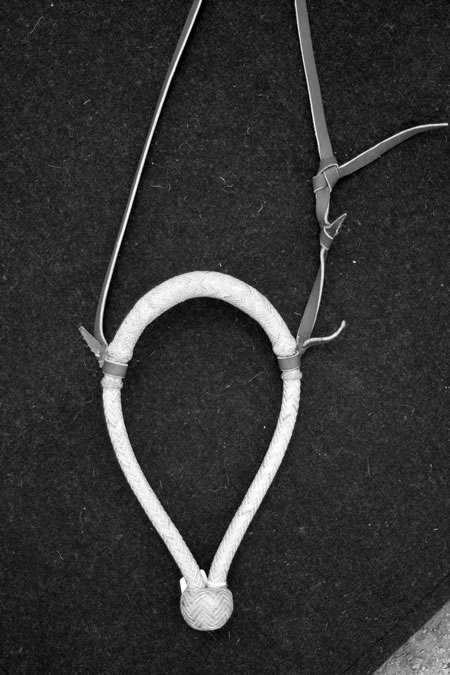 During his cowboyin' days, Donley's father had been around guys that did custom braiding and bought young Vince a book by the renowned braider, Bruce Grant. That one gesture was all it took. Vince started teaching himself to braid rawhide at 14 years old.
"I was interested in horses. We had some saddle horses around, but I was the only one interested in being a cowboy," Donley said, adding that his brothers didn't cowboy at all.
That interest eventually took Donley out West as well, where he also did some cowboyin', and naturally, he made his own good rawhide gear. By the 1970s, he and wife Judy had moved to the Sheridan, Wyo., area and lived there until they moved to Parkman, Wyo., about seven years ago. Most of that time, Donley worked construction and focused on braiding during the winter layoffs. But as of 1997, he's made a full time living at it and works out of the house there in Parkman.
At times, it's been a family affair. Oldest son Keene, now 22, and younger brother Chad, 17, have done quite a little here and there, and Judy holds down the fort, amongst other things.
"It's hard to keep the boys from going off and doing their own thing, but Keene can build reatas and Chad builds everything," Donley explained. "Keene has been working in the gas fields up to 60 hours a week. He makes too much money to stay home and braid," he laughed. "We home school Chad. He cowboys in the summer and still braids on the side some. Judy keeps me lined out, does the books, errands, braids a little, and keeps me honest!" he added.
But mostly, it's a one man band, so Donley doesn't go crazy on custom orders, trade shows, or Web sites—in fact, he shies away from such. On occasion, he braids for collectors or a rare custom order, but by referral only. He describes things as being on an "even keel" business wise, and he's perfectly content with that. He keeps braiding gear for the shelves of his two oldest customers—King's Saddlery in Sheridan, Wyo., and the Custom Cowboy Shop in Cody.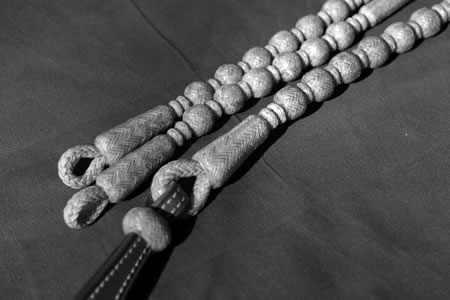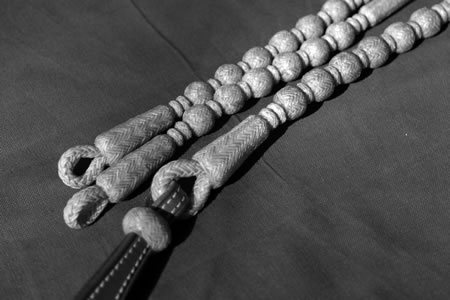 "I mostly just braid for the wholesale market," he explained. "Sara Hagel also carries some of my gear, and so does Three Forks Saddlery, but King's and Don Butler (Custom Cowboy Shop) have bought from me for about 28 years. They probably started with me when I wasn't very good," he laughed. "But I've been with those two a lot of years."
Donley also mentioned that Sara Hagel and Houlihan Horse Gear, started by Mary Brannaman, also carry his gear.
"Buck [Brannaman] has used quite a bit of my gear, but I was the one around about 20 years ago when he was comin' on, and there wasn't much choice!" he joked.
Nowadays, Donley admits there's more selection of quality gear to choose from. But, there's also more imported gear that people should be aware of. He believes that his "good usin' stuff" sets him apart from many other artisans, as does the high quality of his work—always in demand from good horsemen and women. Donley creates work grade, mid grade and show grades of his gear, but as Sara Hagel mentions—make no mistake that the "show quality" gear stands up just dandy to everyday use.
"I've always been around, and I've looked up to Jack Shepherd's stuff around here, and I try to emulate that consistency," Donley said. "You don't see much mass production with rawhide, but we are seeing some imports now from Mexico, Chile, and South America. You run into quality problems with those. If you want to buy cheap, you can buy cheap, but the imports often have things like a cable inside the bosal," he explained. "Most horsemen would rather do without than work with sorry gear. Most guys I know take care of their gear, guard it jealously, and are really careful with it," he added.
One would think that would damper repeat business, and it does to some extent. But it's also a matter of pride and the mark of a great craftsman to build gear that should last a lifetime with proper care—such as a good quality bosal. They are also his favorite to produce, being the base of the whole California system he grew up on.
"I don't have too many repeat customers with those if they are taken care of, but the dogs and mice keep me in business," he laughed.
As for total pieces per year that he braids—he's not sure. But he goes through 50 hides a year, one hide a week. He no longer braids reatas, but sticks mainly to bosals, reins, romals and hondas.
"Hondas are in high demand, but they get used up. I probably do 500 to 600 a year of those," he said. "Reins and romals tend to wear out too, so I have some repeat customers for those. And, everybody likes different bits, so they need additional reins or romals, or a different size of bosal according to the horse's stage of training," he added.
These days, Donley said they keep three or four horses around, "just enough to help the neighbors." He isn't into attending clinics, but likes to watch one now and then. Mostly, he rides for fun and "saddles up to go agitate the neighbors again" when he needs a day off.
Not the type to toot his own horn, others aren't afraid to toot it for him. A good friend, Leland Hensley (also a top braider), is involved with the Trappings of Texas, a prestigious event held in Alpine, Texas, each year for the top cowboy artisans to showcase their products. After finally being convinced to attend by Hensley, Donley won Best of Show in 2006 in the hitching/braiding category for his 12 plait rein/romal set, described as "braided of fine color, interwoven sculpted buttons in black and brown, on a natural base."
For more information, or to view Donley's products, visit www.houlihanhorsegear.com, www.mecates.com, www.3forkssaddlery.com, www.kingssaddlery.com, or www.customcowboyshop.com.
This article originally appeared in Eclectic Horseman Issue No.41