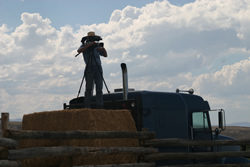 Working with Martin Black is a always a great experience whether it's with horses, an article for an issue of Eclectic Horseman or on his latest DVD project. I was fortunate to be able to travel to Bruneau this fall to film the content for his latest DVD expected out later this year.
Martin had a series of clinics ranging from colt starting to ranch roping at his home place outside of Bruneau and had an assortment of students from all over the world ready and eager to learn. What a joy to get to spend time with students who were there for the horse and so passionate about learning how to work with them. Lots of fun, lots of learning and really such a great group of young people.
Good to meet you Esther Luxford-Matthews, Daniel Gorman, Andrew Turnbull, Jessica & Sam Matheson, Alli Rust, Jackson Holm, Isabelle Durr,  and always good to see Jana Horka. Special thanks to Joanna Lo, who ran the second camera and was an all around great help.