Editor's Note 10/1/14: We're excited to be attending this event! Please take a moment between watching the houlihan's, del viento's, and turnovers fly to saunter over to our booth and visit awhile. It's always great to catch up with our readers in person and we hope to see you there. — Emily
The 2nd Annual Wrangler Buck Brannaman Pro-Am Vaquero Roping will be held October 24, 25 & 26, 2014 at the Santa Ynez Valley Equestrian Center in Santa Ynez, California. The event's namesake, horsemanship clinician Buck Brannaman, conceived this unique vaquero-style roping event building it on the model of pro-am golf tournaments where teams compete, each comprising two amateur ropers and one professional. This year, the event will run over three days instead of two—the extra day added to handle nearly doubling in size from 60 to 100 teams competing for a purse expected to be double last year's at $50,000.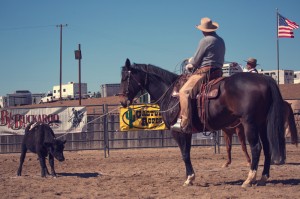 "The first year couldn't have gone any better," Buck says. "Everybody loved it. All the pros had a great time, lots of good vendors there. We drew a hell of a crowd—it's amazing."
The event is free for spectators again this year. Buck's co-producer, Bill Reynolds, says it is important to them to make the roping a free event because it is an educational opportunity for folks to come and see that vaquero roping really is still practiced, alive, and well.
"The acceptance of the event was wonderfully significant last year," Bill says. "It went very smoothly and a lot of that is the fact that all the people who attended—the vendors as well as the spectators—really wanted it to work. When you get that kind of good energy behind something it tends to be successful. It was very successful. We gave out about $25,000 in winnings to the teams."
Originally, Frank Dominguez and Buck came up with the idea of a pro-am roping, Buck says. They talked about it for years, but it was Bill and Buck who finally decided to put it together.
"And then," Buck says, "Reata [his daughter] kind of jumped in and really helped us, and really we couldn't have pulled it off without her last year. She did a great job helping us. And a boy who works for me, Isaac [Johnson], also really helped a bunch. It ended up being a team effort."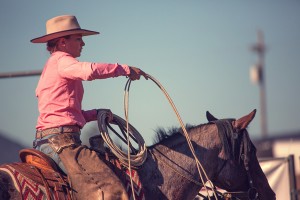 Buck made the decision to go from 60 to 100 teams competing this year. 50 teams will rope on Friday, 50 on Saturday, and then the top 30 teams return on Sunday for the finals. All of the money in the prize pot will be divided between the top eight teams.
"All the money that comes in from anything that's brought in goes into the bucket for putting it on, paying the facility and all that, and what's left goes into the bucket for the winners," Bill explains. "Depending upon how many sponsors we get determines how much we give out to everybody, but we've surpassed the $25,000 of last year already, so we know we're on the road [to the $50,000 goal]."
The vendor space is increasing this year as well. Most all of the vendors who were there last year are returning along with at least five additional ones.
"This year it's going to be a bigger event than last year," Buck says. "All the vendors we have are really classy vendors. There isn't going to be a single booth that you're just going to walk by and dismiss. You're going to want to look at every one of them."
Another change this year is that ropers are allowed to rope on two teams rather than only one. Last year there were 12 pros matched up to the 60 teams/120 amateurs.
"Most of those guys and gals [the pros] are coming back," Bill says. "This year in addition to those, Martin Black is going to be there as a pro, and some other guys, so we will have 20 individuals. Each of the pros rope with five different teams. And they will be picked at random. It's going to be a lot of fun."
The attendance at last year's event was four to five times what was expected. Things went extremely well considering the sizable interest, and this year big turnouts are anticipated for each day.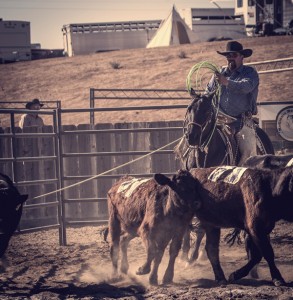 "There's probably going to be 800 people there a day watching it," Buck says. "It's a big deal and people are really excited. There's ropers coming out of the woodwork that want to get in it. Of course, a lot of that has to do with the fact that we're getting a lot of money up in prize money. It's kind of a labor of love for us because we didn't do it to make money on it—we're not making a penny on it. We pay our expenses on the cattle and stuff and every penny goes back to the ropers, which makes it pretty unique in that sense because a lot of people who put on ropings, they're trying to make a little dough on the side. This one, you win the roping, you win a lot of money."
Bill noted that last year people traveled from all over the country and Europe for this roping competition—both as contestants and spectators.
"I think it's a testament to Buck," Bill says. "When people come to this, the event is populated with people who really do love this culture and people who really want to share it. It's not some sort of ol' boys club. And that in itself creates, I think, an environment that's really supportive of what it's about."
Teams, Go Order & Pros
NOTE: Adjustments will occur, be sure and check brannaman.com for updates on teams and order.
The Pros have been assigned. Plan to arrive Thursday, October 23 around noon. See the Spectator tab for the list of hotels in the area. Any questions contact Reata Brannaman at reatabrannaman@gmail.com
Day 1
Arena 1
Peter Taylor – Vince Muselli – Bobby Gordon
Lyman Clark – Matt Clark – Peter Campbell
Reata Brannaman – Devon Castle – Frank Dominguez
Bill Flynn – Jay Hogan  – Billy Askew
Trevor Carter – Tara Carter – Joe Wolters
Steve Howard – Russell Speaker – Scott Groskopf
Jim George – Jess Brackenbury – Dwight Hill
Cody Real – Joaquin Real – Jade Cooper
Logan Ferry – Dave Ferry – Cleve Anseth
Michael Giacopuzzi – Bruce Sandifer – Haines Holman
Cody Dawson – Sean Sowa – Ty Van Norman
Agapito De La Cruz – Adam Spence – Buck Brannaman
Jon Ensign – Rudy Lara – Dan Locke
Jeremy Morris – Paul Erickson – Caleb French
Bruce Campbell – Scott Davis – Jeff Hansen
Seth Redding – Marty Hedoesit – Matt Mori
Trevor Carter – Shamus Haws – Lorenzo Laurecia
Jymme Dominguez – Devon Castle – Martin Black
Terry Rodgers – Darian Morgan – Joe Wolters
Jennifer Black – Kyla Rianda – Ira Walker
Jim Prewitt – Wyatt Bourdet – Bobby Gordon
Jennifer Black – Clayton Edsall – Peter Campbell
Gary Ruttan – Robert Phinney – Frank Dominguez
Gary Myers – Bill Flynn – Billy Askew
Fabian Banderas – Randy Huber – Joe Wolters
Arena 2
Jeff Ohaco – Boone Campbell – Scott Groskopf
Noah Cornish – Wes Ferazzi – Dwight Hill
Scott Mc Culloch – Mike Monighetti – Chance Gee
Lyman Clark – Gabe Clark – Cleve Anseth
Mike Morgan – Darian Morgan – Haines Holman
Kyla Rianda – John Rianda – Ty Van Norman
Sterling Grosskopf – Dick Grosskopf – Buck Brannaman
Scott Davis – Luke Ferrari – Dan Locke
Don Chase – Jeremy Morris – Martin Black
Tom Harrington – Steve Howard – Jeff Hansen
Caleb Munns – Cody Hill – Matt Mori
Chris Bohenek – Ty Heth – Lorenzo Laurecia
Trapper Rodgers – Mike Morgan – Martin Black
Michael Giacopuzzi – Jeremy Dunn – Chance Gee
Jeff McKee – Seth Scribner – Ira Walker
Gabe Clark – Matt Clark – Bobby Gordon
Kevin Hall – Ty Weber – Joe Wolters
Isaac Johnson – Noah Cornish – Frank Dominguez
Logan Ferry – Wyatt Clark – Billy Askew
Clayton Edsall – Wyatt Bourdet – Joe Wolters
Kip Fladland – Wes Ferazzi – Scott Groskopf
Jeremiah Sobenes – Michael Bruce – Dwight Hill
Mike Monighetti – Pat Boyle – Jade Cooper
John Wright – Allen Renz – Cleve Anseth
Don Chase – Christian Clews – Haines Holman
---
Day 2
Arena 1
Jim Prewitt – Adam Donati – Ty Van Norman
Valerie Chase – Jay Ohaco – Buck Brannaman
Scott McCulloch – Pat Boyle – Dan Locke
Derek Shaw – Bruce Campbell – Caleb French
Vito Antoli – Paul Bonnello – Jeff Hansen
Adam Donati – John Donati – Matt Mori
Jeff McKee – John Rianda – Lorenzo Laurecia
Staci Grosskopf – Dick Grosskopf – Martin Black
Gary Myers – Jay Hogan  – Chance Gee
Seth Scribner – Justin Bogle – Ira Walker
Valerie Chase – Glynna Hoekstra – Bobby Gordon
Walt Geisler – Geisler – Peter Campbell
Kevin Hall – Tom Harrington – Frank Dominguez
Dave Gamble – Chris Bohenek – Billy Askew
Tom Curtin – Ed Disney – Peter Campbell
Derek Shaw – Luke Ferrari – Scott Groskopf
Boone Campbell – Jeffrey Mundell – Dwight Hill
Gil Camarillo – Victor Cruz – Jade Cooper
Alie McKee – Gene Armstrong – Cleve Anseth
Sean Sowa – Ty Weber – Haines Holman
Ty Heth – Gary Ruttan – Ty Van Norman
Seth Redding  – Stacee Redding – Buck Brannaman
Cody Real – Gil Camarillo – Dan Locke
Paul Erickson – Cody Hill – Caleb French
Tom Curtin – Trina Curtin – Jeff Hansen
Arena 2
Michael Bruce – Jake Bowman – Matt Mori
Robert Phinney – Hyde Kramer – Lorenzo Laurecia
Dave Gamble – Isaac Johnson – Caleb French
George Masek – Joel Elliot – Chance Gee
John Wright – Greg Renz – Ira Walker
Roy Pelkey – Randy Huber – Bobby Gordon
Glynna Hoekstra – Mike Tarrant – Peter Campbell
Bill Barnes – Rick Myers – Frank Dominguez
Sterling Grosskopf – Staci Grosskopf – Billy Askew
Jeremiah Sobenes – Jeff Ohaco – Jade Cooper
Shamus Haws – Mike Warner – Scott Groskopf
Roy Pelkey – Christian Clews – Dwight Hill
Ed Disney – Marty Hedoesit – Jade Cooper
Bill Barnes – Wayne Anderson – Cleve Anseth
Trapper Rodgers – Terry Rodgers – Haines Holman
Kevin Jones – Jeremy Dunn – Ty Van Norman
Paul Dietz – Jacob Bowman – Buck Brannaman
Peter Taylor – Colton Shields – Dan Locke
David Wratchford – David Morrison – Caleb French
Reata Brannaman – Jymme Dominguez – Jeff Hansen
Paul Dietz – Joel Elliot – Matt Mori
Matt Coats – Maurice Thibault – Lorenzo Laurecia
Joe Olla – Paul Bonnello – Martin Black
Kip Fladland – Rick Myers – Chance Gee
Vince Muselli –  – Ira Walker
---
The Pros
Here is the list of Pros coming to rope. These are very talented ropers and it will be great fun to see all these folks competing.
Bobby Gordon
Peter Campbell
Frank Dominguez
Billy Askew
Joe Wolter
Scott Groskopf
Dwight Hill
Jade Cooper – 4
Cleve Anseth
Haines Holman
Ty Van Norman
Buck Brannaman
Dan Locke
Caleb French
Jeff Hansen
Matt Mori
Lorenzo Laurecia
 Martin Black
 Chance Gee
Ira Walker