With Jeff Derby
In the last issue of Eclectic Horseman, Jeff Derby discussed his approach to working on winter projects in general, and getting a horse prepared to cross a bridge in particular. Picking up where we left off in the last issue, Jeff continues to prepare his horse and build her confidence in him and in crossing the bridge.
"A lot of times people feel like they can't quit until they achieve their goal, and sometimes the best way to move forward is to stop and come back to a project later.
"Now she's feeling pretty well prepared. We took a little break, and now I feel like she is more ready to go ahead and cross the bridge. When I feel that readiness I'm not really doing anything different than I have been doing. My focus is out in front of her, across the bridge. If I feel her attention go somewhere else, I will just come in with the slightest pressure on my legs and encourage her to bring her attention back again. My seat is just encouraging her to go forward, and I've thrown all the slack in the reins that I can so that if she took a big jump to get across the bridge I won't accidently bump her with my hands and scare her. If I have to hang on to something, I'll grab my rope, or the saddle horn, or even the cantle.
"The fine line that I'm aware of here is to not come in with too much encouragement…. too much and it will end up feeling like pressure to her.
"If she's thinking and trying, moving or searching at all, I'm not going to come in with any pressure. If I feel like she gets stuck or stops trying or searching, then I'm going to come in with my legs to encourage her to start that searching back up again.
"I don't want to get to a point where I say 'Okay, now you HAVE to go.' When she goes, I want to feel like she is taking me over the bridge, I don't want to feel like I'm pushing her.
"Something you might feel in your horse is that he might feel like he gets right up to the edge of whatever you're working on and feel like he feels he can't do whatever it is you are asking. Now  mentally he is prepared and wants to do what you're asking but doesn't think he can. Now it might seem contradictory to what we've discussed so far, but what he might need right there is a little more encouragement.
"With this filly, what I feel is her wanting to go. She's leaning forward, getting her weight positioned to go over the bridge, but she's not sure how to step up on it. We've maybe created a little habit of stopping when we get to the bridge, and she's not sure what to do next.
"So I might have to do a little more to encourage her to search a little further than she has been. That might just mean keeping a little more life in her feet as we approach the bridge.
"Once she goes, she  might have to take a big jump. That's fine, and I'll maybe keep working at this until she can cross and feel pretty comfortable about it… not having to take a big leap to get across it.
"Again, I can stop at anytime. I don't have to achieve a certain goal that I've set for myself or my horse. I'm searching for her to get a taste of what getting with me feels like so that I can build her confidence in getting with me. Any time we've made a step in the positive direction, that would be an OK place to leave it alone. As soon as I feel her make a decision to get with me, whether we've taken a step or not, I'm going to get out of her way.
"And again, this is not just crossing the bridge, it's about the rest of her life with me or whoever is riding her."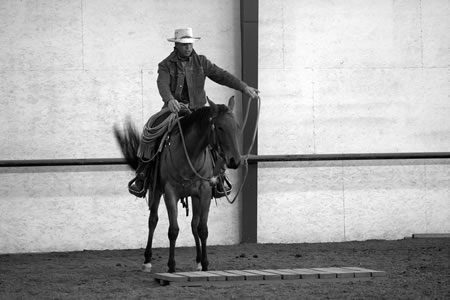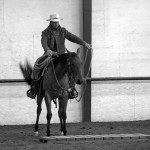 Photo 1
If she stops searching, or her attention drifts, I come in with my legs and apply pressure to start her searching again.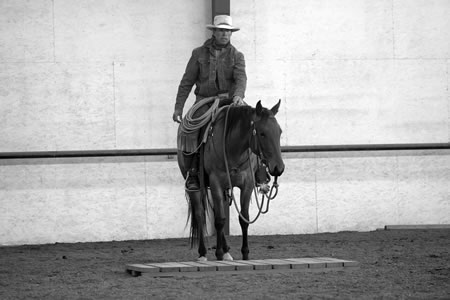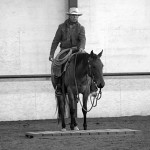 Photo 2
When she is preparing to go across the bridge, I get out of her way. I'll let her feel comfortable here.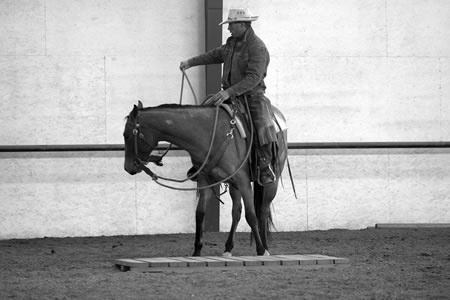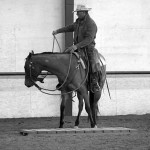 Photo 3
Now, I'm going to take her away when it's my idea so that we can come back and try again in a fresh start.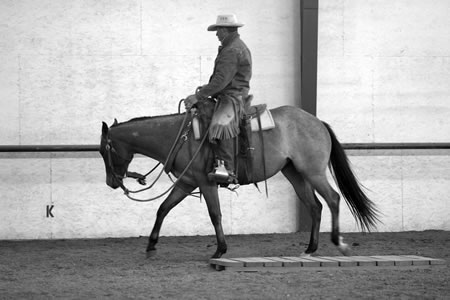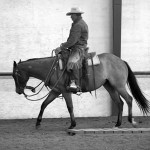 Photo 4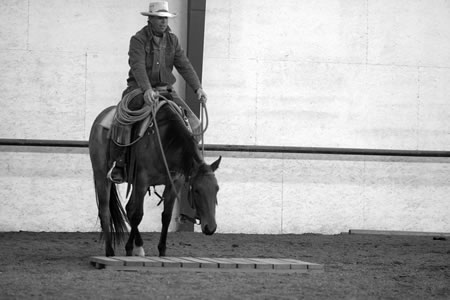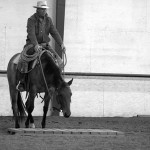 Photo 5
She's ready to go, but not quite sure how, I might need to encourage her to keep her feet moving as we approach.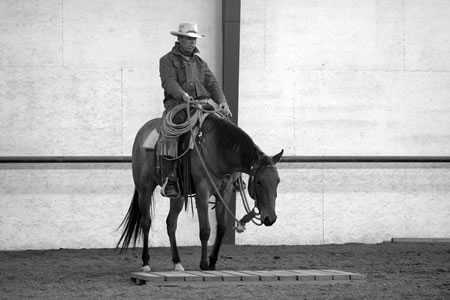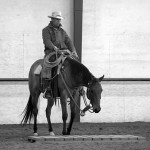 Photo 6
She is mentally prepared to cross the bridge. She just lost a little momentum, but I'll wait and see if she can make it.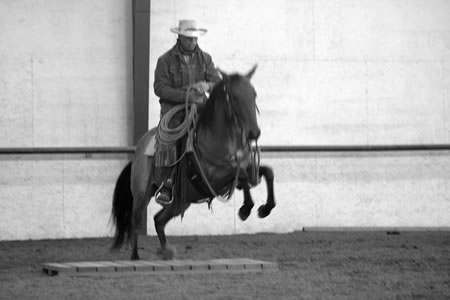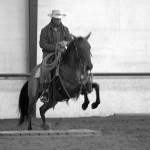 Photo 7
She might have to take a pretty big jump. I'll just keep my reins loose so she doesn't get bumped by my hands.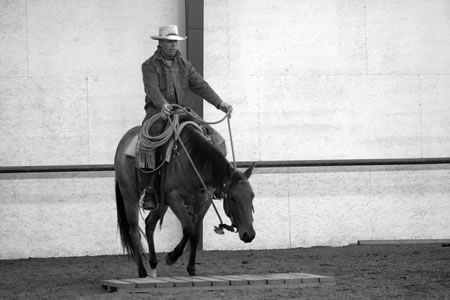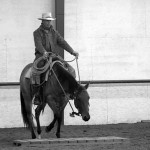 Photo 8
She's much more confident in her approach. She's ready to go across again.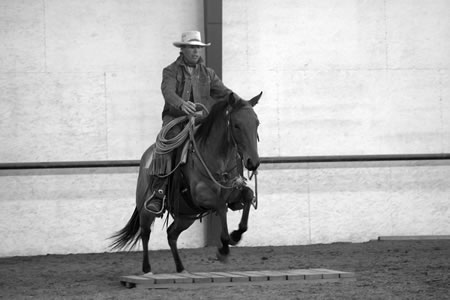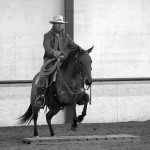 Photo 9
She still feels like she needs to jump over the bridge. She's not sure how to walk across it yet, so I'll keep trying.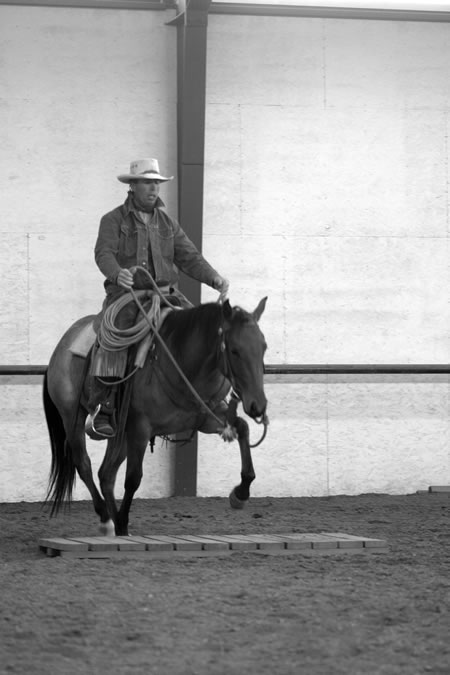 Photo 10
Here she's trying something different, trying to get her feet organized to step onto the bridge. This is the change that I've been waiting for. I don't have a goal in mind ahead of time, but I know the change when I feel it.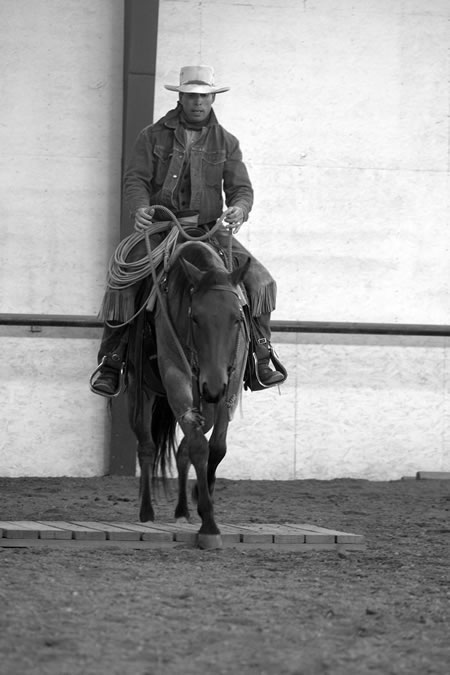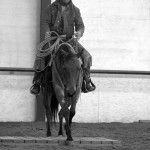 Photo 11
That was a nice positive change. She really is feeling like she is taking me across the bridge. I know that this will carry over into other aspects of riding. She has had some experience that getting with me can work out pretty good for her.
This article originally appeared in Eclectic Horseman Issue No.51