August 17 – 19, 2018
In the Historic Mission City of San Juan Bautista, California
On Historic Mission Land Where Vaqueros Rode & Roped
Hosted by Franciscan Friars at St. Francis Retreat Center on
Historic Rancho San Justo
Journey back in time & celebrate California vaquero's legacy amidst the rolling hills on historic land originally part of Mission San Juan Bautista's holdings where early vaqueros lived & tended vast livestock herds in the 18th & 19th century. Meet today's vaquero-style gear makers, silversmiths, rawhide braiders, fine artists, historians share their knowledge & skills. Event celebrates the Morgan Horse in vaquero history! Vaquero horsemen demonstrate California's traditional bridle horses, gear, riata roping. Learn how these traditions & land stewardship remain in use today. California's vaquero legacy continues!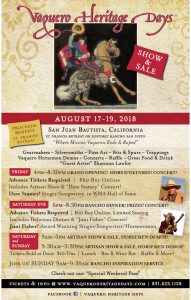 Artisan Show & Sale!
Fine Art – Silversmiths – Gearmakers – Bits & Spurs – Jewelry – Books & Memorabilia
Vaquero Horsemen Demos – Evening Concerts – Raffle Prizes – Great Food & Drink
"Guest Artist" – Shannon Lawlor, Horsewoman & Celebrated Painter of Working Bridle Horses
"Vaquero Horsemen Demos" – Learn First-Hand from Today's Traditional Vaqueros
Jeffrey Mundell/CA; Heather Kornemann/MT; Jo Johnson/CA; Jeff Derby/CO; Buddy Montes/CA
"Concerts" – Friday: Dave Stamey, Hall of Fame Award Winning Singer/Songwriter
Saturday: Juni Fisher, Award Winning Singer/Entertainer/Horsewoman
(Concert tickets advance sales only)
Details on Special Guests, Daily Agenda, Weekend Passes &Tickets
VISIT: www.vaqueroheritagedays.com
Visitors enjoy 30 Artisan Booths; Horsemen Vaquero-Style Riding & Riata Roping; Chef-prepared Lunches; Wine & Beverage Bars; Friday evening Grand Opening w/Hors d'oeuvres & Concert by Dave Stamey; Saturday Rancho Dinner & Concert by Juni Fisher. And special celebration "Dean of Living Vaqueros" Ray Ordway's 94th Birthday! Event raffle prizes; Artist Jo Mora's VHD posters & more!
Proceeds benefit St. Francis Retreat a significant part of CA vaquero heritage. In 1833, Mission land was divided into "ranchos" with Rancho San Justo covering 34,615 acres. A portion of this rancho just 2 miles from Mission San Juan Bautista housed families and working vaqueros. In 1947, Franciscan Friars obtained this 73 acre portion and historic structures for use as a retreat center. Today it is home to Franciscan Friars offering facilities for educational classes, organization meetings, non-denominational religious and group retreats and individual spiritual solitude. A perfect location to celebrate California's vaquero heritage!
Sponsorship donations are tax deductible to the fullest extent allowed by law under St. Francis Retreat's 501c3 non-profit status (ID #94-1156592). See event web site for more details & to purchase event tickets.
Event Web Site: www.vaqueroheritagedays.com & Facebook|Vaquero Heritage Days
Event Director: Jane Merrill office: 831.623.1128
Mail: SFR-Vaquero Heritage Days
P.O. Box 626, San Juan Bautista, CA 95045
Email: info@vaqueroheritagedays.com