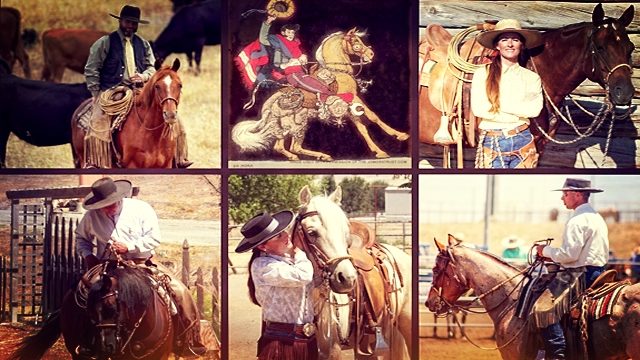 August 17 – 19, 2018
In the Historic Mission City of San Juan Bautista, California
On Historic Mission Land Where Vaqueros Rode & Roped
Hosted by Franciscan Friars at St. Francis Retreat Center on
Historic Rancho San Justo
Journey back in time & celebrate California vaquero's legacy amidst the rolling hills on historic land originally part of Mission San Juan Bautista's holdings where early vaqueros lived & tended vast livestock herds in the 18th & 19th century. Meet today's vaquero-style gear makers, silversmiths, rawhide braiders, fine artists, historians share their knowledge & skills. Event celebrates the Morgan Horse in vaquero history! Vaquero horsemen demonstrate California's traditional bridle horses, gear, riata roping. Learn how these traditions & land stewardship remain in use today. California's vaquero legacy continues!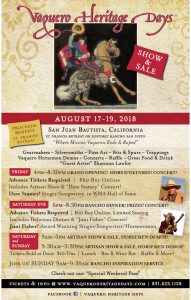 Artisan Show & Sale!
Fine Art – Silversmiths – Gearmakers – Bits & Spurs – Jewelry – Books & Memorabilia
Vaquero Horsemen Demos – Evening Concerts – Raffle Prizes – Great Food & Drink
"Guest Artist" – Shannon Lawlor, Horsewoman & Celebrated Painter of Working Bridle Horses
"Vaquero Horsemen Demos" – Learn First-Hand from Today's Traditional Vaqueros
Jeffrey Mundell/CA; Heather Kornemann/MT; Jo Johnson/CA; Jeff Derby/CO; Buddy Montes/CA
"Concerts" – Friday: Dave Stamey, Hall of Fame Award Winning Singer/Songwriter
Saturday: Juni Fisher, Award Winning Singer/Entertainer/Horsewoman
(Concert tickets advance sales only)
Details on Special Guests, Daily Agenda, Weekend Passes &Tickets
VISIT: www.vaqueroheritagedays.com
Visitors enjoy 30 Artisan Booths; Horsemen Vaquero-Style Riding & Riata Roping; Chef-prepared Lunches; Wine & Beverage Bars; Friday evening Grand Opening w/Hors d'oeuvres & Concert by Dave Stamey; Saturday Rancho Dinner & Concert by Juni Fisher. And special celebration "Dean of Living Vaqueros" Ray Ordway's 94th Birthday! Event raffle prizes; Artist Jo Mora's VHD posters & more!
Proceeds benefit St. Francis Retreat a significant part of CA vaquero heritage. In 1833, Mission land was divided into "ranchos" with Rancho San Justo covering 34,615 acres. A portion of this rancho just 2 miles from Mission San Juan Bautista housed families and working vaqueros. In 1947, Franciscan Friars obtained this 73 acre portion and historic structures for use as a retreat center. Today it is home to Franciscan Friars offering facilities for educational classes, organization meetings, non-denominational religious and group retreats and individual spiritual solitude. A perfect location to celebrate California's vaquero heritage!
Sponsorship donations are tax deductible to the fullest extent allowed by law under St. Francis Retreat's 501c3 non-profit status (ID #94-1156592). See event web site for more details & to purchase event tickets.
Event Web Site: www.vaqueroheritagedays.com & Facebook|Vaquero Heritage Days
Event Director: Jane Merrill office: 831.623.1128
Mail: SFR-Vaquero Heritage Days
P.O. Box 626, San Juan Bautista, CA 95045
Email: info@vaqueroheritagedays.com
---
---
Pardon the interruption...
Eclectic Horseman is built on support from readers like you. We strive to bring you Quality Horsemanship — stories that inspire, training tips that work, from resources you can trust. If you like this website, please consider subscribing to our magazine. The hard copy offers you much more than what we post here online, isn't cluttered with advertising, and costs less than a tank of fuel or a week of venti lattes.
Support our work, or continue reading the free samples of articles.
---
---
HARNESS YOUR SOCIAL HORSE POWER!
Share this article with your friends.