With Buck Brannaman
When you are riding with a mecate, especially on greener horses, you should always be in a ready position to keep yourself out of trouble. If you're going to the right, you're going to want to have that coil in your left hand because if things fall apart you're going to want to get your hand down the right rein pretty quick, get that head around and get your horse shut down. I will show you several easy ways to put a coil into your mecate.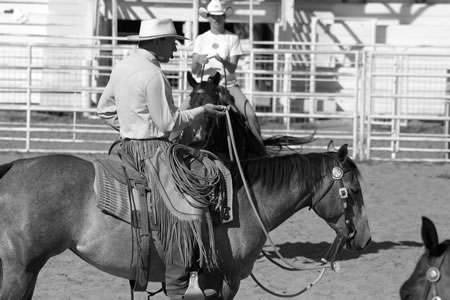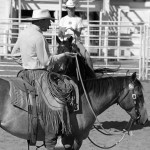 Photo 1
Start by holding your mecate with your right palm up.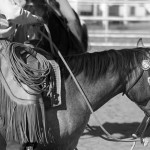 Photo 2
Roll your palm over so that you make an X by the right strand crossing the left strand.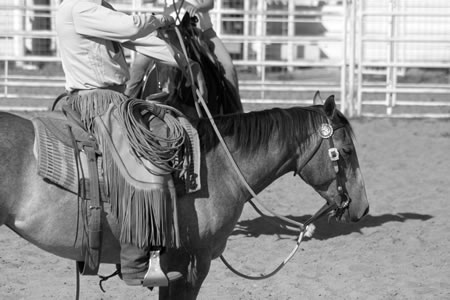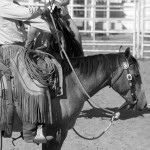 Photo 3
Reach in front of that X with your left hand, with your thumb on the top part of the X.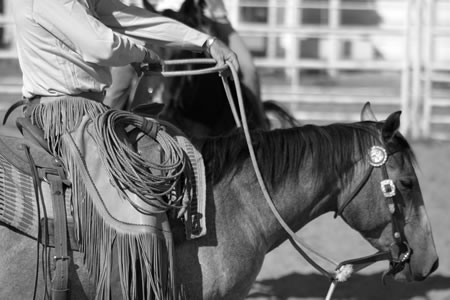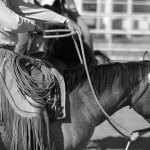 Photo 4
Now let go of the coil in your right hand.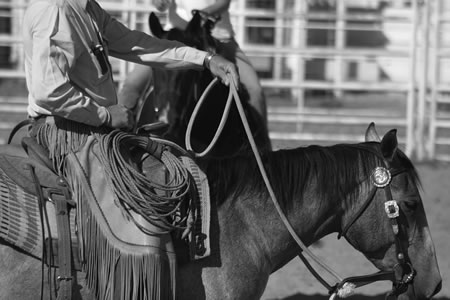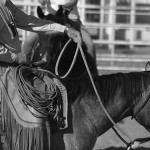 Photo 5
Ready to ride to the right, with your coil in your left hand.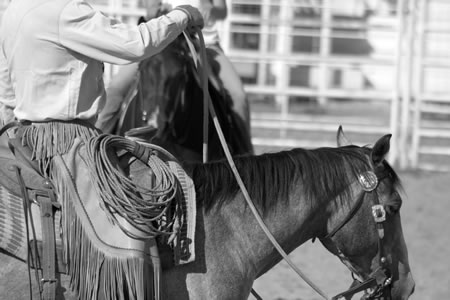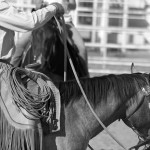 Photo 6
Now here is another simple way to put a coil in your reins. Start with the same X as we did in the previous way.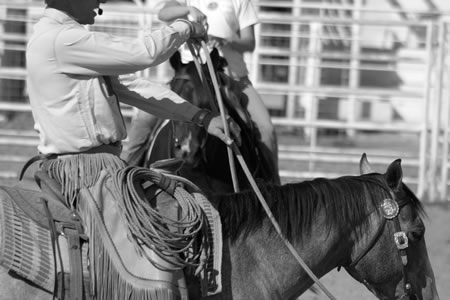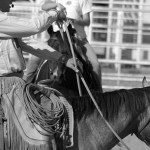 Photo 7
Instead of reaching in front, reach from the back of the X with all four fingers.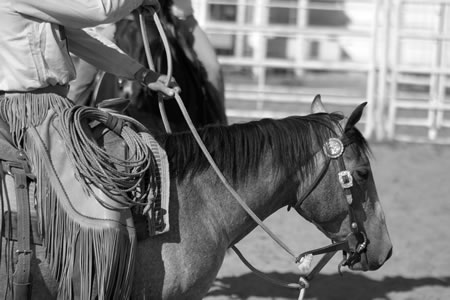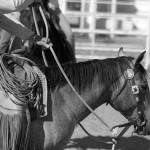 Photo 8
There is your right-handed coil. Let go with your right hand and let the coil fall.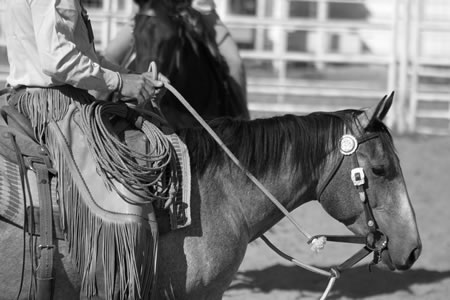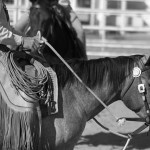 Photo 9
When I'm roping I'll have the coil go over my hand so it doesn't get confused with my rope. But the coil can be down in front when you're just riding.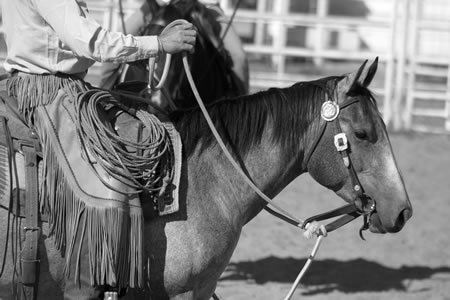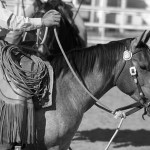 Photo 10
Start by spreading your hands far apart, with the rope to make the coil between your two hands.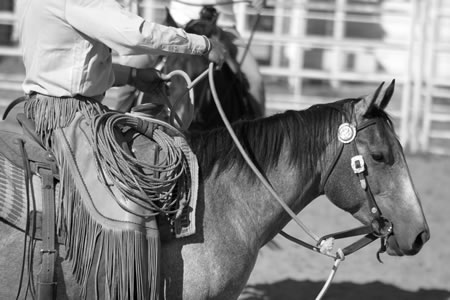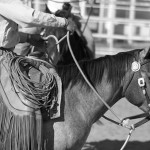 Photo 11
With your right hand roll the rope away from you. Don't turn your hand over, just make the rope roll away.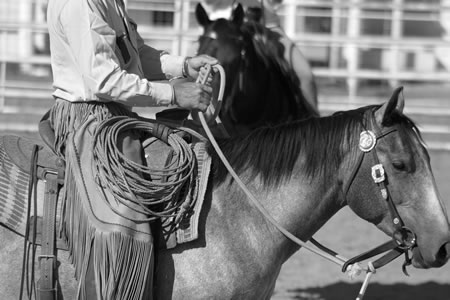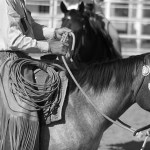 Photo 12
Now you're ready to ride with a coil properly in your mecate reins.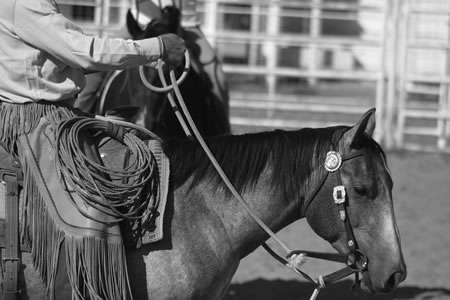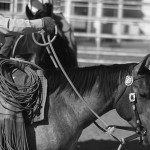 Photo 13
Now that the coil has been rolled in there, bring your right hand toward your left hand so it can grab the coil.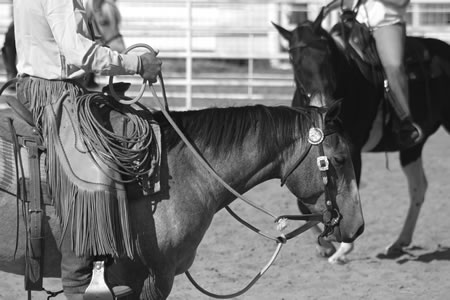 Photo 14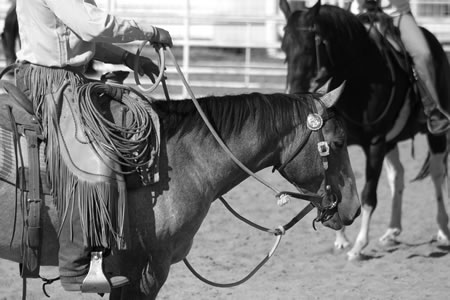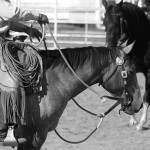 Photo 15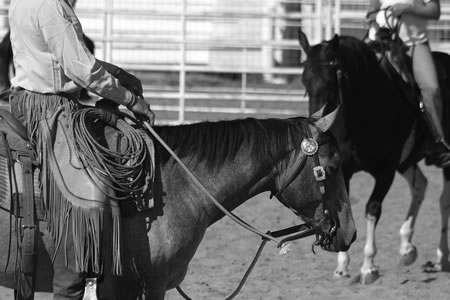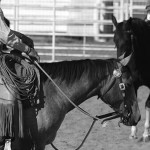 Photo 16
When I am going to the left, my coil will be in my right hand, so if I need to slide down my left rein, I'm in position. When I change the direction that I'm traveling, I simply change my coil from right to left hand and back again. I always want to be in the ready position.
This last way is really simple. You're just going to roll the rope away from you to make the coil. The motion can be tricky for folks, so think of it this way. To make a motorcycle accelerate, you would do what with your right hand? Now how about to slow down? That's the motion you are going to make with your right hand, the decelerating motion.
This article originally appeared in Eclectic Horseman Issue No.66