Each year the Wrangler Brannaman Pro-Am Vaquero Roping held in Santa Ynez, California adds some new and interesting aspects to its already unique line-up and this year the innovation continues with "Fusion." Fusion is a silver work show to be held in tandem the with Pro-Am roping being held October 23-25, 2015.
"Fusion's motto is 'creativity within constraint,'" says Nevada Watt, the show's creator. "When I decided to do a silver show that is independent but also hosted at the Pro-Am, I wanted to have a bunch of different artists and give them one thing they had to make. A functional headstall was this year's idea, but then I wanted them to be as creative as they wished with the silver work that is on it. So, maybe try a few different engraving patterns; maybe don't do a whole lot of engraving but try a whole different fabrication method in what they do…."

The "constraint" aspect of the show is that each participant was required to make silver work to fit on either a 5/8″ spilt or sliding ear headstall, or a 3/4″ browband headstall. The only requirement is that the silver be functional, beyond that the "creativity" comes into play and is encouraged.
"We have people [participating] from the States; we have two makers from Canada; we have two ladies in it. There's a lot of amazing makers. And there is a spectrum of people. There's people who have been doing it two to five years, and there are some people who have been doing it for 30 plus years."
Another interesting aspect of the show is that it will not be judged. The show is rather a sale that takes place during the Pro-Am; the pieces are on display during the event.
Some of the headstalls on sale pictured below. To see more images please visit fusionsilvershow.com.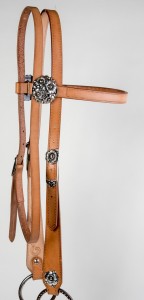 "I wanted it to be a little bit different," Nevada says. "I've been in shows that it's completely wide open, and I've been in shows that you have to bring a certain kind of piece to, and I just wanted to try something a little different so the only stipulation in the invitation is they had to make a functional headstall. Once that was accomplished, they could be as crazy as they wanted with the silver work to adorn it how they wanted. We had a guy who did sea horses and a mermaid riding a bucking sea horse on one of the conchos. We have all different kinds of stuff in there, so it's really neat to see."
Nevada had the idea for Fusion two years ago when working for another show, but the idea didn't go over well there. Reata, Buck Brannaman's daughter, is Nevada's best friend.
"I've known the Brannamans for a long time," Nevada says, "and then I've helped with the Pro-Am for the last three years, just being a secretary. Reata was the one I was talking to about this and she goes, 'Hey, you should do a silver show.' I said, 'That's a great idea!' So I came up with the idea of what I wanted to do. I sent it to Bill [Reynolds]. He thought it was a great idea and we just went from there."
About a third of the participants in Fusion will be on hand at the Pro-Am roping, and at least one will be competing in the event. On the night of October 22nd, when the clock strikes midnight and the day switches to the 23rd, the Fusion sale open and the headstalls go on sale. They can be purchased online through www.fusionsilvershow.com or be purchased at the show. The website has detailed photos of all the pieces for sale.

"There is no judging," Nevada restates. "For me, you can't really judge someone's creativity. So I didn't want to put that on the makers so it's not a judged show. A lot so shows I've been to, they don't focus on selling. If you're not going to sell, you're not going to be in business anymore. The whole focus of this is a sale. That's how I'm judging this if it's a success or not is if I actually get to sell these pieces for these makers. Behind every head stall there's a piece of canvas and we're going to leave Sharpies out that people can leave individual comments if they wish. I will send those to the makers after—so it's not a judged show but if people want to leave a comment then they'll be free to."
If you noticed Nevada's last name is Watt and you are familiar with incredible western silver work than you likely put two and two together and figured out that her father is the accomplished saddle maker, bit and spur maker, and silver smith Jeremiah Watt. Jeremiah will have a piece in the show. Nevada began doing silver work, engraving and fabricating, as a junior in high school, six years ago.
"I just really loved it," she says. "I still consider myself a beginner. This has just all come together and it's been an amazing blessing what it's become. We've got a pretty big following already because it's in conjunction with such and amazing event."
Note: Photos of the pieces are in the "shop" page of the website.  They all have the price of $0.00 listed since the shopping cart is not yet live, however each of the descriptions contains a price so you know how much they will be when the sale goes live on October 23rd.