Sydney and I had the wonderful opportunity of riding with Lee Smith this past weekend. Like any clinic the days unfold to present you with what you need.
Two weekends before I was auditing at Buck's clinic in Kiowa and trying my best to memorize his every move. Trying to burn a mental image in my brain not only what his horses looked like, but trying to imagine what they must feel like. I knew that I was missing some very important pieces in how my horse Dodger was moving his hindquarters. On the ground he was still not feeling sure; and on his back the same. I was building tightness and imbalance not engagement and sureness. I found myself in that stuck spot of trying to figure out how to adjust but not knowing that I was just doing what I had always done without any real exploration. I knew the hindquarters weren't right; so that also made me hesitant to really move out on a long rein… the pit of my stomach knew that if I really needed to stop with one rein it would not work out for either of us.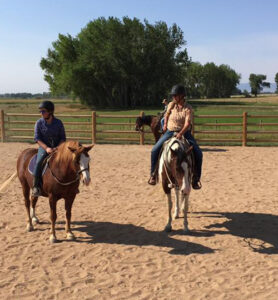 From the first moment I led my horse into the arena Lee helped me mightily to be able to feel my position getting in his way. Both in the saddle and on the ground I was preventing him from being able to get comfortable and confident in stepping over and under behind. After some adjustments he felt better on the ground about what I was asking him; and then he felt better under saddle. I got more clear on the connection between the two. 
As a bonus I got some help with my naggy legs; not only an awareness that I was being ineffective but a strategy to help me help him search for the release. Great stuff!
Sydney did great with Billy Bob, and got some good help. I love to see her enjoying her horse and spending time with horse people. The fellowship of studying with earnest and kind students just can't be matched.