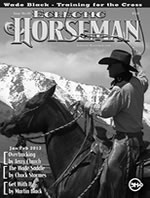 Get With It by Martin Black
Martin shares some thoughts and suggestions about how a rider can get with their horse's energy level instead of working against it.

Some Thoughts on Overtracking by Terry Church
Terry explains what overtracking is, why it is important and ways to improve it in your horse.
Sense and Science by Maddy Butcher Gray
We are at an interesting intersection of traditional practices and a revolution in scientific understanding of horse behavior; how we integrate that information is the key.

Saddling a Tied Horse by Buster McLaury
Buster shares some thoughts on why he does not tie up a horse, young or old, when being saddled.
Laminitis: Etiology, Prevention and Care by Sue Stuska, Ed.D.
An updated look at this potentially devastating condition.

Wade Black: Training For The Cross by Tom Moates
Cowboy, colt starter, horse trainer, and rough stock rider Wade Black could steer his equine career in a wide range of directions.
From Dwell Time to Dendrites by Joanna Lo
A report from a first Evidence Based Horsemanship seminar in Bruneau, Idaho.