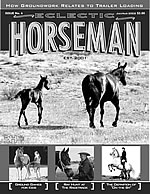 In this issue:
How Groundwork Relates to Trailer Loading by Mindy Bower
Mindy walks us through a trailer loading problem solved with remedial groundwork.
Ground Games for Kids by Sylvana Smith (read online)
Sylvana offers advice on how to turn serious horsemanship into fun for young horsemen.

The Definition Of "On the Bit" by Dr. Max Gahwyler (read online)
Where did this term originate? The answer might surprise you.
Hunting for Help, part one by Jennifer K. Hancock (read online) 
Ray Hunt offers a different approach at a clinic held at New Mexico's Sunland Park Racetrack.
Keeping Your Saddle Clean by Cary Schwarz (read online)
This Idaho saddlemaker offers suggestions to keep your saddle clean and useable.
Building a Foundation, part 3 with Bryan Neubert 
In part three of this series Bryan handles the gelding's feet,and works on leading him.
Detecting Lameness in Your Horse, part 2 by Sue Stuska,Ed.D. 
You've sharpened your eye; now Sue offers you more methods to detect lameness.
Ten Questions with Melanie Smith Taylor (read online)
Meet Melanie Taylor, former member of the USET and team Olympic gold medal winner.
Teaching Both the Art and Philosophies of Traditional Ranch Roping by R.F. Prudente
You've got the gear, now learn the skills.