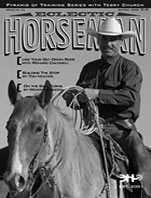 What is Our Horse Telling Us? by Martin Black (read online) 
Martin encourages us to look at the cause of our horse's head carriage issues, not just the symptoms.
Use Your Get Down Rope To Stay Safe with Richard Caldwell (read online) 
Richard demonstrates the way to use your get down rope when mounting and dismounting to keep you and your horse safe.
Pyramid of Training for the Everyday Horseman Part 3 by Terry Church (read online) 
Terry continues her four-part series on a modified classical training pyramid for riders of all levels and disciplines.
Re-Turning To The Ball by Wendy Murdoch 
Wendy demonstrates how you can practice effective and balanced turns while on the ball.
Building A Stop by Tom Moates 
Tom explores the relationship between being a confident leader and sharp responses from his horse.
Why We Vaccinate Against Equine Influenza by Sue Stuska Ed.D. 
Sue and Dr. Tom Chambers explore the signs and symptoms of influenza and discuss the necessity of vaccination.