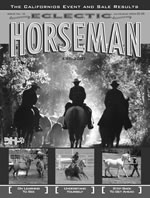 The Californios Ranch Roping and Stock Horse Contest 2004 Results 
Step Back to Get Ahead by Sylvana Smith 
In the first installment of this three-part series with Bill Scott, Sylvana introduces backing on the ground.
Safely Prepare Your Horse for Roping and Cow Work with Mike and Deanie Hosker Part 3 by Gale Nelson
Understand Yourself to Understand Your Horse by Martin Black (read online)  
Martin explores the pitfalls of human nature and what our horses can teach us.
On Learning to See by Diane Longanecker  
Diane investigates how human beings see and how we can develop our strongest sense to help us in our horsemanship.
Open Wide! Equine Dentistry's Renaissance Helps Horses by Meg Cicciarella 
Learn about exciting industry advances.