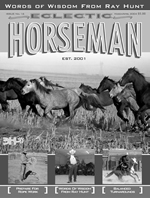 Safely Prepare Your Horse for Roping and Cow Work with Mike and Deanie Hosker by Gale Nelson 
Part one of a four-part on rope handling skills.
Words of Wisdom from Ray Hunt (read online) 
At a recent demonstration Ray offered some timeless words of wisdom.
Rider Self-Carriage by Wendy Murdoch 
Wendy again uses her X-ray vision in this article to analyze what the rider must do.
Turnarounds by Martin Black (read online) 
Martin offers suggestions on how to help your horse have a blanced turnaround.
The Wisdom Behind Doing Up the Latigo by Diane Longanecker 
Diane examines this little detail, and the big difference it can make to your horse.
What Natural Horsemanship Is by Sylvana Smith (read online) 
Sylvana tries to put some definitions behind this difficult-to-define endeavour.
Choking in Horses by Sue Stuska Ed. D. 
Sue takes a look at this affliction and offers suggestions on how to treat, and prevent, it.