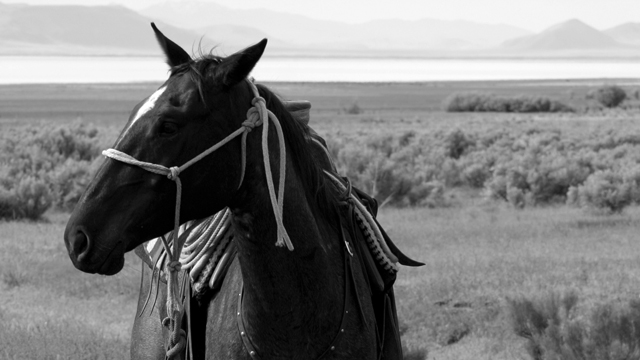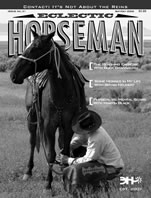 The Reaching Exercise with Buck Brannaman (read online)
This exercise helps you develop a clear feeling for your horse's feet. Develop timing and the ability to direct clearly.
Some Horses in My Life by Bryan Neuber (read online) 
Bryan shares the experiences he's had with "wearing out the buck" in colts who develop the pattern of bucking when first saddled.
Trading Physical Scars for Mental Scars by Martin Black (read online) 
Being comfortable physically—well fed, groomed and stabled¡adoes not always make for a mentally comfortable horse.
Contact: It's Not About The Reins by Wendy Murdoch (read online) 
The next step in our series about rider's aids, the often misunderstood and often abused concept of contact.
Riding the Historic Alvord Ranch with Martin Black by Steve Bell (read online) 
Lessons learned on a weeklong clinic of branding and stockmanship in
First Trail Ride With Others by Tom Moates 
An excerpt from Tom's new book Discovering Natural Horsemanship – A Beginner's Odyssey.
Deworming That Works by Sue Stuska Ed.D. 
Make a sensible deworming plan that works for you and your horses.
Are We Feeding Our Horse's Fears? by Bonnie Brindle 
Being afraid is a common issue with new and even seasoned riders who have had an accident. Learn some strategies to overcome fear.
---
---
Pardon the interruption...
Eclectic Horseman is built on support from readers like you. We strive to bring you Quality Horsemanship — stories that inspire, training tips that work, from resources you can trust. If you like this website, please consider subscribing to our magazine. The hard copy offers you much more than what we post here online, isn't cluttered with advertising, and costs less than a tank of fuel or a week of venti lattes.
Support our work, or continue reading the free samples of articles.
---
---
HARNESS YOUR SOCIAL HORSE POWER!
Share this article with your friends.