"I'm a songwriter at heart, through-and-through," says Dave Munsick.
One need only glance at the body of work Dave has produced to realize he's not just a prolific songwriter but an equally accomplished musician as well, recording his own songs to the tune of five long-player CDs. Dave's music is deeply rooted, as he states on his website, www.davemunsick.com, in the "land, lore, and lives of the west." He plays fiddle, piano, and guitar, and has opened for or performed with many artists including Chris LeDoux, Ian Tyson, and Charlie Daniels. Horses are a major theme found in many of his lyrics.
"What really made an impression on my songwriting as far as horses go," Dave says, "is to start adapting the philosophies of Ray Hunt and the Dorrance brothers as presented to me by Buck [Brannaman] in clinics, as well as riding outside. We [Dave and his wife Trudy] became acquainted with Buck Brannaman in the late 80s. We used to host his clinics. We've since become really good friends. After some time, you finally find yourself thinking like a horse and it changes your perception of reality, which is a great way to approach a song."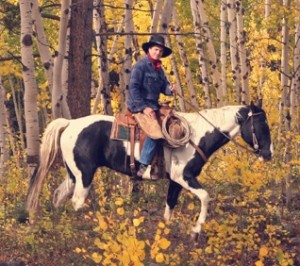 Dave's first CD is titled Bingo, which also is his nickname. It is made up of songs that had been rambling around in his head for a long time, he says.
"I wrote two at the last minute in the studio," he admits. "And it was my first experience with recording a CD. That was back in the mid-90s. The material ranges from some stories, kind of ballads, that have happened to me. Like, I was feeding cows and having my little son, four-year-old, with me, have to stay in the truck when it was below zero while I ran back to try to get a tractor to pull us out, and seeing the world through his eyes when he told me all the stories that had happened to him when I got back. That's called, 'Seven Below.' To, Native American culture and spirits that are running across the plains."
His second CD, Buckaroo Ball, is a more eclectic mix of music. It ranges from swing to dance music.
"Some of it is almost 40s-ish sounding," Dave says, "and then a few buckaroo songs mixed in there. That was after a trip I took to Nashville and was trying to write some things [for a more general audience].
"The third one is called Too Many Horses. The title track is 'Too Many Horses with Nothing To Ride.' It took quite a few years before I came out with that. A lot of people really like that record. I recorded it partially in my own studio. [It includes] some horse stories, some stories about growing up, some stories about dying, some stories about horses that have been in my life or that I have seen, people that I've met at brandings, etc."
His fourth CD is titled Old Wood. A few of the songs on it commemorate the 200-year anniversary of the Lewis and Clark expedition, the "Voyage of Discovery," as it was touted in 2003. It is rounded out with a few horse songs, some love songs, and a song about when Buck Brannaman met Ray Hunt.
Most recently, Dave released a new CD earlier this year called Forever West. This album is a compilation of songs he wrote about Wyoming.
Another album Dave contributed to that has received quite a bit of attention is The Munsick Boys. It was released a couple of years ago. The project involved Dave and his three sons, Tris (27), Sam (25), and Ian (21). Each of them wrote and arranged three original songs for this CD. It was recorded in their own studio in Dayton, Wyoming.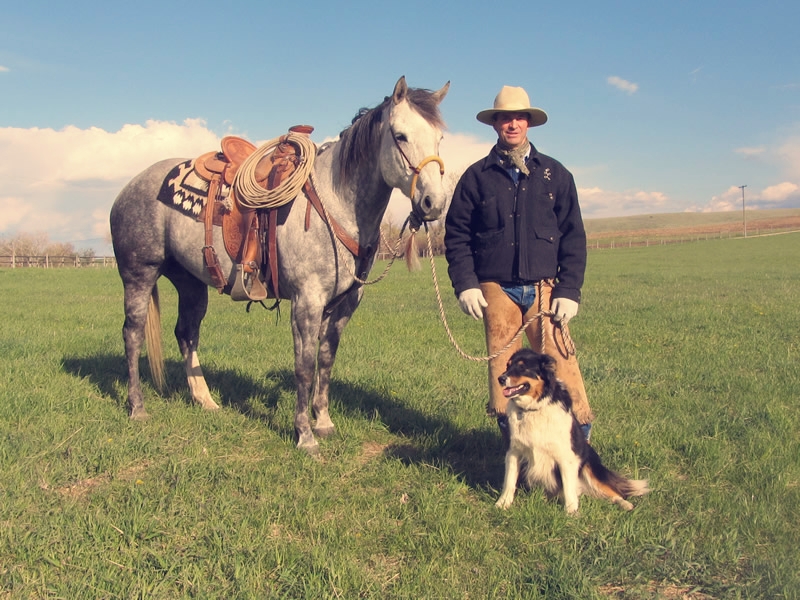 The four "Munsick Boys" all are accomplished horsemen. Dave says when his sons were young, he and his wife, Trudy, managed a cattle ranch near Big Horn, Wyoming, called the Little Goose. That ranch became the namesake for his record label, Little Goose Music. The horses, the western lifestyle, and the Wyoming landscape permeate the songs on these CDs and seem to be an unending source of inspiration for Dave.
"We've owned horses as long as [the boys] have been alive," Dave says. "The oldest one rides horses for Lyle Lovett down in Texas sometimes; he breaks horses and does day work. The middle one works on a short grass ranch up on the Montana line. The youngest one, he's in Nashville playing music and going to school still. They're all really talented boys. They're driven in different ways."
Tris has his own band, called Tris Munsick & The Innocents. "Sometimes he invites the Old Man to play fiddle with him, sometimes he doesn't," Dave says. Tris just released an album earlier this year called Last Time I Leave. It has been doing quite well, and hit number 17 on the itunes Art of the Mix Country Charts in late April.
"Sam is an awesome musician, but his priority is cowboying," Dave says. "So, he would rather sing all night at a branding fire than be on a stage, but we drag him on there anyway. Ian is the least horsey of them all—he's living in Nashville playing in two bands right now and is a truly gifted musician. Together, our personalities, they dovetail into each other but they have so many different aspects, there's more of a shine to it. What people see by that is honesty, sheer honesty. We are horsemen—we are musicians, and we like to play and write about it. It's not a fabrication like a lot of music you hear now. It's all coming from the gut."
Dave has been writing songs for 30 years.
"I've got some guys I look up to as songwriters," he says. "Ian [Tyson] would be one, and Guy Clark. Some of those guys are poets who can turn a word and catch it with music and hold motion—that's what I aim for."
When asked if he considers himself to be a song writer first and a musician second, he pauses to think for a moment.
"I'd say I've got more going on inside me than outside me," he replies. "I don't play every day but I write every day. I love to play—I play mostly fiddle and guitar. What I really love to do is to write music, and playing it with my boys is something that's pretty hard to describe, but it's a huge opportunity. I came to music as soon as I could climb on a piano bench. My mom would play and I would sit there and sing with her at the piano. By the time I was about four I could hold harmonies while she would sing melodies. By the time I was probably seven or eight I wrote my first song. I had a transistor radio I used to listen to."
On a good day, Dave wakes up with something new in his head to put into a song.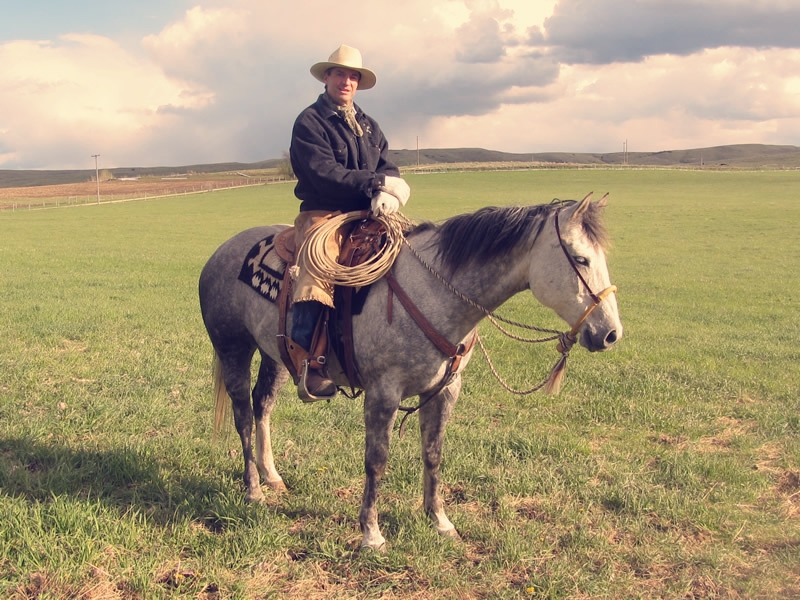 "What makes it work is to try and pursue it," he says. "It's like anything else, it just doesn't come; you've got to work at it. You got to let that song write you instead of you write the song sometimes. It's got to lead the way and you've got to just listen to it. Sometimes it doesn't go the way you want it to go. Kind of like a horse, you've got to look at it through their eyes."
Dave hasn't traveled very far playing his own music for the public. A main reason for that is he works as a high school teacher much of the year, and in the summers he stays completely booked up playing gigs within a 30-mile radius of home. He says with that kind of steady local work, he'd actually lose money going on the road.
"But what's becoming more apparent is it's about more than money," Dave says. "It's about just trying to get that music out there. So this summer I'll be in Nebraska and I'll be in Cheyenne, over there at Jackson—I'm starting to try and just get it out there more. My main focus, though, is to just keep writing good songs."
You can purchase many of The Munsick's CDs in our Mercantile.