Safe, knowledgeable, and fun riding instructors for children are priceless!  Finding the perfect teacher for your child can sometimes be a challenge.  In order to make your child's riding experience safe and enjoyable, you must know what to look for in an instructor.  There are several important factors to consider when choosing a riding instructor who will inspire and empower your child.
The characteristics of a great children's riding instructor: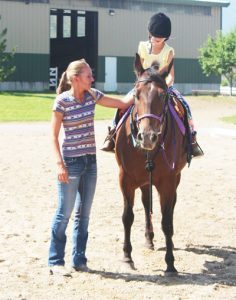 Safety: First and foremost, a good children's instructor provides a safe learning environment for their student. Many people, children and adults alike, view horses as mystical fantasy creatures that aren't scary and don't hurt you.  In reality, nothing could be further from the truth.  A good teacher ensures the highest safety possible by making sure that fencing is secure, the lesson horses are well-trained and have the right disposition for children, their tack is clean and in good repair, and helmets and other safety gear are required and in good condition.  This shows that, although horseback riding by nature has risks, the teacher has taken precautions to keep your child out of harm's way.
Competency: The best children's instructors will be sensitive and caring authority figures. They can help children feel at ease working with enormous and often intimidating animals while maintaining safety.  Be aware that not all horse lovers and enthusiasts are equipped to teach. Children's instructors must also be well trained in the art of horsemanship.
Communication: A good teacher must be able to communicate both technical and abstract concepts to children at an age appropriate level. Because children have different learning styles, it is important that their instructor can employ as many different learning styles as possible. Discovering the best fit for each child's learning style will aid in an easier grasp of sometimes difficult concepts. (To learn more about various children's learning styles go to http://eclectic-horseman.com/author/donnette-hicks/ )
Mindfulness: Mindful teachers are aware of their surroundings.  They take note of both the horse's and the child's responses to stimuli, their emotional and physical needs, and their limitations.  A mindful teacher fosters compassion and understanding by being receptive and responsive, which reduces negative energy and anxiety in the environment and nurtures the students' self-confidence.
A sense of humor: Laughter is the best medicine. A teacher with a sense of humor will allow the student to learn from mistakes without growing anxious about them. Their students will cultivate confidence, higher self-esteem, and optimism in their learning environment.  Laughter that can diffuse stress is critical in the face of a student's fear. It also plays an important role in creating a teacher's bond with their students.
Creativity: Creative instructors encourage self-expression. Children often love to try new things and new ways of being. Being imaginative and original is critical in challenging, questing, and exploring the world of the horse.  Creativity involves developing ideas, keeping an open mind, and making connections with the horse where connections may not be obvious.
Love of teaching:  A good teacher loves teaching.  They live to see their students learn, progress, and excel in their own unique ways.  A teacher who loves to teach is generous, open to new experiences, and always evolving and learning about their students' craft.  Teaching is a vocation that never ends, and a really great riding instructor is constantly developing both their instructive and personal riding skills.
A child intuitively knows when an instructor is both sincere and dedicated to teaching them.   Children enjoy discovering new worlds and love to learn about horses. A good instructor teaches concepts and skills, but a great teacher also opens their students' eyes and hearts to all that horses can teach them.  This learning experience is intuitive, sensitive, thoughtful, and smart.  Ultimately, the partnerships between teacher and student; student and horse are indeed, "mystical".