Bryan Neubert was in Franktown, Colorado over the weekend. This meant that in order to watch and learn from this gem of a horsemanship teacher I only had to drive a mere 30 minutes. Lucky me. And… Bryan was generous enough to let me film portions of the clinic for use in upcoming Horseman's Gazettes… so, lucky you too!
There was a great variety of colts in the morning ranging from a couple of young mellow Gypsy colts to a really troubled mare who needed a lot of help. Bryan helped each rider from where they were at skill and comfort wise so that each colt got what they needed to have the clinic be a positive experience and the riders stayed safe. There were lots of smiles and everyone made some really nice changes.
I was thrilled to be able to capture several really powerful moments with the troubled mare, with some really neat approaches to helping her relax and be less tight with the saddle. Bryan shared memorable stories about how he got on to using these approaches.
The afternoon horsemanship was a treat to watch as well, with riders needing some help and direction on a variety of topics from taking the right lead, backing with life and starting the turn arounds. Fun to watch each horse and rider make subtle changes over the three days.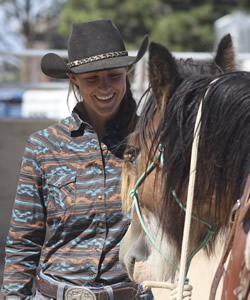 Special thanks to Gabby for hosting a great clinic! www.allpurposeequine.com