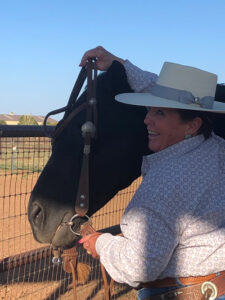 Let me just say "Wow!" When I first turned off the highway in Estancia, New Mexico I had a little furrow in my brow. It had been a long windy drive and looking out at the wide open plains I was a little bit worried about my filming project with Lee Smith. However, as I continued to drive towards the distant hills my worries faded. When I turned into the driveway of Harmony Hills Ranch, all I could say was "Wow!" I mean really… what a cool place.
Lee and Mark Smith were waiting washing horses when I pulled in and I was immediately treated to a tour of the facility, the ranch has so much to offer, I was really bummed I couldn't take Lee up on her offer to bring the horses down (this time at least!)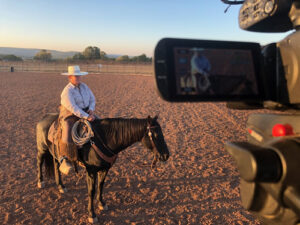 We had two wonderful filming sessions and I can't wait to share them with you in future issues of The Horseman's Gazette.  Lee has contributed some great segments in the past and I think that the three that we filmed this time really add to the ongoing conversation about encouraging lightness and having a horse that seeks a release. We also did a piece on the differences in snaffle, hackamore and bridle; some really great lesson. Keep your eyes peeled for when they will appear.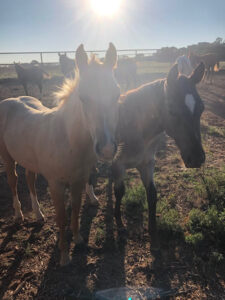 I also had the great opportunity to meet some of the youngsters that Lee and Mark are raising; I don't think there is anything cooler than being surrounded by curious babies and lovely mothers proud to show them off. It was an incredible way to start my day.
Even though it was a quick trip I can't wait to come back to Harmony Hills Ranch… to film, and for Syd and I to bring our horses!