This article originally appeared in Eclectic Horseman Issue No.31 – Subscribe today!
To ride your horse properly, there should never be a time that you change directions without directing your horse's leading foot. Every time you take your horse's nose off the centerline, you need to be in harmony with his feet. Changing directions without this awareness is the equivalent of tripping your horse. This exercise will make you aware of how often you have changed direction with no consideration of your horse's feet. Over time it will cause your horse to be crabby and not want to go.
The main goal of this exercise is to get our reins hooked to our horse's feet by directing the foot in the proper timing of his stride. To start, you might look at this as an exercise but should in fact, ride your horse with this level of awareness all the time. To start, it will take all the concentration you have, but some day it will be impossible for you not to be aware of it if you pay your dues.
The Basic Concept
Working from a circle at first, this exercise will be done with your leading, or inside, rein. You are going to reach your horse's inside foot as it leaves the ground, and set it forward and to the inside of the circle.
To Start
Start from a nice, forward circle. As the inside front foot leaves the ground, my hand and rein will follow it up. Then as it reaches the apex of its line of travel, I'll swing my hand out and forward, to the inside of the circle. If my timing is correct, his foot will follow. I'll reach a few steps, and my circle will end up getting smaller. I'll return to my original circle, then I'll reach, reach, reach again. Then I might walk straight a few strides and then go the other way..
When you first start working on this, you won't be organized enough to reach every step. Get one reach, then coast on your circle a few strides, then get timed up and reach again.
Rock on a String
The easiest way to think about this is imagining the foot is like a rock on the end of a string. Your hand follows the foot up in the air; then when it is weightless, you can swing it out and drop it where you want it. The trick is the timing of the swing and the release.
Building On
Once you have a basic reach going, you can work on extending the length of his reach. When your horse really starts to reach, you will be able to see the toe as it hits the ground.
When he really starts to reach, your horse will have to slow down; that's OK. When you get really hooked on to that front foot, you will feel it hang out there as if you could set it down on an egg and not break it. When you hit that sweet spot, when you are really with him, just get quiet and walk a few steps and let you both soak on that feeling.
As you advance, you can start carrying a soft feel in your circle while you are reaching. Once you are getting a nice reach consistently with a soft feel you can try reaching through your change of direction without taking any straight steps. You will try to go from left flexion to right flexion without any conflict through your reins.
Leg Position
You will have your legs shaped to go around the circle, inside leg slightly back, outside leg slightly forward. I will support a little with my outside a very small amount, not so much as to distract him. I really want him to be thinking about what this leading rein is suggesting.
Common Mistakes
A lot of times people's hands will just go up and down, with the foot, without getting the horse to reach. Be sure and take your hand in the direction you want the foot to go.
Get your hand ready to direct the foot as it is leaving the ground. If you wait to pick up your rein until the foot is off the ground, you are too late. If you are a little late, you will be bumping him in the mouth, which will start stalling your horse's feet. If you are late, wait until the next step and fix your timing. If your horse is overbending, you are most likely out of time with the feet. If your timing is good, your horse might need a little additional outside leg until he gets hooked on to the rein.
Your horse might want to stop his hindquarters and just reach with his inside front foot, which would be fine if that is what you were asking. Ask him to keep walking without causing alarm.
Hang In There
This can get you frazzled mentally when you really get to working at it because you maybe aren't used to thinking about each step. It takes time, but pretty soon you will get one good step and then another and another; then you'll be on your way.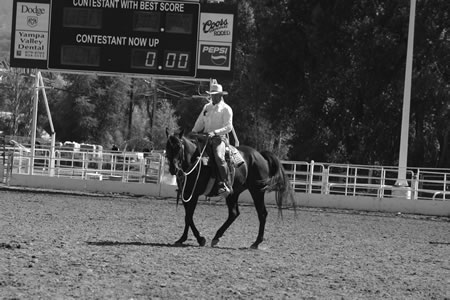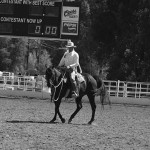 Photo 1
1.Starting in a circle to the left, my right leg is slightly forward; my left leg is back. In this photo you can see that my horse has his weight on his inside (left) front foot. This would be the wrong time to reach it.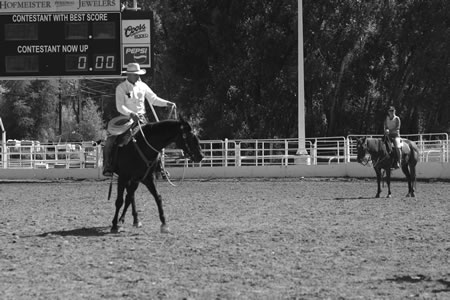 Photo 2
2.When his foot is in the air, it is weightless, so I can lift my left hand up and out to my left and ask his foot to reach forward and into the circle.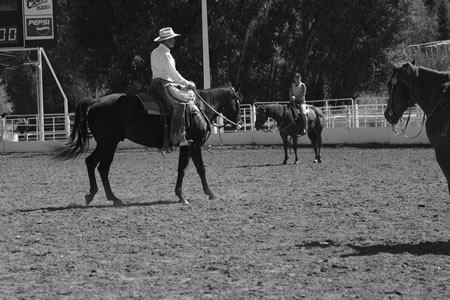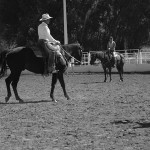 Photo 3
3.Then I might reach again in the next stride. As I reach, my circle will get smaller and smaller. My right leg is supporting some, but not so much as to distract him.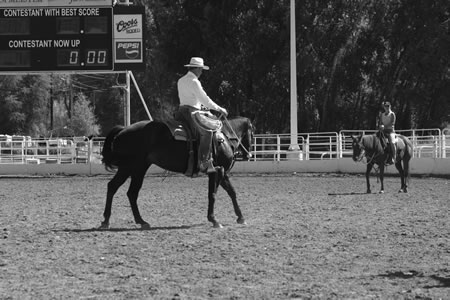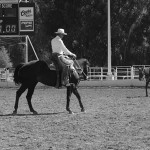 Photo 3B
3.Then I might reach again in the next stride. As I reach, my circle will get smaller and smaller. My right leg is supporting some, but not so much as to distract him.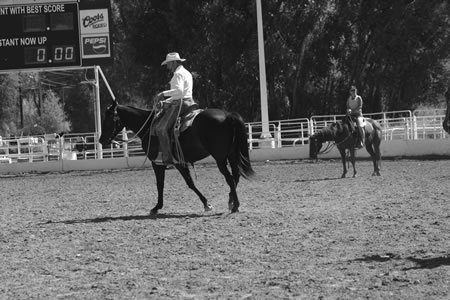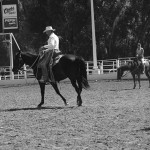 Photo 4
5.Through the reaching, our circle has gotten quite small, so I'll give the reaching a break and widen my circle back out.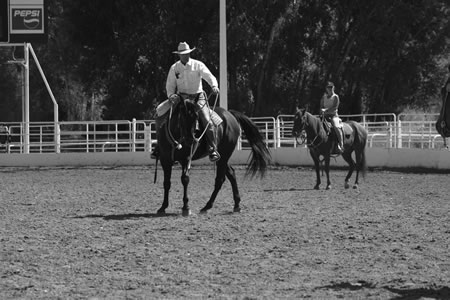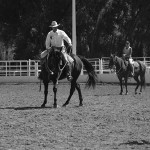 Photo 5
6.I get timed up with that front foot and start my reaching again. Here you can see the connection between the rein and his foot. Both are starting the reach.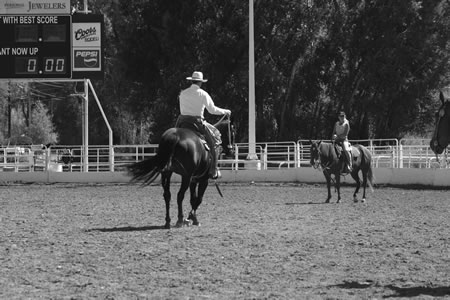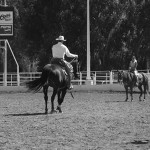 Photo 6
7.Once I get a few reaches, I'll go straight, then start reaching the right foot. Here his right foot is about to leave the ground, and my right hand is in the ready position.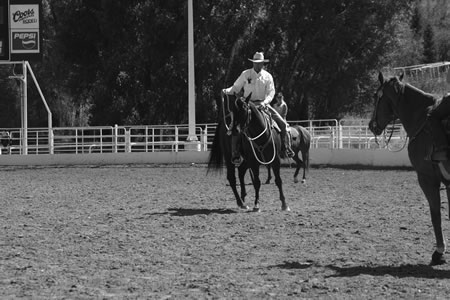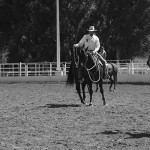 Photo 7
8.Having just finished reaching to the inside, I've just set down his right front foot. Good luck with this. Your horse will be glad you got timed up with his feet.
This article originally appeared in Eclectic Horseman Issue No.31