Utah horsewoman, Lara Oles, not only subscribes to the Eclectic Horseman magazine, she is a pretty eclectic rider herself.  One weekend you may find her at an International dressage show in California on her Canadian Warmblood mare, Bella; another weekend she may be riding the rugged trails of Utah's Uinta Mountains on her Tennessee Walking Horse gelding, Strider; and the next weekend you may find her in Las Vegas showing her friend's AQHA reining horse, Hollywood Aces.
Oles does all this with a completely paralyzed right arm, and partially paralyzed right leg from a skiing-induced spinal cord injury.  In fact, 2015 was a particularly good year for Oles as she earned Top Ten scores at the United States Para Dressage National Championships, as well as a Top Ten Buckle in the World Para Reining Championship Series.  Next year she has set her sights on Nationals.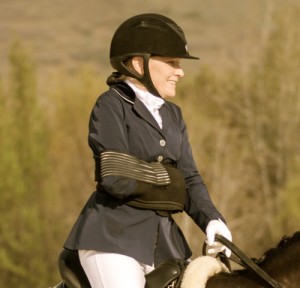 Five years ago Lara went to the World Equestrian Games to watch the Para Dressage competition, which inspired her to try dressage after a lifetime of trail riding.  She spent a couple years at a therapeutic riding center, then decided to up her game and began training with Annie Sweet at Sage Creek Equestrian in Heber City, Utah. Sweet has been working with Jim Hicks for 8 years, and even though she teaches dressage lessons, her horsemanship principles are based on the spirit of Ray Hunt's legacy.  This combination felt like a calm teaching approach and made Sweet the perfect coach for Oles on her Paralympic journey.
When asked about riding so many disciplines Lara explains, "To me good horsemanship is good horsemanship no matter if you are riding in the reining pen, in the dressage court, or out on the trail.  It is all about being a benevolent leader through timing and feel.  You need to know when to apply a feel, and when to give the horse release.  Not that I am always perfectly effective (that is why I need Annie) but this is what I strive for no matter the tack of the day.  As a Para rider, because of my physical limitations, it is imperative that I have a safe, respectful relationship with my horses.  Since good horsemanship leads to better safety, this is a passionate subject for me."
She continues, "Back in the mid-nineties when I first learned about Ray Hunt and Tom Dorrance, what they had to share made so much sense to me because they both were sharing the message that the horse is our true teacher.  I appreciated the message of making the right things easy and the wrong things difficult. The main thing that resonated with me was that if the horse doesn't understand, try something different, because getting angry has no place in the horses world.  This is what I admire most about Hicks and Sweet when they work with horses, they don't get emotional when the environment becomes challenging."
Lara has also trained with Canadian FEI reiner Lisa Coulter several times this past year.  Lara explains how good reining embodies many horsemanship principles as well. "Coulter is adamant that you 'get in and get out' with your connection.  She stresses that good reining in the show pen demonstrates that the horse is 'willingly guided'.   I had to force myself to ride with a long rein and trust the horse. Reining has been such a fun learning experience for me, and it has really broadened my riding horizons."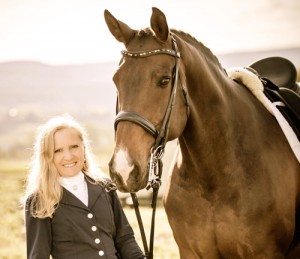 Lara adds, "Watching the National Reining Horse Association Futurity online, I was struck by how similar the commentators' observations were to commentators at a dressage show.  For example, they talked about how the horse should be moving with freedom, maintain a steady rhythm/speed, look slightly inside on the circle, remain relaxed while doing work, and feel he is enjoying his job."   To Lara this all comes down to good horsemanship, even if it is not ever stated that way by the commentators.
Oles says, "As a Para rider, horses are noble beings to me. They become an extension of my body and transform me back to feeling normal.  By allowing me to temporarily borrow their legs, horses let me dance, run, slide, spin, be competitive, and explore the backcountry.  I feel that riding horses is the ultimate team sport, because your teammate is 1,000 pounds and doesn't communicate the way we do.  When I was lying in the hospital after my accident, I thought I would never ride again.  Luckily, my injuries weren't as severe as they could have been, and horses with their generous and honest spirit, have helped me to avoid the common depression that sets in after a life-altering event.  I thank my 'ponies' every day for giving me a reason to get out of bed in the morning.  I wish everyone could be so fortunate."
Oles is currently rated one of the nation's top ten Para Equestrians, and is working for the possibility of going to Nationals and then onto the World Equestrian Games.