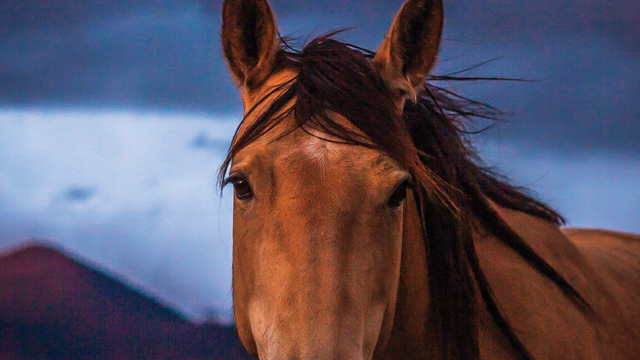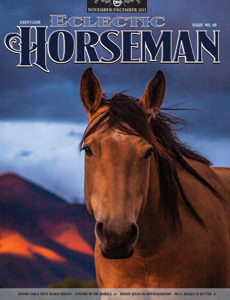 Roundtable – Staying in the Saddle
by Tom Moates
Riding is not just for the young! Tom interviews clinicians and older riders about the challenges of teaching and being a senior rider.
Bogus Ideas in Horsemanship –
No.2: Bigger Is Better by Deb Bennett, Ph.D.
Dr. Deb explores the trend of extra large horses and what that extra size means to both horse and rider.
Feeling What a Horse Needs Part 4 –
Beginning Groundwork by Tom Curtin
Tom continues his narration of starting a young horse. In this installment he does some basic groundwork and examines the situations that arise for horse and human.
A Third, A Third, A Third by Martin Black
Martin discusses the distribution of his weight in the saddle while riding. He discusses the hows and whys of this distribution.
Eclectic Horseman Magazine Subscription
$40.00 – $126.00
Product Description
You've just found Eclectic Horseman, the bi-monthly magazine dedicated to educating horse owners of all skill levels and disciplines. Eclectic Horseman is filled with solid information for horse owners of every skill level and takes a balanced approach to your education.
Every issue features detailed how-to articles from a number of top trainers and clinicians as well as thought-provoking philosophical stories. Eclectic Horseman is different from any other horse publication on the market.
How-To Articles With:
 Horse training tips with the best in the business.
 Detailed step-by-step articles teaching readers how to perform specific tasks or accomplish certain goals with their horse.
Articles covering a variety of levels, one for beginners, one for more advanced riders.
Easy to follow photos layouts and diagrams for you to follow.
Features:
Exploring how craftsmen create the equipment we use on our horses and ourselves.
Looking outside traditional understandings: biomechanics, body movement, holistic medicines.
Studies and reprints of ancient horsemanship texts to learn from the masters of the past.
Philosophical Articles:
Anecdotes from talented horsemen that teach a horsemanship lesson or experience.
Exploring why horses have certain reactions and why some methods are more effective.
Stories that teach how to build a better relationship through understanding and communication.
Make renewing easier and subscribe with auto-renewals: Follow this link. Your credit card is tokenized and safe.
— Eclectic Horseman 
---
---
Pardon the interruption...
Eclectic Horseman is built on support from readers like you. We strive to bring you Quality Horsemanship — stories that inspire, training tips that work, from resources you can trust. If you like this website, please consider subscribing to our magazine. The hard copy offers you much more than what we post here online, isn't cluttered with advertising, and costs less than a tank of fuel or a week of venti lattes.
Support our work, or continue reading the free samples of articles.
---
---
HARNESS YOUR SOCIAL HORSE POWER!
Share this article with your friends.