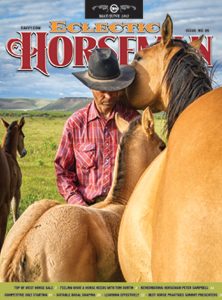 Feeling What a Horse Needs with Tom Curtin
Tom takes us through his thoughts and observations while preparing a young horse to be saddled. This is a unique opportunity to learn about what subtle changes in the horse he is observing and how he adjusts.
Remembering Horseman Peter Campbell
The loss of Peter Campbell has affected many of our readers, we celebrate the help he gave to students and horses with memories and photos.
Suitable Bosal Shaping by Steve Harris
Steve Harris offers some steps to properly shape a bosal so that it fits the contour of your horse's body more accurately.
Top of the West Sale by Kim Meyer
A fun report of this year's sale.
Competitive Colt Starting by Martin Black
Martin shares his experiences at a recent colt starting competition in Canada.
Learning Effectively by Rachael Leigh Ory
Ways to set you and your horse up for success in learning.
Best Horse Horse Practices Summit Presenters by Maddy Butcher
Learn a little more about presenters at the upcoming Summit in Durango this October.