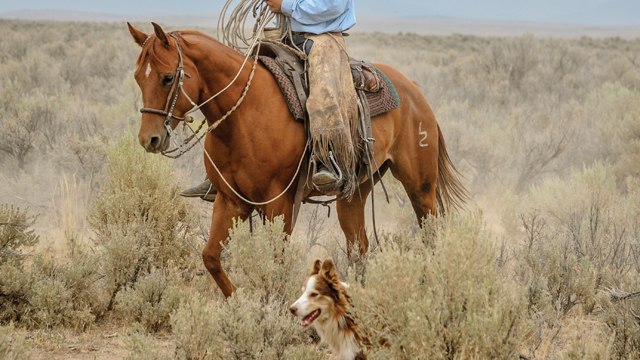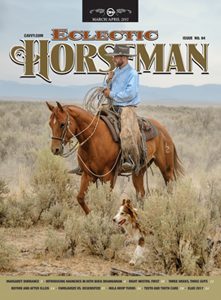 Introducing Haunches In: The First Steps Toward a Bend by Diane Longanecker
Buck Brannaman demonstrates how he would introduce the challenging concept of moving into a bend to his horse.
Right Nostril First by Martin Black
Haltering a horse might seem like the simplest of tasks; however, Martin has observed that many horses are troubled by the way that they are haltered. He demonstrates a fitting way to halter your horse.
Coordinating Your Aids for Turn on the Forehand by Wendy Murdoch
Wendy guides the reader through riding a turn on the forehand by the use of a hula hoop to help horse and rider.
Margaret Dorrance on the video Through the Corral Fence by Tom Moates
Margaret visits about the latest DVD project and looks forward to more.
Three Weeks, Three Guys and a Lot of Learning by Patti Hudson
Learn about a unique experience at the Wolter's ranch in Texas.
Before and After Ellen – See the Changes in "CT" by Jennifer Hamilton
An interesting case study in the dramatic changes in one horse after several months with Ellen Eckstein.
Eclectic Horseman Issue No.97
$11.99
Product Description
September/October 2017
Brannaman Pro-Am and Fusion 2017
by Tom Moates
What's new and exciting for this beloved annual event?
Room to Roam – Space and Pressure
by Steve Harris
Understanding how a hackamore functions is essential for being able to use it properly and effectively.
Moving the Forehand – Are you putting a brace in your horse?
by Wendy Murdoch
Looking at each step of moving the forehand, Wendy analyzes how to accomplish this movement without creating a brace in your horse.
Feeling What a Horse Needs Part 3 – Moving With The Saddle by Tom Curtin
Tom moves a just saddled young horse around the round pen and discusses his observations and the finer points of things you can do to help your horse.
Best Horse Practices Final Preparations
by Maddy Butcher
This is a unique educational seminar you won't want to miss!
---
---
---
---
WHAT D'YA THINK?
If you like this content subscribe to our magazine or dvd series for more quality horsemanship — stories that inspire, training tips that work, from resources you can trust.
---
---
SHARE THIS ARTICLE WITH FELLOW HORSE OWNERS.