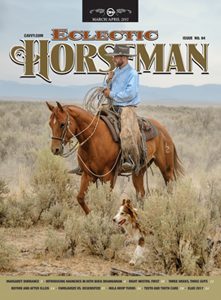 Introducing Haunches In: The First Steps Toward a Bend by Diane Longanecker
Buck Brannaman demonstrates how he would introduce the challenging concept of moving into a bend to his horse.
Right Nostril First by Martin Black
Haltering a horse might seem like the simplest of tasks; however, Martin has observed that many horses are troubled by the way that they are haltered. He demonstrates a fitting way to halter your horse.
Coordinating Your Aids for Turn on the Forehand by Wendy Murdoch
Wendy guides the reader through riding a turn on the forehand by the use of a hula hoop to help horse and rider.
Margaret Dorrance on the video Through the Corral Fence by Tom Moates
Margaret visits about the latest DVD project and looks forward to more.
Three Weeks, Three Guys and a Lot of Learning by Patti Hudson
Learn about a unique experience at the Wolter's ranch in Texas.
Before and After Ellen – See the Changes in "CT" by Jennifer Hamilton
An interesting case study in the dramatic changes in one horse after several months with Ellen Eckstein.