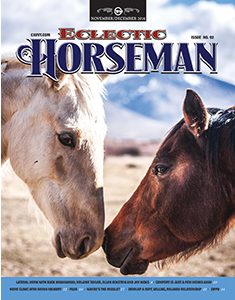 Lateral Work – Round Table with Buck Brannaman, Melanie Taylor, Ellen Eckstein and Jim Hicks by Tom Moates
Learn how and why lateral work is important for you and your horse from four extremely talented horsemen and -women.
Comfort is Just a Few Inches Away with Chris Sobenes
Novice riders often struggle with the flexibility and strength required in riding. Chris offers some simple stretching and strengthening exercises that can help a novice (or any rider with a desk job) prepare to ride.
Home Clinic with Bryan Neubert by Pat Gleeson
Pat traveled from Australia to ride with Bryan in Alturas, Calif.
FEAR by Terry Church
Fear is an emotion that so many of us struggle with. Terry offers insight from her own experience on the often surprising ways that fear can emerge.
Where's The Middle? by Wendy Murdoch
How does the horse learn to carry the rider's weight? Wendy explores this concept.
Developing a Soft, Willing, Relaxed Relationship by Alice Trindle
Alice offers three exercises you can use to help your horse relax from his back.
Zippo by  Milly Hunt Porter
Milly remembers back to Ray Hunt showing his horse Zippo in 1961.