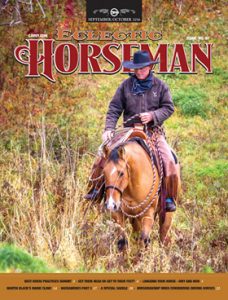 Best Horse Practices Summit 2017 by Maddy Butcher
Announcing a horse conference with real substance.
Longeing Your Horse: Why and How by Dr. Deb Bennett
Learn the difference between lungeing and longeing your horse and why the latter might be of great benefit to you and your horse.
Get to their head or get to their feet? Which is the most important? by Martin Black
Martin shares his observations on a common mistake he sees many riders make.
Martin Black's Maine Clinic – West Meets East by Kim Stone
Learn about this unique series of clinics held in Maine each fall.
Hackamores Part 3: A Survey of Bosals by Steve Harris
Steve discusses common combinations of size, plat, core, and materials which might help an aspiring amansador select the right bosal for the job.
A Special Saddle Made by David Rigby for Mike Bruce by Tom Moates
Learn about the creative process behind this fabulous saddle.
Round Table Discussion: Horsemanship When Considering Driving Horses by Tom Moates
Gain some insight about horsemanship and driving horses from Dwight Hill and Kathy Davis Baker.