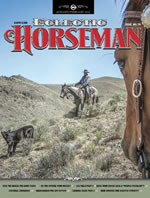 Ride the Horse You Have Today with Amy LeSatz
Before you swing a leg over, be sure your horse is with you and ready to be ridden. Amy offers a pre-ride checklist.
Do You Offend Your Horse? by Martin Black
Many of the issues people have with their interactions with their horses come from the human offending the horse.
Leg Yield Part 3 by Wendy Murdoch
Wendy discusses weighting the heel to have a correct outside leg while riding the leg yield.
Does Your Horse Have a "People Problem"?
by Tom Dorrance as told to Jane Pattie
Cultural Exchange – Argentine Rawhide Braiders by A.J. Mangum
Buck Brannaman Pro-Am Roping
Looking Back with Jay Harney Part 3 by Tom Moates
Nick Dowers Wins Snaffle Bit Futurity by Tom Moates