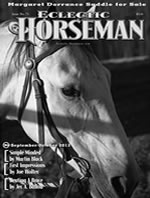 Simple Minded by Martin Black
Many people have trouble working cattle because they don't understand how a cow thinks; understand how they think to be more successful.
Margaret Dorrance Saddle for Sale by Tom Moates
In 1957 Margaret Dorrance won a trophy saddle at the Rodeo in Salinas; this Fall she will be offering the saddle for sale, a chance to own a piece of history.
First Impressions by Joe Wolter
Joe describes how he tries to get to know a horse, or a person, before forming an opinion.
Beating A Brace by Jec A. Ballou
Jec examines some common misconceptions in approaches to addressing a brace and offers some alternatives.
Storylines in Saddle Leather by A.J. Mangum
Idaho saddlemaker Rick Bean shares the process behind his artistry.
Looking Back with Jay Harney Part 2 by Tom Moates
The story picks up with Jay visiting about the first buckaroo boss he worked for— Glen Binning.
Brad Cameron Mulemanship by Tom Moates
Profile of Montana cowboy Brad Cameron.
Embracing Two Worlds: Jim Hicks by Dallas Sweat 
Dressage Principles for the Horseman Review: Clinic with Jim Hicks by Chelsea Tracy